Main content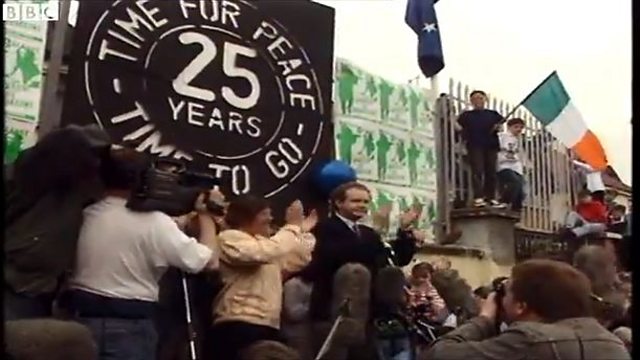 21/07/2017
IRA ceasefire 20 years on - a former leading police officer talks about his complicated relationship with the late Martin McGuinness.
Yesterday marked 20 years since the IRA ceasefire was announced in 1997. It paved the way for Sinn Fein to enter talks which ultimately led to the Good Friday Agreement. One man who helped to deliver that commitment was, of course, the late Martin McGuinness. The chief executive of Co-operation Ireland, Peter Sheridan, had a complicated relationship with the former deputy first minister and IRA commander. Peter served in the RUC and was the most senior Catholic within the PSNI, reaching the rank of assistant chief constable. He's given a wide ranging interview to the Irish Times to mark the ceasefire anniversary. Stephen has been speaking to Peter. He asked him if he could think back to 1997 and remember what he thought Northern Ireland would be like in 20 years?
Also on the programme, concerns have been raised about the location of republican bonfires in Belfast and Londonderry. Residents have expressed fears about bonfire materials being kept beside flats in New Lodge. And in the Bogside in Derry locals are worried about a bonfire that last year was built in the middle of a road. The activity at both sites have been condemned by local representatives. Stephen spoke to SDLP MLA for Foyle Mark H Durkan.
And, residents living on the Old Park Road in North Belfast say it's only a matter of time before someone is killed or serious injured because of what they call 'death driving' outside their front doors. They claim cars are speeding up and down the road at all times of the day and night, narrowly avoiding other vehicles. Our reporter, Nicola Weir, went to meet the residents and SDLP MLA Paul McCusker to find out more about what's been going on.