Main content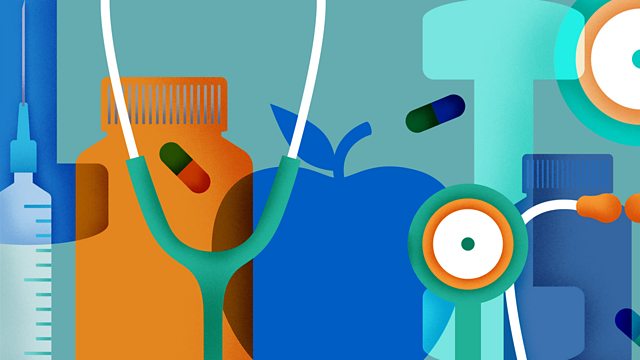 Hepatitis B vaccine, Sheds, Obesity Paradox, Taking part in clinical trials
Why the hepatitis B vaccine has been added to the childhood programme; benefits to physical and mental health of community sheds; obesity paradox; taking part in clinical trials.
The Hepatitis B vaccine has been added to the childhood national programme joining the 5 vaccines already given to all young babies at 8, 12 and 16 weeks. Andrew Pollard, Professor of Paediatric Infection & Immunity at the University of Oxford, and Chair of the Joint Committee on Vaccination and Immunisation, explains why.
Margaret McCartney and Mark Porter visit men in north London looking for the physical and mental benefits of community sheds.
The obesity paradox - can being overweight sometimes be beneficial? Gavin Murphy, British Heart Foundation Professor of Cardiac Surgery at the University of Leicester and Naveed Sattar, Professor of Metabolic Medicine at the University of Glasgow, debate the latest research suggesting that obese people are more likely to survive heart surgery than their slimmer peers.
Are clinical trials good for you? We examine the evidence behind conventional wisdom that people taking part in research tend to fare better - whatever their illness.
Last on
Programme Transcript - Inside Health
Downloaded from www.bbc.co.uk/radio4
THE ATTACHED TRANSCRIPT WAS TYPED FROM A RECORDING AND NOT COPIED FROM AN ORIGINAL SCRIPT.  BECAUSE OF THE RISK OF MISHEARING AND THE DIFFICULTY IN SOME CASES OF IDENTIFYING INDIVIDUAL SPEAKERS, THE BBC CANNOT VOUCH FOR ITS COMPLETE ACCURACY.
INSIDE HEALTH
Programme 3.
TX:  18.07.17  1530-1600
PRESENTER:  MARK PORTER
PRODUCER:  ERIKA WRIGHT
Porter
Coming up today:  Are clinical trials good for you?  We examine the evidence behind conventional wisdom that people taking part in research tend to fare better, whatever their illness.
The obesity paradox – can being overweight sometimes be good for you?  We debate the latest research suggesting that obese people are more likely to survive heart surgery than their slimmer peers.
And Margaret McCartney and I visit some men in a shed, albeit a rather special one.
Clip
You know you can have all these drugs and chemo and things like that but the lads used to come down and visit me in the hospital and…
The lads from the Shed?
Yeah, it's therapy in itself, if you know what I mean.
Porter
More from the Camden Town Shed later.  But first vaccines and a new jab for the UK childhood immunisation programme.  As of this autumn Hepatitis B will join the five vaccines already given to all young babies at eight, 12 and 16 weeks.  A combination that protects against polio, diphtheria, tetanus, whooping cough and Haemophilus influenzae or Hib.
Adding Hepatitis B was first mooted over 20 years ago and the UK is one of the last countries in Europe to include it.
Andrew Pollard is Professor of Paediatric Infection and Immunity at the University of Oxford, and Chair of the Joint Committee on Vaccination and Immunisation.  So why now?
Pollard
Well Hepatitis B continues to be a problem in the UK but it is less of a problem than many other countries.  So we're seeing around about 500 confirmed cases of acute infection in all age groups but actually a relatively small proportion of those are in children, most of those cases occur in adults.
Porter
So the rationale behind introducing the vaccine now, I mean if the threat's not rising and it's comparatively low in this country why do we need the jab?
Pollard
The vaccine is part of a global programme to control Hepatitis B infection.  And to see it, hopefully, eventually removed completely from the planet.  And that is only possible if we build up immunity in the population.  We want the next generation of children not to be at risk from Hepatitis B through childhood or as adults and we're just starting that now to build up immunity in the years ahead.  So there's been a long period of time assessing the availability of an appropriate product for the UK and also looking at cost effectiveness of the vaccine.
Porter
And the threat posed by Hepatitis B, I mean it can be a serious illness in the short term, it's a blood borne, bodily fluid borne virus.  But also if you carry it long term that can have serious implications too.
Pollard
Yes the implications of having Hepatitis B due, to some extent, depend at which age you acquire it.  So if you acquire it as a newborn from your mother then about 90% of those infants will go on to develop chronic infection and have a very high risk then of developing severe complications like cirrhosis and liver cancer.  It's much less common to develop those complications if you acquire Hepatitis B as an adult but still a substantial proportion of people do go on to develop the chronic infection which leads to cirrhosis or to liver cancer.
Porter
Now it's going to be added to the existing immunisation, we give five in one go at the moment, so it's now going to be six in one go.  Some parents are concerned about the amount of vaccine that's being given to these young children.  What's the science tell us about that?
Pollard
Well by adding one extra component, as you say, we're going from five components to six components, if you actually break that down and look in exactly the number of different chemical structures that the immune system sees within that to respond to, six components will contain about 15 different chemical structures.  And that's perfectly within the realms of the ability of the immune system to respond.  And particularly when you look at that in the context of the vaccine we used to use, the one which most of us, as adults, had which was actually a three in one vaccine but it had over 4,000 components in it.  So really vaccines we use now have very many fewer components.
Porter
How effective is this vaccine and how long does it last for?
Pollard
So this vaccine is highly effective and it's important just to point out that we have two programmes for Hepatitis B for babies.  One is where the mother has been identified as being infected in pregnancy and that programme is already in place and has been for decades.  When the mother has infection that is already there during pregnancy the transmission of the virus to the baby happens at the time of birth and because Hepatitis B has a very long incubation period after transmission by vaccinating at birth we're still able to prevent almost all infections that would happen in that context.  And so what we're doing with this new programme is adding on protection to the rest of the population who might be exposed to Hepatitis B from their peers or from adults during childhood or later on in life.  And the vaccine in that context is highly effective at preventing infection.  The question about the duration of protection – we know that there is good protection certainly up until teenage years and there are studies now which will extend even beyond that where we'll have more information in the future.  But of course most programmes were introduced in the 1990s and so we won't know yet whether protection will continue until someone's 50 years of age because the vaccine just hasn't been used in programmes for that long.
Porter
Professor Andrew Pollard talking to me down-the-line from our Oxford studio.  And there is a link to more information on the new six in one vaccine on the Inside Health page of the Radio 4 website.
Sheds may not be the first thing to spring to mind when discussing medical matters, but one in particular recently provided me with a timely reminder that there is much more to health and wellbeing than new drugs and fancy scanners. 
Camden Town Shed is part of a new movement spreading across the UK that provides men, and occasionally women, with a larger communal version of what some of us are lucky enough to have at the bottom of our gardens.  A place where men can feel at ease and pursue their interests in the company of likeminded people.  Camden is set up principally as a woodworking club, it's been open since 2011 and was one of the first of its type in the UK. Margaret McCartney and I went along to meet some of the men.
Bairn
My name is Chris Bairn and I'm one of the internees of the Camden Men's Shed.
Porter
Chris, tell me how you ended up coming here.
Bairn
I downsized a few years ago, very virtuous, but not that good an idea because I couldn't do stuff anymore, I didn't have room for a bench let alone a garage and then I found a shed.
Porter
And Margaret, this brings back some memories – you don't often go into men's sheds but this brings back some memories for you.
McCartney
Oh it's just lovely when you come in the smell of the wood just hits you, it's absolutely delicious and everywhere there's bits of offcuts of wood, there's fantastic tools all lined up in order.  My dad was a woodwork teacher and this reminds me exactly of when he was working, either in the garage or in his school, I was allowed in sometimes.
Porter
The smell takes you back.
McCartney
Oh it's just so evocative, very prescient.
Bairn
This is the end of a very hot day but usually on a Wednesday there are about 10 people in here and of those two or three will be women.  Sheds exist basically to fight the problems of solitude in older men, particularly widowers, people with health problems or marital problems or whatever and blokes basically are less sociable.  And somebody made the world shaking discovery in Australia about 20-25 years ago that if you put blokes in a shed side by side, let them get on with stuff and interact when they feel like it it works.  I've found people, like Mick, who's a bloody good mate quite honestly.
Porter
Mick, do you mind telling us how you ended up here?
Mick
I had throat cancer.  After my chemo and radiotherapy my social worker used to come round trying to encourage me to get out and about.
Porter
Were you living on your own at the time?
Mick
Yes I'm a single person.  I've got grandchildren but I'm divorced.  I live in a flat, tended to be a little bit housebound.  Then it was Simon encouraging me to go to a lunch club and you can sit and have a game of bingo in the afternoon.  No that's not me.  He mentioned Camden Town's Men's Shed.  I'm a carpenter by trade and here I am.
Porter
But as a lifetime carpenter it's probably not the woodworking that you're getting out of it is it?
Mick
No, no, no it's got nothing to do with that really – well it has and it hasn't.  I love woodwork but I love coming here, getting out of the house.  If one don't turn up and you wonder why hasn't he turned up this week.  And I've had plenty of support from here because just in the last sort of six months I contacted another form of cancer and undergoing chemotherapy etc. for it and the lads used to come down and visit me in the hospital…
Porter
The lads from the shed?
Mick
Yeah.  It's therapy in itself, if you know what I mean.  You can have all these drugs and chemo and things like that but when you get someone who comes in to see you and chats with you and shows a little bit of concern and it makes you feel that much better.
Porter
Margaret, do I detect your hard evidence based scientific approach softening slightly in the company of these two gentlemen in their shed?
McCartney
I absolutely love it, there's loads of evidence that says loneliness is not a good thing, that networks – social networks are really important in societies and all those things I think are pretty well proven.  What there isn't an evidence base for is sheds in themselves.  So there's some evidence so far – there was a systematic review published 2013 from Leicester University that said that men report better mental health if they've attended them but there's a lack of kind of really high quality evidence.  And I appreciate these things can often be hard to evaluate but I think just the moral benefit of having somewhere pleasant for people to go is just a good thing.
Porter
You do sort of feel it when you come in don't you.
McCartney
It's lovely.
Porter
And the shed movement in the UK is comparatively recent.  This started in…
McCartney
In Australia.
Porter
…in Australia.
McCartney
And it is a movement, it's described as a movement and I love that idea that it's grass roots, it's just the benefit of meeting people in real life for an appointment once a week.  And I think that can't help but have a good impact on health outcomes and I know that that's pushing where the evidence is but I genuinely think that we forget about social networks at our peril.
Porter
Now your shirt here's covered in sawdust so you're in the middle of doing something, what have you been working on today?
Mick
Well I've been basically – today – I've been making my grandson a pirate's treasure box.
Porter
And you're wearing half of it.
Mick
Yes I've got half of it on me, yeah, doesn't do you no harm.
Porter
Mick and Chris talking to us at the Camden Town Shed in London.  And if the idea of learning something new, combined with a bit of chat and support around the workbench, or over the teapot, appeals to you, then do visit our website to find out if there is a men's shed nearby.
Now we all know that being overweight is bad for you, right?  Well not necessarily, according to the obesity paradox.  It may be counterintuitive to all that we are taught, but sometimes obese and overweight people fare better than their slimmer peers.  Put simply it appears that carrying extra weight can be protective in some situations, including recovering from surgery.  Or is there some other more plausible explanation for the paradox.
The latest research in this field, published earlier this year, reviewed outcomes in people undergoing heart surgery.  Its conclusion?  Heavier patients recovered better.  Gavin Murphy, British Heart Foundation Professor of Cardiac Surgery at the University of Leicester, was one of the team behind the study.
Murphy
We know that obesity is a major cause of cardiovascular death.  The paradox that we described in cardiac surgery patients is that if you're obese and you undergo cardiac surgery you're less likely to die following the surgery.  Which is counter to everything that we think we know about obesity and premature death.  So, for example, if you are overweight you have a 25% lower mortality following cardiac surgery than if you are normal weight.  And that magnitude of a survival benefit is enormous.  In clinical terms there is no other intervention that I'm aware of that has reduced mortality rates by 25%.
Porter
Tell us about the review, what was included?
Murphy
We hypothesised that the obesity paradox, which has been described not just in cardiac surgery but in lots of different patient populations, cancer populations, dialysis populations, heart failure, that relationship would be spurious, it would be due to some sort of statistical anomaly that we could explain by what we call statistical bias in our population.  Now in the past I have identified associations between clinical events and outcomes that when we have explored the mechanisms underlying them we find that the relationships were spurious.  And a great example of that is the relationship between blood transfusion and mortality after cardiac surgery where after 10 years of research we found that that association was spurious.  And really what I wanted to do before I embarked on another decade of research into whether or not the mechanisms of the obesity paradox could be used for patient benefit is I really wanted to be sure in my own mind that we had taken every possible step to exclude statistical bias.  We amalgamated the results of all the previous studies that had looked at the obesity paradox and that included about half a million patients from 13 different countries in four continents.  We considered every possible form of bias that we could think of and in every single case we found no evidence to support any of those hypothesis.  And on the basis of that work I feel that I'm as confident as I can be that this is not a spurious association.
Porter
But not everyone shares Gavin Murphy's confidence in the findings.  Naveed Sattar is Professor of Metabolic Medicine at the University of Glasgow.
Sattar
In any particular study we take data from people at a particular time in point.  So say you and I went to a clinic and we were part of a study and they measured our body mass index, our weights, what they didn't realise though is that I'd been losing weight for about three years, so my body mass index looks better than yours, Mark, at the moment in time, so we say at 22, but because I've got this kind of illness that I don't know about, it's sub-clinical so we can't really see it, so it might be a grumbling tumour which is starting to grow, for example, I've been losing weight, I've lost 10 kilograms, but all the researchers know at this time in point is my body mass index is good, apparently good at 22.  God forbid but happens, carry on three years down the line and I'm the one who's more likely to die than you are whereas your body mass index is say 25, you don't have any grumbling illness, your appetite is fine and you've been weight stable for several years.
Porter
So if we extrapolate that, if you take a ward full of people with serious heart disease, you could say that the people who have lower body mass index, the thinner people there, are actually the sicker people?
Sattar
They may be and that's exactly right.  So it might be they're sicker but there are other confounders.  People, for example, in a heart disease ward, smokers, tend to be lower weight but we know that smoking is by far a stronger risk factor for heart disease than is obesity.  So that if you, for example, if you see patients in my clinic if you smoke more and more heavily you tend to be even leaner but your risk of heart disease goes up.
Porter
But researchers are used to allowing for these sorts of confounding factors or other explanations, these are clever people.
Sattar
We can't fully eliminate the potential that somebody has sub-clinical illness because we don't know if they have the illness to begin with or not.  And we also cannot fully account for, for example, smoking behaviour, we can't just adjust for it by saying when we put our mathematical equation in we put in what's known as smokers and non-smokers, a yes or a no, but life's not like that.  To fully, what's known, as adjust in a mathematical model the kind of behaviours that people are having is impossible.
Murphy
We looked at short-term outcomes.  So we looked at mortality up to 30 days after surgery because we know fairly unequivocally that obesity causes cardiovascular death in the long term because we believe that the effect is a short term one.
Porter
So you're more likely to do better in the short term to get out of hospital, for instance, but that's very tricky isn't it, I mean researchers can allow for some confounding factors but it's very difficult to know that you've accounted for them all.
Murphy
That's very true.  We anticipated some well described sources of bias that have been attributed to the obesity paradox, so a much worse survival if you're underweight.  And we addressed that potential source of bias, whether they were underweight or whether they had severe systemic disease, we did not alter the strength of the association between obesity and improved survival.  And in these sorts of observational cohort studies you really only can demonstrate associations, you cannot demonstrate causation – causation requires different types of research methodology like randomised control trials.
Porter
If you're confident in the association that overweight people in the short term anyway, when they're having surgery, tend to fare better, your study was not about mechanisms but what might explain that from your point – if it's purely a relationship with their weight, there must be something else going on?
Murphy
If we assume that the relationship is not due to bias then you must postulate that there may be a mechanism linking obesity to improved survival.  And you can approach that in a very straightforward way and ask yourself intuitively if you're about to have a major cardiac operation, which some people could liken to climbing a mountain, are you likely to be able to climb the mountain more easily if you're well-nourished or if you're not well nourished.
Sattar
We will never be able to, from any type of observational study, fully adjust for the kind of things that might bias our results.
Porter
So when you see a study that comes out suggesting that being heavier offers some protection against a certain disease your hackles are raised?
Sattar
Yes they are raised.  If we take the example of that particular study from Dr Murphy, yet another bias may be individuals who are very obese who the anaesthetists are worried about because of their health risk don't put them forward for surgery.  So the really sick people with obesity are not even operated upon, so they're taken out.  And therefore the people who are operated on and are obese actually tend to be the healthier obese people, as it were.
Murphy
There are limitations to our study that we acknowledge.  What you're referring to is something called selection bias.  In other words we have selected what we thought were the fitter patients, and there is a name for this, it's called the fat fit hypothesis, and there are a number of ways you can address this.  The sample size of our study was so large that we had 9,000 patients who were in the highest weight category, the morbidly obese category, and what we could show is is that indeed those very, very overweight patients tended to be younger and tended to have fewer other severe cardiac diseases.  So there is some evidence to support the selection bias explanation.  However, when we do further analysis and look at the interactions between the prevalence of other severe diseases and the effects of obesity we found that the survival benefit persisted, even when you adjusted for other common causes of death.  And indeed we actually found that obese patients who had manifestations of the metabolic syndrome – hypertension, diabetes and so on – had an even greater survival advantage than obese patients without the metabolic syndrome.  So again whilst we didn't disprove the selection bias hypothesis we didn't find any evidence to support it.
Sattar
We can get at some of these biases by doing good analysis but we can never fully eliminate them. 
Porter
What about the bias that exists on whether it's published in the first place, a study, or whether it gets coverage in the media?  I mean the obesity paradox is newsworthy is it not?
Sattar
Yes, now that's a fantastic point.  So as researchers when we publish something that is well known we often hesitate to even submit it for publication.  We look at a journal we think – well this doesn't appear to be that novel, should we send it to a journal?  No we've got other papers that we should work on which are more novel.  Equally as an editor you see something coming in that says – high body mass indexes leads to more risk of diabetes – and you'll say well, come on we all know that – reject.  So it's what's known as a publication bias.
Murphy
Obviously people who've spent their lives fighting the epidemic of obesity are naturally sceptical, there's no benefit to disseminating false or misleading information.  That's one of the reasons why we explored the potential sources of bias so methodically during this study.  Moving on from that – what are the immediate clinical implications?  Well the first one would obviously be that the evidence we presented does not support any cardiac surgery patient being turned down for surgery on the basis of their weight.  Should we be advising all our patients to lose weight if they're obese prior to surgery?  And again whilst our study did not directly ask that question what we have done is we've identified a key knowledge gap that really needs to be addressed by further research.
Porter
Gavin Murphy and Naveed Sattar.  And there is a link to Professor Murphy's paper on the obesity paradox on our website.
Talking of papers and clinical studies, have you ever been told, or perhaps taught, that people who enrol in clinical trials tend to do better than people who don't?  Well I certainly was and I've passed on that belief to my patients over the years.  But does it still hold true?
A question I put to Carl Heneghan, Professor of Evidence Based Medicine at the University of Oxford, and our own Dr Margaret McCartney.
McCartney
It was absolutely what I believed when I was at medical school and then again when I was becoming a GP, it was very much what I was being taught was if you ever get the opportunity to be in a clinical trial do it because you'll get better care.  Basically there's all kinds of reasons why that might seem to be true.  So, for example, if you're in a trial you're probably going to have more contact with doctors and nurses, you'll probably going to have more tests done, more access to drugs or interventions earlier than the general population might be.  But when that was actually examined, which it was by the Cochrane Collaboration in 2007, they didn't seem to find a big advantage from taking part in a trial.  They didn't find disadvantages either but they couldn't say that this seemed to be better.  So this is called the trial effect, when supposedly taking part in a trial gives you better results.  And certainly there have been some trials that have found that, for example, some early trials that were done to treat HIV, for example, seemed to think that people did better to start off with but actually in retrospect the researchers thought it was maybe because people were in the health service earlier, they were getting better care for other things as well.
Porter
Carl?
Heneghan
What likely has happened here and what's Margaret saying is and I was the same, we're looking historically to say 30, 40 years ago those institutions participating in clinical trials were generally far better than those that weren't.  And so you're looking at this historical bias.  So there are two really interesting questions that this throws up.  The first is to say if you participate in a trial, compared to not in the same institution, well it's unlikely you're going to get much difference, unless the treatment really does work and you get faster access.  The real interesting question is:  Do organisations or practices that participate in clinical research do better than those that don't?  Which is a slightly different question.
Porter
So Carl you're saying that historically that effect might have been that, for instance, if you had cancer and you were having cancer treatment you were trying the best standard of care at somewhere like the Royal Marsden Hospital, a very good hospital, so you were likely to do well and that's where the early advantage may have come from?
Heneghan
Correct.  And I think that's really important.  Whereas now when you go to institutions the quality of care across the whole board, irrespective of where you are in that trial, is pretty good.
Porter
Is there any evidence that people take their medication and the treatment that they're having more regularly if they're in a trial, might that be something – are the patients better patients in inverted commas?
Heneghan
So your question is:  Do people behave differently in clinical trials than in the real world setting?  That is an issue that they can do and we know that is because they get extra monitoring.  So, for instance, if you know in six months' time you're going to be asked about your treatment [indistinct word] and it can be called the white coat doctor effect, you're going to start taking your treatments as prescribed so that you turn up and go – my blood pressure's okay, doctor said it's okay.
McCartney
And you also get this thing called the Hawthorne effect, when people in general do better when they know they're being observed.  And it's difficult to disentangle that as well.
Porter
I mean Margaret I think the important point here, for our listeners, is that a lot of people worry that when they go into a clinical trial that they are a guinea pig and they might be risking something but although we can't definitely say you'll do better we're pretty sure you're not going to do any worse.
McCartney
You know the term guinea pig I think is often used and I think sometimes makes people feel as though they've been experimented on.  I think things are moving on and the idea is now that we are in partnership with patients, we identify uncertainties, we say what's important to know that we don't know, how can we best find that out.  And the best way is actually everyone experimenting together and trying to work out what the better care or treatment would be.
Heneghan
There is a specific example though where you call Phase One Clinical Trials where people are guinea pigs.  And that tends to be when you've got a brand new molecule, a brand new drug, and you're going to test it on healthy volunteers and they tend to be a small number of people, generally young, healthy, these people know they're participating in guinea pig trials, they get paid well for it.  What we see and what we're talking about is later – Phase Three Clinical Trials – they're the trials where you're trying to say we're reducing genuine uncertainty.
McCartney
And they're the ones that tend to take part in GP surgeries or hospitals.
Porter
So what we're saying is it might not necessarily be advantageous to us, we don't – the evidence is less clear on that than it perhaps used to be.
McCartney
It's less clear than it used to be, that Cochrane Review I've cited is 10 years old now, so things may well have moved on from there.  But I think the standards of clinical trials are very high now, so I think I couldn't in honesty say that you'll get better care, you'll do better if you join a clinical trial but I can be fairly confident that you'll get very good care no matter what your decision is.
Heneghan
I would always say it's in your interest to be in a trial to reduce uncertainty for yourself but also for future generations.
Porter
Carl Heneghan and Margaret McCartney, who will be back to give more insight into the world of clinical trials later in the series.
Just time to tell you about next week when we will be investigating growing concerns about the millions of people, including me, taking acid suppressing drugs like omeprazole long term and what we should be doing about it?
ENDS
Broadcasts