Main content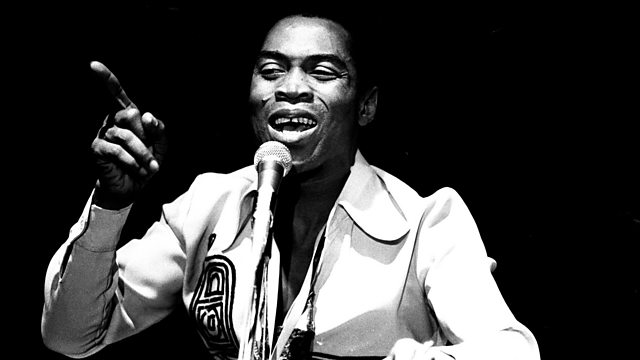 Max Reinhardt with demos and samplers
Max Reinhardt digs deep to discover the early musical sketches of Jaco Pastorius, Glenn Gould, Amy Winehouse, Kraftwerk, Fela Kuti and more.
Max Reinhardt digs deep into artist back catalogues to explore their early experiments. Demo tapes and little-known debut releases are the audio equivalent of pencil sketches, where artists work through the ideas that will later define them.
We'll hear a teenage Jaco Pastorius self-recording in his bedroom, Fela Kuti in highlife mode whilst an undergraduate at Trinity College London in 1960 and Glenn Gould aged 21 performing an unlikely Prokofiev composition alongside the violinst Albert Pratz.
Plus early recordings of Amy Winehouse, Muddy Waters and Organisation (the first incarnation of Kraftwerk).
Produced by Joby Waldman for Reduced Listening.
Last on
Music Played
David Bowie

Lady Stardust (Demo)

The Rise and Fall of Ziggy Stardust and the Spiders From Mars.
Rykodisc.

Young Fathers

Rumbling

Tape One / Tape Two.
Big Dada.

Amy Winehouse

There Is No Greater Love

Ali Farka Touré

Radio Mali

Ali Farka Touré.
Sonafric.

Karlheinz Stockhausen

Étude

Elektronische Musik 1952-1960.
Stockhausen-Verlag.

Sergei Prokofiev

The Winter Fairy

Performer: Glenn Gould. Performer: Albert Pratz. Music Arranger: Mikhail Fichtengoltz.

Prokofiev: 10 Pieces from Cinderella.
Naxos.

Lizabett Russo

Perspective

Recorded live on the BBC Introducing stage at Latitude Festival 2017.

Sink

Planet Carousel

Recorded live on the BBC Introducing stage at Latitude Festival 2017.

Jaco Pastorius

The Chicken (Home Recording)

Punk Jazz: The Jaco Pastorius Anthology.
Warner Bros. / Rhino Entertainment Company.

Quasimoto

Another Demo Tape

The Further Adventures Of Lord Quas.
Stones Throw Records.

Fela Kuti

&

The Highlife Rakers

Fela's Special

Highlife on the Move.
Soundway.

Unknown

Sekehe Genggong: Pemungkah / Frog Song / Flute Solo

The Balinese Gamelan: Music From The Morning Of The World.
Nonesuch Explorer Series: Indonesia.

Muddy Waters

&

Son Simms Four

Rosalie

The Complete Plantation Recordings.
Chess.

Jan Garbarek

Til Vigdis

Til Vigdis.
Norsk Jazzforbund.

Flying Lotus

Pet Monster Shotglass

Sandy Denny

Makes Me Think of You

The Notes and The Words: A Collection of Demos and Rarities.
Universal UMC.

Anna Meredith

Silver Fin (Demo)

Tarantula in Petrol Blue.
Not on label.

Sefo Kanuteh

Foday Kunda

Recorded live on the BBC Introducing stage at Latitude Festival 2017.

Nina Simone

To Be Young, Gifted and Black

To Be Young, Gifted, And Black 7''.
RCA.
Broadcast