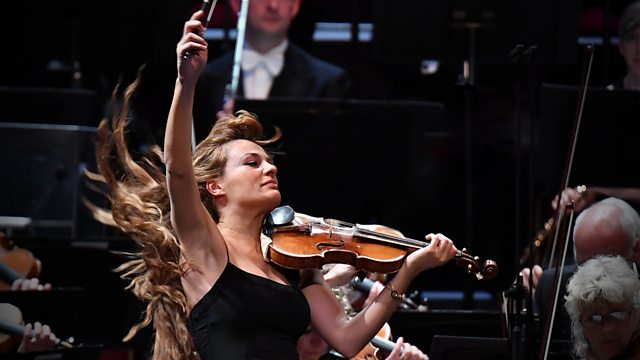 Live from the Royal Albert Hall the BBC NOW conducted by Thomas Sondergard. Shostakovich: October; Violin Concerto No 1 (soloist: Nicola Benedetti). Sibelius: Symphony No 2.
Live at BBC Proms: BBC National Orchestra of Wales and Thomas Sondergard plus Nicola Benedetti. Shostakovich's tone poem October and 1st Violin Concerto with Sibelius's 2nd Symphony.
Live from the Royal Albert Hall, London
Presented by Sara Mohr-Pietsch
Shostakovich: October
Shostakovich: Violin Concerto No. 1
c.8pm
INTERVAL - Proms Extra
Stephen Johnson and Daniel Grimley introduce Sibelius's Second Symphony. Highlights of a discussion hosted by Clemency Burton-Hill and recorded at the Imperial College Union earlier this evening
c.8.25pm
Sibelius: Symphony No. 2
BBC National Orchestra of Wales
Nicola Benedetti, violin
Thomas Søndergård, conductor
Violinist Nicola Benedetti joins Thomas Søndergård and the BBC National Orchestra of Wales as they continue their exploration of music by Shostakovich and Sibelius. Here they pair the latter's stirring Second Symphony - adopted as a potent symbol of nationalism and resistance by the people of Finland - with Shostakovich's symphonic poem October, a work whose subversive musical message sees the composer at his most pointedly political.
Shostakovich dedicated his First Violin Concerto to the celebrated violinist David Oistrakh, who praised its solo part as 'Shakespearean', and the concerto's demonic Scherzo gives its soloist plenty of opportunity for virtuosity.