Main content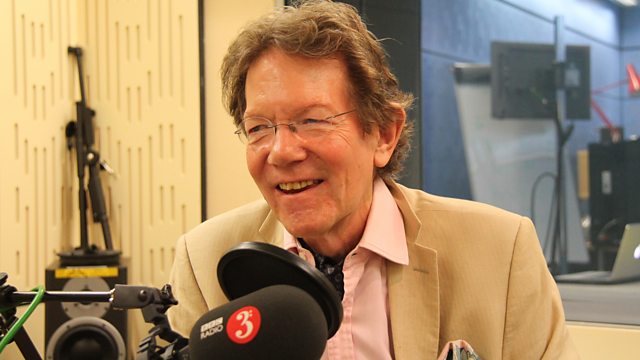 Tuesday - Sarah Walker with Maxwell Hutchinson
With Sarah Walker. Including Musical challenge; Music on Location: Prague. With Myslivecek; Proms Artist of the Week: Nicholas McGegan, conducting Mozart's Piano Concerto No 19.
9am 
Sarah sets the tone and mood of the day's programme with a range of music to intrigue, surprise and entertain. 
 
9.30 
Take part in today's musical challenge: can you work out which two composers are associated with a particular piece?
10am
Sarah's guest this week is the architect and broadcaster Maxwell Hutchinson. Maxwell was a practising architect for many years and in 1989 became the youngest-ever President of RIBA, the Royal Institute of British Architects. He's become one of the foremost broadcasters on architecture, presenting series on BBC Two, Channel Four and BBC Radio London. At one point Maxwell considered becoming a musician and has written three musicals and a Requiem Mass. In the last few years Maxwell has been ordained and is currently a curate at a church in Essex. As well discussing his work, his music and his life, throughout the week Maxwell will be sharing some of his favourite classical music.
10.30
Music on Location: Prague
Sarah introduces music by one of Prague's sons, the composer Josef Mysliveček, who was a friend of Mozart's.
Double Take 
Sarah explores the nature of performance by highlighting the differences in style between two interpretations of Grieg's song: A Swan - both orchestral performances, one featuring Solveig Kringelborn and the other Barbara Bonney.
11am
Sarah's Proms Artist of the Week is the conductor Nicholas McGegan. McGegan has been hailed as "one of the finest baroque conductors of his generation" (The Independent) and has been director of the San Francisco-based Philharmonia Baroque Orchestra & Chorale for over 30 years. McGegan has also devoted much of his time to opera; he was Artistic Director of the Göttingen Handel Festival for 20 years and Principal Guest Conductor at Scottish Opera in the 1990s. As a guest conductor he's worked with orchestras around the world including the Chicago Symphony Orchestra, The Philadelphia Orchestra, Royal Concertgebouw Orchestra, BBC Scottish Symphony, Hallé, and Toronto Symphony Orchestra. During the week Sarah will be featuring McGegan's recordings of Haydn's Symphony No.57, Mozart's Piano Concerto in F major K459 with Melvyn Tan, and excerpts from Purcell's Dido and Aeneas and Alessandro Scarlatti's Il Vespero di Santa Cecilia. McGegan is also a flautist and Sarah's chosen his recording of CPE Bach's Flute Quartet in D, Wq.94, with Catherine Mackintosh, Anthony Pleeth and Christopher Hogwood.
Mozart
Piano Concerto in F major, K.459
Melvyn Tan (fortepiano)
Philharmonia Baroque Orchestra
Nicholas McGegan (conductor).
Music Played
Maxwell Hutchinson's First Choice

Maxwell Hutchinson's Second Choice

Music on Location: Prague

Double Take

Artist of the Week: Nicholas McGegan
Musical Challenge: By Association
The piece played was Glazunov's 'Chopiniana' suite - the two associated composers were therefore Glazunov and Chopin.
Enter the Essential Classics Proms Competition 2019!