Main content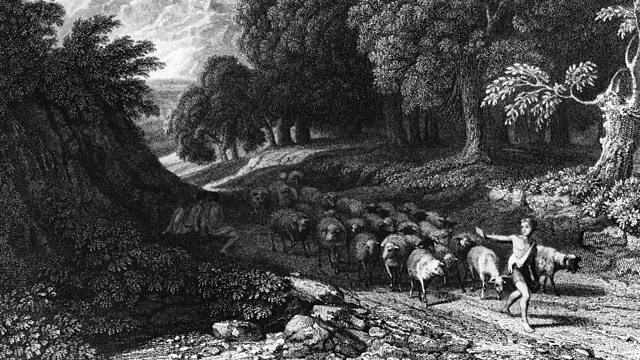 Arcadia
Texts and music about pastoral landscapes, with readers Fiona Shaw and Jamie Glover. Including Wordsworth, Dickinson and Thoreau, plus Vaughan Williams, Copland, Ravel and Debussy.
Fiona Shaw and Jamie Glover with poetry, prose and music exploring the vision of Arcadia and harmony with nature across the centuries from the pastoral visions of the Ancient Greeks Virgil and Theocritus to the anxieties of the American environmentalist Rachel Carson in 'Silent Spring', Stephen Spender's exploration of technology coming to an English landscape largely unchanged in centuries and Robinson Jeffers's 'Carmel Point' in which he imagines a time when nature and man can live in harmony. Arcadia includes work by Vaughan Williams, Aaron Copland, Howard Hanson, Virgil Thomson, Debussy, Wordsworth, Emily Dickinson, Thoreau, Evelyn Waugh, Willa Cather and John Clare.
Producer: Fiona McLean.
Music Played
Timings (where shown) are from the start of the programme in hours and minutes
Virgil and Cecil Day-Lewis

Georgics I read by Fiona Shaw

Theocritus and Thelma Sargent

Idyll 7 read by Jamie Glover

Virgil and Cecil Day-Lewis

Georgics 3 read by Fiona Shaw

John Muir

from Our Forests and National Parks read by Jamie Glover

Emily Dickinson

Summer Shower read by Fiona Shaw

William Wordsworth

from The Prelude read by Jamie Glover

John Clare

Farmer's Boy read by Fiona Shaw

Henry David Thoreau

from Walden read by Jamie Glover

Willa Cather

from My Antonia read by Fiona Shaw

Rachel Carson

from Silent Spring read by Fiona Shaw

Evelyn Waugh

from Brideshead Revisited read by Jamie Glover

Stephen Spender

The Pylons read by Fiona Shaw

Robinson Jeffers

Carmel Point read by Fiona Shaw

Richard Jeffries

from The Amateur Poacher read by Jamie Glover

Producer's Note: Arcadia

This week we visit the pastoral landscape of Arcadia, words and music of the countryside under the summer sun with the sound of insects and birds, the perfume of grass and flowers. Writers and composers over the last two centuries have explored the idea that our modern lives are oppressive and that a return to the pastoral life offers us a chance to be where our natural needs are met. Arcadia begins with Virgil and Theocritus, Theocritus in the 3rd century BC remembering the shepherds from his young days in Sicily and Virgil setting his rural poems in the idealised Arcadia in rural Greece. Debussy's 'La Flûte de Pan' sung by Véronique Gens tells the story of Pan teaching how to play as night falls in Arcadia.

 
The links between Arcadia and the American Dream are heard in John Muir's passionate account of the forests and National Parks and the attempt to rebuild the rural landscape heard with Fauré's 'Après un Rêve' imagining an escape from the world.


 Wordsworth's life in 'The Prelude' and Owen Leech's 'When the Moon Rises……' explore the idyllic English landscape alongside Ralph Vaughan Williams' setting of the perfect life at the Water Mill and John Clare's life of the shepherd 'Farmer's Boy'.


We move back to America with Henry David Thoreau's 'Walden', the account of his two years living in the woods on the shore of Walden Pond and exploring his worries that we are losing our relationship with nature. Virgil Thomson's 'Louisiana Story – Arcadian Songs and Dances' was his award-winning film score exploring man's battle with nature and the impact of coming industrialisation on a young boy's life heard alongside a passage from Willa Cather's 'My Antonia' describing the 'great black figure' of the plough magnified on the horizon as the sun goes down. Twentieth century Arcadian Ecology appears in Rachel Carson's classic 'Silent Spring' and Joni Mitchell's 'Big Yellow Taxi'.


The anxieties felt as time goes on are told in Stephen Spender's 'The Pylons' and Robinson Jeffers' 'Carmel Point' heard with Howard Hanson's Second Symphony. We end with a return to England and Arcadia with Richard Jefferies' loving memories of his early farm life in Wiltshire and Ralph Vaughan Williams' 'The Lark Ascending'. Almost always invoked in a time of its leaving or loss the dream of Arcadia remains with us.


Producer: Fiona McLean.