Main content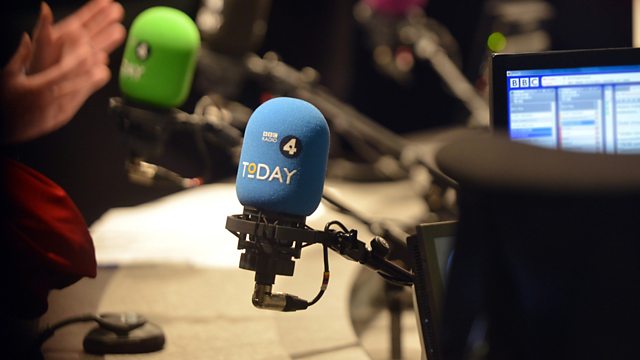 19/07/2017
Morning news and current affairs. Including Yesterday in Parliament, Sports Desk, Weather and Thought for the Day.
Today's running order
0650
Medical assistance to die for people with terminal illnesses became legal across Canada last June. How should cases be evaluated where the condition in question is psychological rather than physical? The BBC's Stuart Hughes reports.
0655
The average household income in the south-east of England is 25% higher than in the West Midlands, according the Institute for Fiscal Studies' annual report on living standards, poverty and inequality in the UK. Helen Barnard is head of analysis at the Joseph Rowntree Foundation.
0709
Coastguards on the Lizard Peninsula of Cornwall say they've airlifted to safety several people who became trapped by flash flooding. The BBC's Jon Kay reports and Zoe Holmes is the manager of the Bay Hotel in Coverack.
0715
Advances made in education may be put at risk if the Department for Education doesn't increase funding for schools, says the former head of Ofsted Sir Michael Wilshaw.
0720
On Wednesday the Confederation of British Industry (CBI) will release a new study into what can be done to restore the faith of the British public in businesses. Paul Drechsler is president of the CBI.
0730
Today the BBC will publish the names of anyone paid more than £150,000 from licence fee revenue. Lord Tony Hall is the director general of the BBC and BBC's media editor Amol Rajan reports.
0745
Women's football has had a significant spike in media interest this week, as England play Scotland in the Women's European Championship tonight. Eni Aluko is Chelsea ladies player and England international and Glenn Moore is a former football editor at the Independent and now a women's football columnist for the magazine World Soccer.
0750
A German politician has accused the European Union's chief negotiator of trying to punish Britain by making a deliberate "mess" of key elements of Brexit. Hans-Olaf Henkel is deputy chair of the European Parliament's industry and research committee and Katya Adler is the BBC's Europe editor.
0810
The United Nations has estimated 93,213 have crossed the Mediterranean and arrived in Italy so far this year by boat flows. Matthew Price is the Today programme's chief correspondent.
0820
The BBC will today publish for the first time the names of anyone paid more than £150,000 from licence fee revenue. Those expected to appear on the list include Gary Lineker, Graham Norton, Fiona Bruce and some of our own presenters. John Whittingdale is former culture secretary and Lord Grade is former chairman of the BBC. 
0830
One of the country's leading providers of care, Mencap, has warned that the sector is on "the brink of disaster". Derek Lewis is chairman of Royal Mencap and Christina McAnea is assistant general secretary of Unison.
0840
The Treasury is announcing new rules tomorrow that will enact PSD2 (an EU directive), which will banish the practice of surge charges when consumers make payments using a credit card. James Daley is managing director of Fairer Finance.
0845
British-caught cod is back on the menu for shoppers a decade after stocks came close to collapse. Michael Park is chief executive of Scottish Fisheries Sustainability Accreditation Group and Lindsey Dodds is head of marine policy at World Wide Fund for Nature.
0850
According to the Met Police crimes using mostly stolen mopeds or motorcycles have risen from over 1,050 in 2014 to over 13,000 In London alone.
Superintendent Mark Payne works for Metropolitan Police as part of Operation Venice, set up by the Met to tackle crimes using mopeds.
0855
Leicester Cathedral has defended its decision to stage Shakespeare's Richard III a few feet from the monarch's final resting place - but the Richard III Society dispute this decision. The performance takes place tonight. Philippa Langley is president of Richard lll Society in Scotland and Ben Horslen is co-director of Richard III and co-founder of production company Antic Disposition
All times subject to change.