Main content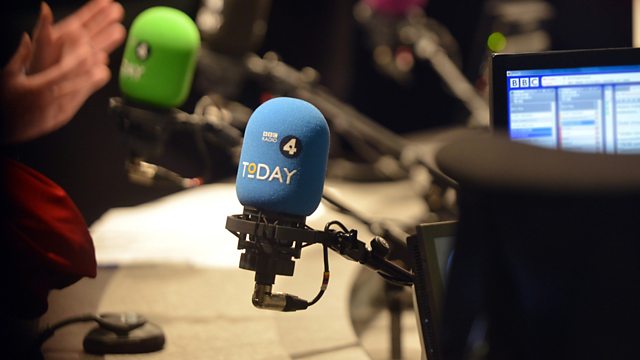 18/07/2017
News and current affairs. Including Yesterday in Parliament, Sports Desk, Weather and Thought for the Day.
Last on
Today's Running Order
0650
The spending watchdog has found it difficult to measure if money being spent on overseas aid is making any difference to the Government's key development goals. Stephen Twigg is Chairman of International Development Select Committee, Labour MP.
0655
The Advertising Standards Authority (ASA) has argued for stronger regulations of gender stereotypical advertisements that feature roles. Guy Parker is chief executive of the Advertising Standards Authority.
0658
Today's #PuzzleForToday has been set by the University of Cambridge's NRICH Project. Find the number…
0709
Education Secretary Justine Greening has announced an extra £1.3bn per year for schools in England alongside a shake-up of how funding is allocated. Kevin Courtney is secretary general of National Union of Teachers and Luke Sibieta is a research fellow at the Institute of Fiscal Studies.
0715
The Grenfell Tower fire appeal has only received a small part amount of money donated, according to research by the BBC's Reality Check team. Tom Burridge is our BBC correspondent.
0720
Rail companies aim to track train punctuality to improve services for the long-term. Paul Plummer, chief executive of the Rail Delivery Group.
0725
Updated inflation figures come out at 9.30 today the expectation is that it'll be more than 3 percent. Simon Jack is BBC business editor reports.
0730
How do we stop young people being drawn down a path of violent extremism? The government has announced a new Commission to tackle radicalisation. Camilla Cavendish is the former head of David Cameron's policy unit at Downing Street.
0745
It's not since 1978 that a British woman has reached the Wimbledon semi-finals – until last week that is when Johanna Konta took on Venus Williams. Johanna Konta is a British professional tennis player fourth in the world rankings.
0750
Increases in life expectancy are "levelling off", Sir Michael Marmot, director at UCL Institute of Health Equity says the slowdown in England could possibly be linked rising death rates from dementia.
0810
It could be the first time inflation has been 3% or over in the past five years.  The governor of the Bank of England to the Chancellor will be expected to pen a letter explaining why, as the UK's current target is 2%.  Ross Hawkins is our political correspondent.
Professor ROF David "Danny" Blanchflower is Professor of economics at Dartmouth College and Andrew Sentence is senior economic adviser to PwC.
0820
The Advertising Standards Authority (ASA) has argued for stronger regulations of gender stereotypical advertisements that feature roles. Nanette Newman is an English actress and author.
0830
Cross-party group of peers are urging the government to secure a transition deal in result of leaving the EU or face a loss of vital intelligence.  Lord Condon is a member of the committee and a former commissioner of the Metropolitan Police.
0835
A speech will be made on the Robin Hood Tax policy proposal included in Labour's manifesto by John McDonnell Labour's Shadow Chancellor and Professor Avinash Persaud who is a former Hedge Fund manager and Chairman of City think tank Intelligence Capital on the implementation.
0840
For the first time, Minecraft enthusiasts will get the chance this Thursday to see a play about time travel performed live on stage this will be held at Derry Playhouse.  Keiran Griffiths, creative director of Derry Playhouse and director of 'Playcraft' and Adam Clarke is digital producer and Minecraft expert.
0850
After talks yesterday in Brussels, Brexit secretary David Davis and his two senior officials were criticised after being photographed with no notes whilst his EU opposite, Michel Barnier and his team had large piles of papers. Sir Christopher Meyer is former British ambassador to US and Ros Taylor is chief executive of the Ros Taylor Group (specialising in leadership coaching).
All times subject to change.
Broadcast