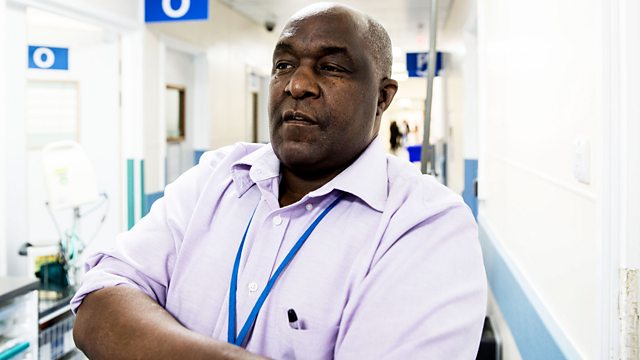 This episode tells the human story behind the headlines, by analysing the links between Imperial Trusts' hospitals and their social care partners in the wider community. Every day of the week, St Mary's Hospital looks after people who don't need acute medical treatment but instead find themselves stuck in A&E or on a ward, waiting for a package of care to be arranged for them either in the community or at a specialist psychiatric hospital. St Mary's Hospital A&E in particular has seen a sharp rise in people arriving in crisis - those who don't have anywhere else to turn.
This episode explores the daily reality and complexity of dealing with the many patients who find their way to one of Imperial College Healthcare's hospitals hoping that the NHS can pick up the pieces. Until their care package or offsite psychiatric unit placement can be arranged, for their own safety and that of others, they can't be discharged. The Trust, in common with most acute medical hospitals, doesn't provide mental health services and so has no designated psychiatric beds. Instead it relies on local mental health NHS trusts to provide care for patients with mental health problems in their own community or in-patient units. But increasingly, patients are waiting too long to get the specialist care they need.
In this episode, St Mary's experiences one of its longest ever waiting time breaches when a woman with serious mental health issues waits 29 hours for a psychiatric bed to become available. All staff can do while they wait is keep her safe in Room Q, the designated space for people in crisis, while the psychiatric liaison team battles to find the specialist care she needs. Spaces are limited and demand is high.
Dementia can also cause great emotional distress or confusion. 75-year-old Carl's dementia has dramatically worsened and his family take him to A&E after he becomes aggressive at home. Patricia, his wife of 25 years, looks after him without the help of carers, but is reaching breaking point. Carl is admitted to the hospital's specially designed dementia ward, developed in response to the fact that 25 per cent of medical patients now have some form of dementia. Carl is soon medically fit to leave hospital but the hospital must secure extra support from social services before Patricia can safely take him home.
85-year-old Stanley, who also has dementia, has had three admissions to St Mary's since January - this time, he was found wandering semi-naked by police and brought to A&E. Unpredictable and prone to outbursts of challenging behaviour, Stanley isn't coping well at home. His family are keen for the hospital to find him a nursing home place, but it won't be easy. Not every nursing home will have the skills and resources to manage Stanley's demanding behaviour.
Last on
Credits
| Role | Contributor |
| --- | --- |
| Executive Producer | Lorraine Charker Phillips |
| Executive Producer | Simon Dickson |
| Executive Producer | Jackie Waldock |
| Series Producer | Tom Currie |
| Series Producer | Gilly Greenslade |
| Production Company | Label1 Television Ltd |