Main content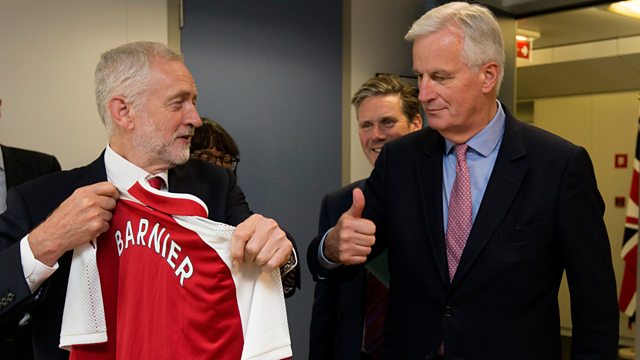 Where does Labour stand on Brexit?
Labour says it will not support the government's Brexit bill which was published today, but what exactly is its position when it comes to Britain leaving the EU?
Labour will play a crucial role in shaping Britain's exit from the EU now the Conservative government has lost its overall majority.
The vast majority of Labour MPs backed Remain ahead of the referendum - but most followed party orders to allow Article 50 to be invoked (the mechanism for leaving the EU).
On the day the government publishes the Repeal Bill and the Labour leader, Jeremy Corbyn meets the EU's chief Brexit negotiator, Michel Barnier, David Aaronovitch asks a range of political experts what Labour wants.
He'll look back into the party's history to see if that helps explain today's divisions and he'll be briefed on whether Labour's Brexit wishlist is realistic.
CONTRIBUTORS
Steven Fielding, Professor of Political History at The University of Nottingham
Catherine Barnard, Professor of European Union Law, The University of Cambridge
Deborah Mattinson, former advisor to Gordon Brown and founder of think tank Britain Thinks
Producers: Phoebe Keane and Beth Sagar-Fenton