Main content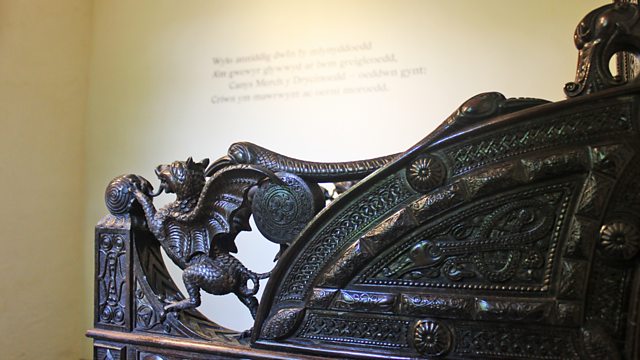 The Black Chair
Poet Mab Jones explores the compelling story of the slain poet Hedd Wyn and how he came to symbolise the heavy losses Wales suffered during the First World War.
Photograph of The Black Chair, copyright Yr Ysgwrn
Wales' experience of the First World War is often distilled down to one stand-out image: an empty chair draped in black. Intricately carved from oak, a new chair is created every year and presented as a prize to one poet at the National Eisteddfod. In September 1917, in a ceremony whose power and emotion still resonates in Wales a century later, a remarkably beautiful chair, crafted by a Belgian refugee, was awarded to Hedd Wyn for his winning poem 'Yr Arwr' (The Hero). Before being conscripted into the army, he had been a shepherd, who had attended school for only nine years.
To win the chair, the poems have to be written in the ancient strict metre form, cynghanedd, and submitted under a pseudonym so the author is not known to the judges. At the 1917 Eisteddfod when the winning entry was announced, the trumpets were sounded for the author to identify himself. After three summons, it was announced to a stunned audience that the poet was absent because he had been killed in action, weeks earlier. In the presence of the Prime Minister Lloyd George, the empty chair was draped in a black sheet, and sent on to Hedd Wyn's parents. The event is referred to as the Eisteddfod of the Black Chair, and is the focal point for Wales' commemorations of the First World War.
Poet Mab Jones visits Hedd Wyn's family farm in Snowdonia to explore the landscape and culture he came from, to see the 1917 chair which remains there intact, and she talks to chair winners Twm Morys and Mererid Hopwood, and historian Aled Eirug, to find out why the event still holds such significance in Wales.
Last on
Broadcasts