Main content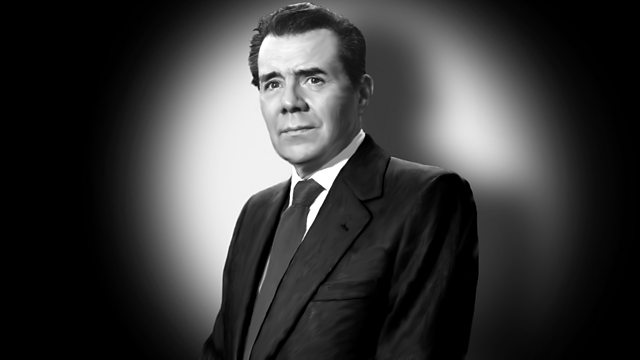 Victim
Drama by Sarah Wooley about the making of Victim, the first British film to break a taboo and address homosexuality seriously. Starring Ed Stoppard as Dirk Bogarde.
by Sarah Wooley.
A drama about the making of 'Victim', the first British film to seriously address homosexuality.
The 1961 film, starring matinee idol Dirk Bogarde in the gamble of his career, is often credited with helping to change public attitudes to homosexuality. This fast-moving drama follows the extraordinary mixture of bravery and pragmatism involved in getting this ground-breaking enterprise off the ground, providing a fascinating glimpse of Britain at a tipping point of social change.
Clip from Peeping Tom (c) Michael Powell (Theatre)/Anglo-Amalgamated Film Distributors/Michael Powell
THE WRITER
Sarah Wooley has written many plays for the radio including FIFTEEN MINUTES about Andy Warhol, MOVING MUSIC about Philip Glass and Steve Reich, PLANNING PERMISSION about the Brutalist architect Erno Goldfinger and A NICE LITTLE HOLIDAY about playwright John Osborne. Her last play for Radio 4 was 1977, about the scoring of the film 'Watership Down' and the story of trans composer Angela Morley.
Her stage plays include the sell-out hit OLD MONEY (Hampstead Theatre, 2012) starring Maureen Lipman.
Last on
Credits
| Role | Contributor |
| --- | --- |
| Writer | Sarah Wooley |
| Dirk Bogarde | Ed Stoppard |
| Tony Forwood | Simon Harrison |
| Basil Dearden | Jonathan Aris |
| Janet Green | Fenella Woolgar |
| Michael Relph | Ben Miles |
| John Trevelyan | Michael Maloney |
| Dorothy | Julie Teal |
| Sylvia Sims | Sarah Ridgeway |
| Alexander Walker | Charlie Clements |
| Leo Abse MP/Trailer Announcer | Simon Ludders |
| Sir Cyril Osborne MP/Earl of Arran/Roy Jenkins MP | Philip Fox |
| Actor | Emilio Doorgasingh |
| Actor | David Sturzaker |
| Actor | Tom Forrister |
| Director | Abigail le Fleming |
Broadcasts

Featured in...
A season marking the 50th anniversary of the partial decriminalisation of gay sex.

Creativity, performance, debate