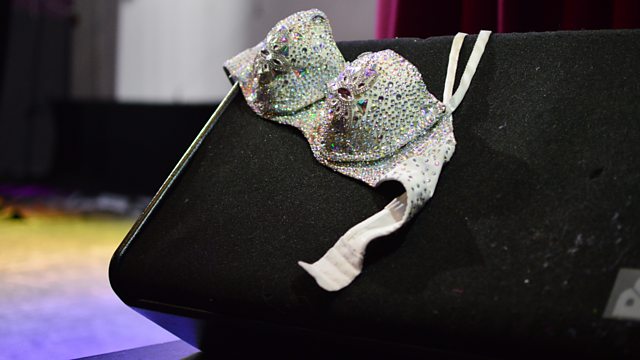 Music to Strip To
How is modern music helping striptease to adapt its traditional image? Some of the biggest stars and producers of 21st century burlesque reveal what makes a great striptease soundtrack.
Sixty years ago it was all sassy, jazzy show tunes. Today it can be techno, post-punk, hip hop, spoken word - even sound effects.
So what's happened to the soundtrack - and the image - of striptease? We hear what works best, and what should be avoided. And we explore how the sound of contemporary and neo-burlesque can support its social, cultural and political power.
Starring:
Julie Atlas Muz (former crown holder, Miss Exotic World and Miss Coney Island)
Darlinda Just Darlinda (multiple winner, Golden Pastie Awards)
Tigger! (The Original King of Boylesque - The Godfather of Neo-Burlesque)
Nasty Canasta (The Girl with the 44DD Brain)
Luna TikTok (The Tickin' Time Bombshell)
Aurora Galore (finalist, Miss Exotic World)
Also featuring:
Zoe Ziegfeld, Fancy Feast, Lux DeLioux, DJ Scott Ewalt, DJ Momotaro
Producer: Steve Urquhart
A White Stiletto production for BBC Radio 4
Playlist:
Buddy Morrow - Night Train
Buddy Guy - What Kind Of Woman Is This
Nero's Day At Disneyland - No Money Down Low Monthly Payments
Big Spender (instrumental) - from the musical Sweet Charity
Reverend Horton Heat - D for Dangerous
Aqua - Barbie Girl
Blood Sweat and Tears - You've Made Me So Very Happy
Norman Greenbaum - Spirit In The Sky
KRS One - Sound of Da Police
Sam Taylor - Harlem Nocturne
Louis Armstrong - St Louis Blues
Sounds of various car alarms
Garbage - Number One Crush
Infected Mushroom - Saeed
Perez Prado - Cherry Pink and Apple Blossom White.