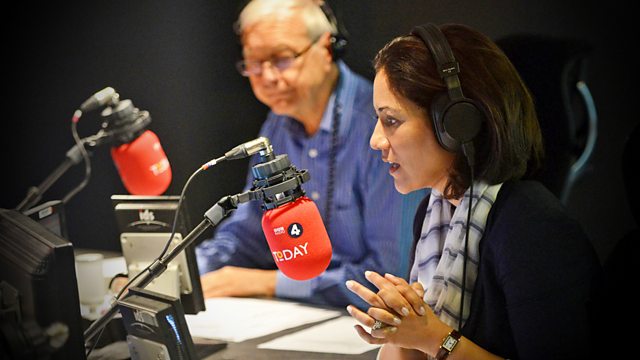 14/07/2017
Morning news and current affairs. Including Yesterday in Parliament, Sports Desk, Weather and Thought for the Day.
Last on
Today's running order
0650
Today's #PuzzleForToday is from the code breakers at GCHQ. See if you can crack it 
0655
The consumer group Which says railway satisfaction is dropping. Pete Moorey is head of campaigns for Which.
0715
The Home Office has launched a new strategy to tackle illicit drug use - the first in seven years. Harry Shapiro is the director of Drugwise, an online drug information service.
0720
There are fears the supply of radioactive isotopes used to diagnose and treat cancer could be at risk after we leave the EU. Ross Hawkins is Today's political correspondent.
0725
The Netflix film To the Bone which comes out today, has drawn criticism for its depiction of anorexia. Laura Phelan battled anorexia for nine years and now specialises in eating disorder recovery.
0730
The owners of Southern rail have been fined £13.4m for poor performance, the Department for Transport has announced. Nick Brown is the chief operating officer of Southern Rail's parent company.
0740
Devon & Cornwall and Dorset police forces are launching the UK's first dedicated drone unit. Jim Nye is the commander for the alliance operations department at Devon and Cornwall Police.
0750
Former Labour education minister Lord Adonis calls for an enquiry into the amounts of money being earned by the vice chancellors of some top universities. Bill Rammell is vice chancellor of the University of Bedfordshire and a former Labour higher education minister. Lord Adonis is a former Labour education minister.
0810
Home Secretary Amber Rudd has launched a new strategy to tackle illicit drug use after a "dramatic" increase in the number of deaths from drugs in England and Wales. Ron Hogg is the police, crime and victims commissioner for County Durham and Darlington and Sarah Newton is a home office minister.
0820
The Crown, Black Mirror and Sherlock are the three British dramas that have earned nominations in this year's Emmy awards in the US. Danny Cohen is the president of Access Entertainment.
0830
Donald Trump is taking part in the Bastille Day celebrations in Paris, at the invitation of the French President Emmanuel Macron. Nicole Ameline is France's former equalities minister and a Republican MP.
0835
Struggling to return to civilian life after serving in Afghanistan, Steven Price Brown found himself "up a mountain, screaming at no one and going cuckoo". Steven Price Brown is an Afghanistan veteran and adventurer.
0840
Sir David Attenborough has warned that UK butterflies face a critical summer after a string of poor years has seen the numbers of many common species decline. Sir David Attenborough is the Butterfly Conservation president and natural history presenter.
0850
The England Women's football team has arrived in the Netherlands aiming to bring back this country's first ever European Championship trophy. Jacqui Oatley is the BBC's sports presenter.
0855
It's the start of the Proms tonight and this year it will mark the 500th anniversary of the reformation. Simon Russell Beale is an actor and played Bach on Radio 4.
All times subject to change
So you think you know the Today programme?