Main content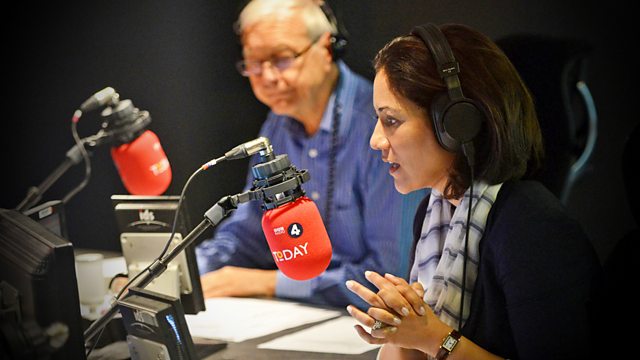 12/07/2017
Morning news and current affairs. Including Yesterday in Parliament, Sports Desk, Weather and Thought for the Day.
Today's running order
0650
This puzzle is from the University of Cambridge's NRICH project which promotes rich mathematical problem-solving in collaboration with the United Kingdom Mathematics Trust. #PuzzleForToday
0710
It's four weeks since the Grenfell Tower fire and today MPs will discuss the disaster in a parliamentary debate. Pilgrim Tucker is a community organiser at the Grenfell Action Group
0720
How far has Artificial Intelligence technology progressed and what impact night it have on our daily lives. Steve Clayton is the head of Microsoft's Image and Culture team.
0730
Donald Trump Jnr told the Fox News Channel that the meeting with the Russians during his father's presidential campaign was "just a nothing" but looking back he should have done things in a different way. Jim Himes is a member of the US House Select Committee on Intelligence.
0740
Johanna Konta beat Romanian second seed Simona Halep in a thrilling match to become Britain's first women's Wimbledon semi-finalist since 1978. Justin Sherring is Konta's former coach.
0750
Clashes have continued in the city of Mosul despite the Iraqi government's declaration of victory against IS. Gen Rupert Jones is the deputy commander of the US-led campaign.
0810
Kensington council's Conservative group nominated Elizabeth Campbell to take over from Nicholas Paget-Brown, who resigned on Friday amid fierce criticism of the council's response to the Grenfell tragedy. We speak to Elizabeth Campbell.
0830
A report to a United Nations ocean conference in New York points out that more than 60% of the ocean has no rules because it is outside any national jurisdiction. Christiana Figueres is the former UN executive secretary on climate change and chief negotiator of the Paris agreement.
0835
British Muslims are increasingly concerned about a rise in Islamophobic hate crimes. Martin Bashir is the BBC's religious affairs correspondent.
0840
A number of internet giants will join a protest today against plans to roll back rules protecting net neutrality. Aleks Krotoski is a journalist who writes about technology.
0845
How far should moral and ethical considerations come into our shopping and consuming? Sian Conway is the founder of Ethical Hour and Prof Jonathan Berman is from the London Business School.
0850
Architect and TV presenter George Clarke lives 150 yards from Grenfell Tower. Since the fire he has written about the need for a review of the maintenance of all council and social housing in Britain. George Clarke, architect and TV presenter.
All times subject to change