Main content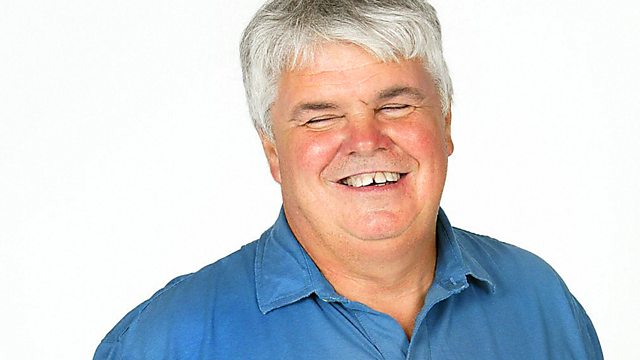 Baking Blind and Moving house
What are your rights when buying or renting a new home? Penny Melville-Brown wants to change attitudes to blindness through baking.
Two listeners to In Touch talk about some of the obstacles they faced when looking to move. Danielle Burgess is looking for a new home to rent, and is discovering how separate she feels from the process because everything needs to be described to her.
Ben Rendle, his visually impaired partner and their family recently bought a flat off-plan and had to find a way of envisaging it for himself.
Penny Melville-Brown has baked all her life, and didn't stop when she lost her sight seventeen years ago. She has recently won an international prize which will see her baking all over the world to show how blind people can bake.
Producer: Lee Kumutat
Presenter: Peter White.
Last on
IN TOUCH TRANSCRIPT - 11.07.17
IN TOUCH – Baking Blind and Moving House
TX:  11.07.2017  2040-2100
PRESENTER:           PETER WHITE
PRODUCER:             LEE KUMUTAT
White
Good evening.  Moving house is tough at the best of times, finding the right place, finding the right price.  But if you're visually-impaired, you can add to that – coping with the print paperwork, the inevitable chaos of moving out and moving in again and, some of our listeners have been telling us, a nasty whiff of discrimination as well.   Well, in a moment, we'll be hearing about some of those problems and about your legal rights to counter them.  But we're also celebrating the more comforting side of home – the now popular again, art of baking, thanks to the success of a certain BBC television series.
Well our studio guest today is Penny Melville-Brown, now Penny has won a $25,000 US Holman Prize, it's given by the San Francisco LightHouse for the Blind and it'll take her around the world.  But she's brought those skills to the In Touch studio first.
Penny, this is a short programme and we've set you a challenge.  Tell us what you're going to make.
Melville-Brown
Well I thought I'd do a tiramisu but just a cheat's one because it's a really easy version.
White
Right, so how much have you had to cheat?
Melville-Brown
Well I have taken out the eggs and the sabayon-type aspect, so this is cream, mascarpone, sponge fingers and booze, and that's a jolly good combination.
White
What was the toughest thing about carrying on baking and making things when you lost your sight, which was back in the '90s?
Melville-Brown
I was lucky because I lost my sight over a period.  I think one adapts and finding temperatures, actually, where the things are done, so I now use a speaking thermometer which I got from America and that is invaluable.  And I've got my talking scales and I have my little voice pen that sort of tells you what things are.  So finding things – that can be really boring, trotting around a kitchen for hours trying to find the turmeric or something like that.
White
And you're actually trying to do this on a pretty small table aren't you, is that an advantage, at least you can't lose stuff can you?
Melville-Brown
It's an advantage for me because I don't have to clear up.
White
Someone else will do that ­– the producer no doubt.  And we'll talk more about the background to the Holman Prize and what you're going to do with it later on.
Melville-Brown
Thanks.
White
And while Penny knocks up her tiramisu, I'm sure I shouldn't have said that, let's get to the business of finding a home to make it in.
I'm also joined by Danielle Burgess from the Isle of Wight, and Ben Rendle from Worcester, now both of whom have recently been grappling with the housing market and not having a great time of it either.  Danielle, you're renting at the moment but you're looking around for something else to rent – how's it going?
Burgess
It's going okay, actually this morning the property we were after has actually been confirmed, that we will be able to have it, but up until that point it's been quite stressful.
White
Right, so we do a programme about problems and you solve your problem on the morning of the programme.
Burgess
Yes, yes exactly.
White
That's good for you.  I mean what sort of difficulties though have you been encountering?
Burgess
Well initially trying to find somewhere, because I'm renting, so it was looking online.  Now because of my sight impairment I can't do that very easily, so I've had to rely greatly on my partner and carer to look at details and to describe rooms, to describe where the houses are going to be or the accommodation, where it is going to be located. 
White
And what about the business of actually going round them, how easy is it for you to assess how suitable they are for you?
Burgess
Again, it is a problem.  I'm having to rely on someone else to give me a very good description of what I'm going to come across in terms of room sizes, stairs, etc.
White
Now part of the frustration must be that you know you can do this, don't you, you've done it before when you could see better.
Burgess
Exactly, yes, so six years ago when I moved from the mainland to the Isle of Wight, yes I was able to do it with some – a little bit of help.  But now I'm totally reliant on my partner and carer to help me.
White
What would help you more – and I mean clearly if there is someone to help that makes a difference but in terms of how you get the information and what the people who are actually selling or renting could do, are there things that would make it easier?
Burgess
Well, I suppose if there was a bit more time.  I mean I realise that rental properties come and go very quickly but if we had a bit more time to have a look at the property, maybe even have a second viewing, so to get in your head where exactly things are.
White
Let me bring in Ben Rendle, who's joining us from Worcester.  Now you've just bought a flat recently, I think, both you and your partner are visually-impaired.  So when it came to choosing the flat you wanted what kind of problems did you face?
Rendle
Well it was mainly similar problems like accessing photos because that seems to be the main focus of a lot of – when you're looking online and stuff, it's pictures of this and that.  And then it's being able to get to the places to view them because obviously if you don't know where a place is or you're unfamiliar with it being able to access that location to then go and view it.  And then obviously getting the help from the person who's taking you round because some of them are just a bit cautious about helping you because of health and safety and that sort of thing.
White
Is it health and safety or is it that they don't know quite how to do it or is it that's not my job?
Rendle
I think it's they're just – they're scared of doing something wrong and getting into trouble for it basically.  I don't think there's any rule that says they can't do it, they just don't know what to do and they're scared really and that's as simple as that.
White
Were there more things that you could have maybe either done for yourself or asked them to do?  I'm thinking, for example, of – I don't know – tactile models maybe, enlarging floor plans, that sort of thing.
Rendle
Yeah tactile model would have certainly helped because we bought in the end – we ended up buying our flat off plan, so it hadn't even been built yet, so there wasn't actually a physical location we could actually go and search and feel and that sort of thing.  So a tactile model would have helped because they had lots of plans and lots of drawings but they didn't help me, I mean I was fortunate to have a good friend who is very good at describing things but had I not had that it would have made my decision very difficult.
White
But you have made a decision and you have bought?
Rendle
Yeah, yeah we have, I mean fortunately in the end they were able to show us round a home that was similar, not the same but similar, so it did give us an idea of what we were getting.
White
Right.  What's the biggest problem you've found?  Danielle, first.
Burgess
Well when we've looked at sites online, or should I say my partner has looked at sites online, and we've thought oh yes that's a possibility, when we've gone to phone the agent they've turned round and said – Oh no, that's already gone or it's under application.  And we have actually gone to the trouble of registering with all these agents so we sort of think that we are on a register so as soon as a property comes available we would be getting a phone call but that doesn't happen.  We end up having to phone them and by the time the property has come online we've found that it's gone.
White
Right, so that in a way also very directly related to your visual impairment because you'd see it otherwise.  Ben, what about you?
Rendle
Yeah, so it – biggest problem is estate agents because they don't necessarily understand your needs and it's them communicating those needs to the landlord and by the time that they've done that often someone else has come along for the property and it just seems easier for the estate agent to say yes to that other person or – and then by the time that's happened other properties that you've liked have gone.  So it's a pace thing really as well I think, you have to be very quick in the rental market.
Burgess
Yes, you do, you do, they go very, very quickly and especially in a small area as well, small town.
White
Well just before we get some answers to those points Penny Melville-Brown is sitting at her makeshift studio work service here.  We're not going to lie and deceive people and pretend you're doing all that from scratch.  What would you have to have done to get this to the state that it is now?
Melville-Brown
Well I've beaten up the – as I said – the mascarpone and the cream and the amaretto, so now I'm just dipping these really very sharp crisp biscuits into a mixture of very strong coffee and amaretto.  I'm going to lay them down on a tray, whap some cream onto the top of it, do another few layers like that and finish it off with a cream layer.  So it's very quick, very simple.  Ideally it should go into a fridge for an hour or so just to firm up but I don't think we're going to manage that.
White
What in the time?
Melville-Brown
Well I think with the ravenous appetite next to me.
White
Oh I see, the people surrounding us all with their arms outstretched. 
Right, back to the problem in hand about housing.
Craig Underwood is managing partner of a law firm which specialises in property services and I suggested to him that while we knew that the Equality Act related to goods and services offered some protection against direct discrimination, wasn't the real problem with property unprovable indirect discrimination.
Underwood
I think it's very difficult, you'd probably be very hard-pressed to find a situation where somebody with a visual impairment has been discriminated against in a very overt or clear way.  I think what's far more likely to happen is that somebody with a disability is the subject of indirect discrimination or the type of discrimination which is a lot more covert.  And so in practical terms, for instance, it may well be that when you speak to a private landlord – and very often you have to remember that private landlords use letting agents and estate agents to deal with their properties on their behalf – that in applying to become a tenant you don't necessarily become that tenant because you're vetted out and it may well be that you're not vetted out because you have a disability but it may be for some other reason.  And I think that's probably the problem that people with disabilities face.
White
Because that's what we hear a lot, you see, we hear people say – Look, I think I've been discriminated against but I can't prove it but I am suspicious.
Underwood
I think probably the system doesn't help in that sense because I don't want to paint private landlords as being the evil ones in the picture.  At the end of the day the private landlord system is predominantly, well over 55% of the private landlord market, is made up of people who own just one house and I think it's probably the case that those landlords have a lack of awareness about some of the rights that those with disabilities have.  It's probably the case that some landlords also just don't have the underlying support and infrastructure to be able to provide what they perceive to be onerous obligations to people with disabilities.  And I think there is a misconception within the private rental space as to just what facilities, aids and appliances and reasonable adjustments landlords might have to make.
White
Danielle Burgess, does that ring bells with you, this idea that it is indirect discrimination that people are finding?
Burgess
Yes I believe so, I do believe that.  I mean they make an assumption.  I had an experience with one of our agents who had seen a property and then had made the assumption he didn't think it would be suitable and I said – and my partner and I said, well we'll be the judge of that.
White
What did he base that on, do you know?
Burgess
Well I think it was because there were steps and it was coming on to a main road and I thought – well I know that there are steps and I know that there's a gate at the end of the road so I know to take precautions.
White
Ben Rendle, I think you feel you found yourself in this position perhaps in a way that will ring a lot of bells and that's over guide dogs.
Rendle
Yes certainly, I mean before I decided to buy I was in the rental market a couple of times looking for properties and both times I had my guide dog with me and came across a lot of problems, even I didn't get as far as looking at properties, it was just ringing letting agents saying this is what I need, this is what I want and by the way I've got a guide dog and sometimes they'd be like, oh we'll ring you back and then you'd never get a phone call or they'd say there's no pets and then you'd go through explaining that it's not a pet and then they'd say oh we'll have to ask the landlord and yeah…
Burgess
Yes and I agree with Ben on that point as well, exactly the same thing, people don't get back to you, you're expected to do all the work yourself.
White
But again it's proving that that's happened, that it's a problem.
Rendle
It is because they'll never admit to it and they'll just say oh the landlord said this or we've let it to someone else or it's gone off the market or any number of excuses but they might not be because of the dog but you can never prove it.  And even if you could prove it how would you then enforce that portion of the law, as it were?
White
Well on this in particular Craig Underwood has some very interesting and intriguing things to say regarding the law on this.
Underwood
A first position is in law it is unlawful for you to refuse a tenancy on the basis that you don't want to have a tenant have a guide dog or a hearing dog or anything of that nature.  The question is whether or not you'll ever find out whether or not that's the reason that you've been refused a tenancy and I think the redress that you have is very much dependent on how you can prove that was the reason for you not being able to get that tenancy.
White
And I mean are there any ways that you can do that?
Underwood
Well there is a situation in terms of how you disclose whether or not you have a disability which might give rise to some indirect or covert discrimination.  It's very difficult to give advice about disclosure.  Firstly, the law says that you're not under positive duty to disclose any disability.  So following that to its logical conclusion you don't need, as somebody who's got visual impairment, to tell anybody that you have a guide dog.  However, in practical terms it has to be said that there are circumstances in which making a disclosure that you have a disability is actually in your favour and that's particularly the case if you're in social housing or local authority housing.  But if you're in a privately rented situation I think it's very difficult to envisage a situation whereby that disclosure, even if it's not made, is not going to be something that the landlord finds out about.  As with an employer/employee relationship a landlord and tenant relationship is one which ultimately is probably best founded on trust, openness and transparency.  So I wouldn't advise necessarily you embarking upon what should be an enduring relationship with not making full disclosure but be under no illusion that you're under a positive duty to do so, you're not.
White
So after the contract has been signed, what happens if either they've not disclosed that they've got a guide dog or they acquire a guide dog?
Underwood
If it's a situation where your visual impairment had deteriorated and you therefore needed to have a guide dog after the event then again the law says that you must make reasonable adjustments and therefore upon disclosing that you now required additional aids and services, in this case a guide dog or hearing dog or whatever that might be, then your landlord would be under duty to make sure that any such policy which required them to refuse household pets would be amended to take into account the fact that you now needed a guide dog.
White
Well Ben and Danielle, can I ask you both very quickly, does that come as a surprise to you, that you're under no obligation to tell them and would you take that advice?  Danielle, first maybe.
Burgess
I probably would take that advice actually, it is a bit of a surprise but I think I will go along with that definitely.
White.
And Ben?
Rendle
To me it's not a surprise but to be honest I wouldn't feel comfortable not telling someone about it because I think it is best to be open and honest but that seems to get us into more trouble than it's worth, so…
White
Well Ben Rendle, Danielle Burgess – thank you both very much for joining us and good luck – well Ben's in and Danielle, I hope things go well for you.
Burgess
Thank you very much.
White
And I'm only sorry you're both too far away to get a piece of Penny's tiramisu because you're more or less putting the finishing touches to this now, so where have you got to?
Melville-Brown
Well I've got a little sieve here and a box of cocoa powder, which smells really chocolaty and what – this is the good bit for blind people is trying to put cocoa powder through a sieve onto something that you can't see.  So you're guiding yourself along this tiramisu thing and just pushing it through and adding a bit more and I'm glad I'm not cleaning this studio up tomorrow.
White
No, don't get that on my Braille.  Just while you're doing this – tell us a bit more about the prize that you've won, which is going to take you round the world, it's the Holman Prize, what is it?
Melville-Brown
Well it's run by an organisation in San Francisco and they saw my baking blind videos online and they invited me to compete.  In fact at the end of the day it was over 200 people were candidates from 27 countries and I was one of the three winners – I am one of the three winners.
White
So what swung it do you think Penny, what did you have to do?
Melville-Brown
It was about promoting different perceptions of blind people and other disabled people.  It was about getting good visibility for those new messages.  But one of the other winners is going to kayak across the Bosphorus with some specially adapted navigation equipment.
White
Which would you rather do – bake or kayak across the Bophorus?
Melville-Brown
Well I'd rather swim but I gather it's a really busy shipping lane.
White
Right, but this is very much about promoting the image of what blind people can do isn't it?
Melville-Brown
Yeah, for me that's really important.
White
And in a way ties in with what we were talking about, about the kind of misconceptions that seem to crop up with people in the housing market for example.
Melville-Brown
Yeah I'm trying to use food because everybody eats, most people cook, it's really popular in the media and if one can show that actually I can do it and other blind people are cooking with me too and get a good reaction.
White
And you'll be making videos I think as you travel around.
Melville-Brown
Everywhere we go, every recipe we shoot we'll be publishing over about a year.  We're reckoning to make about 50 videos over the year.
White
Well I'm afraid the pinger timer of life is against you.  Well let me just remind anyone with a comment you can call our action line on 0800 044 044, you can email intouch@bbc.co.uk, where you can go to our website to download tonight's podcast.  You can't download Penny's pudding but producer, Lee Kumutat and I can and I've got the plate, eek I just put my fingers in it, but never mind it tastes delicious Penny, thank you very much.  Goodbye.
Penny's Cheat Tiramisu recipy
Cheat's tiramisu.<?xml:namespace prefix = "o" ns = "urn:schemas-microsoft-com:office:office" />
Often recipes include Italian meringue, sabayon or some other way of including eggs – this is just simpler.
300 ml                   double cream, whipped until soft peaks.
250g                       mascarpone.
6 tablespoons   Amaretto.
1 tablespoon     icing sugar, sifted.
3 cups                   very strong coffee, cooled.
        1 packet of Savoiardi (sponge lady finger biscuits)
1 tablespoon     cocoa powder to dust.
Whip the cream.
Add 3 tablespoons of the liqueur to the mascarpone and whip until soft.
Fold the cream and mascarpone together, adding a little icing sugar to taste.
Mix the remainder of the liqueur in to the coffee.
Place some small blobs of cream on a rectangular dish or tray to keep the sponge fingers in place.
Dip each sponge finger in to the coffee mix for only a couple of seconds each side.
Lay on the tray – lined up like soldiers close together.
Gently add a layer of the cream nix.
Add another layer of cream and one of sponge fingers.
Repeat and then add a final layer of the cream nix.
Dust with the cocoa powder.
Chill before serving (about an hour for the fingers to soften further). 
My tips:
Don't get the fingers too wet or they will dissolve in to a soggy mess.
Worth having a spare packet of the fingers in case you can make more – it all rather depends on how much of the coffee mix they absorb and how thickly or thinly you spread the cream.
You can use different liqueurs: Tia Maria or Kahlua; dark rum; even an orange liqueur and replace the cocoa powder with orange zest. 
More recipes at www.bakingblind.com
Broadcast