Main content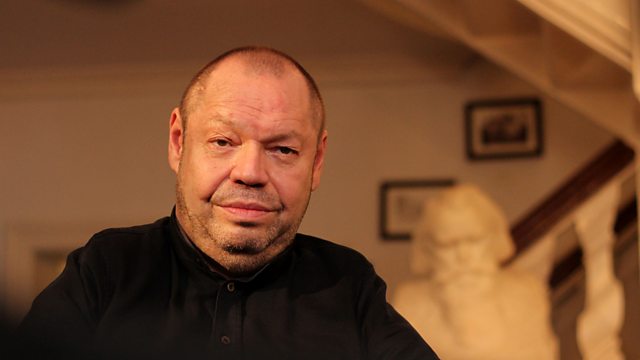 Becoming a Lied Singer: Thomas Quasthoff and the Art of German Song
Professor Thomas Quasthoff presents a personal journey into the short but intensely expressive art form of the German lied song.
Thomas Quasthoff, one of the premier baritones of his generation, presents his personal guide to the love of his life, the German lied song. Drawing on his multiple roles as maestro, teacher and founder of an international lied singing competition, Professor Quasthoff goes on a personal journey into this short, domestic but intensely expressive art form.
Lied means 'song' in the German language and lieder are poems of nature, love, and death set for solo voice and a piano. Quasthoff used to sing these songs around the world and now he has turned from practitioner to teacher, passing on this two-century-old tradition to a new generation of young singers.
With a wide range of contributors, including musicians and academics, there is a focus on Franz Schubert as the first great lieder writer. In the early 19th century Schubert, who died tragically young, seized the new possibilities of the piano and created over 600 songs. Thomas unlocks the factors that then came together to create an explosion of lieder: the rise of the German Romanticism and the role that personal, emotional poetry played in the homes of the growing German middle class, the spectacular popularity of the domestic piano and an emerging philosophical imperative to explore the soul.
Lied is the most intimate music of the great composers and in Hamburg Quasthoff goes looking for Johannes Brahms, a composer he feels a great empathy with, and discovers the grave of an almost forgotten poet who inspired a masterpiece of lied song.
The documentary goes to Heidelberg where Quasthoff chairs the Das Lied International song competition - here 26 young lied singers and their pianists spend five days performing before an international jury, including singers Brigitte Fassbaender, Bernarda Fink and Dame Felicity Lott.
The programme includes rare archive of Thomas Quasthoff before his retirement from the classical stage, performing with pianist Andras Schiff in 2003 as well as a newly restored telerecording of Quasthoff's lied singing hero, Dietrich Fischer-Dieskau. In the most personal section of the film Quasthoff takes a late night vocal excursion to the island of Sicily.
Music Played
Timings (where shown) are from the start of the programme in hours and minutes
Franz Schubert

An Die Musik D547

Performer: Thomas Quasthoff. Performer: Sir András Schiff.

Hugo Wolf

He Who Has Recovered Addresses Hope

Performer: Lawrence Halksworth. Performer: Alexander Fleischer.

Franz Schubert

Andante con moto

Performer: Kungsbucka Piano Trio.

Franz Schubert

Group from Tartarus

Performer: Modestas Sedlevicius. Performer: Anna Anstett.

Franz Schubert

In a Dark Night

Performer: Jóhann Kristinsson. Performer: Ammiel Bushakevitz.

Franz Schubert

In Spring

Performer: Lucy Fitz Gibbon. Performer: Ammiel Bushakevitz.

00:12

Franz Schubert

Piano Quintet "Trout" (Theme and Variations)

Performer: Leonard Hokanson. Performer: Ensemble Villa Musica.

Franz Schubert

The Young Nun

Performer: Gina May Walter. Performer: Bangin Jung.

Mozart

Sehnsucht nach dem Frühling (KV 596)

Performer: Thomas Quasthoff.

Franz Schubert

'Numbness' from Winterreise

Performer: Johannes Rudschies. Performer: Alexander Fleischer. Composer: Wilhelm Müller.

Franz Schubert

The Erl King

Performer: Teodora Oprisor.

Franz Schubert

An die Musik, D.547

Singer: Dietrich Fischer‐Dieskau. Performer: Gerald Moore.

Franz Schubert

The Erl King

Performer: Bryan Benner.

Franz Schubert

The King in Thule

Performer: Bryan Benner.

Franz Schubert

The King in Thule

Performer: Iúnó Connolly. Performer: Dylan Perez.

Charlie Chaplin

Smile

Performer: Thomas Quasthoff.

Carl T Fischer

We'll be together again

Performer: Thomas Quasthoff. Performer: Frank Chastenier. Composer: Frankie Laine.

Johannes Brahms

Cradle Song Brahms' Lullaby, Op. 49 No. 4

Performer: Thomas Quasthoff. Performer: Frank Chastenier.

Johannes Brahms

The Sons of Men

Performer: Thomas Quasthoff. Performer: András Schiff .

Johannes Brahms

In the Churchyard

Performer: Michael Rakotoarivony. Performer: Teodora Oprisor. Composer: Josef Wenzig .

Johannes Brahms

Of Eternal Love

Performer: Laure-Catherine Beyens. Performer: Alexander Fleischer.

Franz Schubert

All Souls Litany

Performer: Samuel Hasselhorn. Performer: Renate Rohlfing.

Wolfgang Rihm

Evening Greetings

Performer: Nazan Fikret. Performer: Rebecca Cohn.

Franz Schubert

In Spring

Performer: Jóhann Kristinsson. Performer: Ammiel Bushakevitz.

Franz Schubert

Im Abendrot

Performer: Clara Osowski. Performer: Tyler Wottrich.

Franz Schubert

All Souls Litany

Performer: Samuel Hasselhorn. Performer: Renate Rohlfing.

Franz Schubert

Im Abendrot

Performer: Clara Osowski. Performer: Tyler Wottrich.

Franz Schubert

The Erl King

Performer: Samuel Hasselhorn. Performer: Renate Rohlfing.

00:44

Johannes Brahms

Symphony No. 3 In F (3Rd Movement)

00:57

Franz Schubert

Unfinished Symphony: I- Allegro Moderato