Main content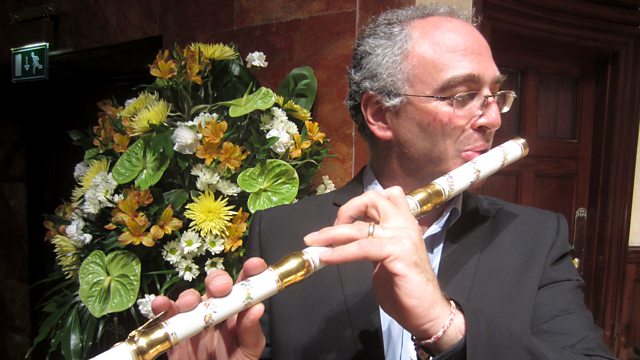 Florilegium: Telemann
From Wigmore Hall in London, Ashley Solomon directs Florilegium in a Telemann 250th anniversary concert, with Helen Charlston (mezzo-soprano). Presented by Ian Skelly.
Telemann 250. The leading Baroque chamber music ensemble Florilegium present a Telemann Anniversary Concert to mark the exact date of the Hamburg master's death 250 years ago. And to mark the occasion, Florilegium's founder, Ashley Solomon, delighted the audience with the first performance in modern times on a flute once owned by King George III. Made at the Meissen works, this precious object of Dresden porcelain and gold was given to King George III in 1760 and last played by him when he retired to Kew Palace in 1789 during one of his bouts of illness. Baroque flutes are normally made of either wood or ivory so it'll be fascinating to hear how this beautiful looking instrument sounds in a Telemann solo fantasy heard in the second half of this anniversary concert.
Image via Royal Collection Trust/(c) Her Majesty Queen Elizabeth II 2017 (www.royalcollection.org.uk)
Introduced by Ian Skelly and recorded at Wigmore Hall, London, on Sunday evening
Telemann:
Ouverture (Tafelmusik Suite in E minor, TWV55:e1)
Sonata in A major, TWV41:A6
Cantata: Ihr Völker hört, TWV1:921
8.25pm: During the interval, Ashley Solomon talks about the 1760 Meissen porcelain flute brought from the Royal Collection and heard in public for the first time tonight. After that, the pianist and former BBC New Generation Artists, Pavel Kolesnikov plays a keyboard sonata in A major by Telemann's godson CPE Bach, a composer who worked for many years at the court of George III's contemporary, the music loving-Frederick the Great.
8.35
Telemann:
'Paris' Quartet in E minor, TWV43:e4
Trio Sonata in A major, TWV42:a5
Fantasie for flute No. 9 in E major, TWV40:10
Conclusion in E minor, TWV50:5 (Tafelmusik)
Helen Charlston, mezzo-soprano
Florilegium
Ashley Solomon, director
Florilegium showcases the exceptional variety of Telemann's compositions, from an intimate solo fantasie to the extraordinary collections of chamber music from his Tafelmusik, Essercizii Musici and Paris Quartets. Mezzo-soprano Helen Charlston joins Florilegium in one of the virtuosic cantatas from his Harmonischer Gottesdienst cycle of 1725-6.
Music and featured items
Part 1

Interval

Ashley Solomon introduces the Royal Flute & Pavel Kolesnikov plays CPE Bach

Duration: 21:30

Part 2

Post-concert