Main content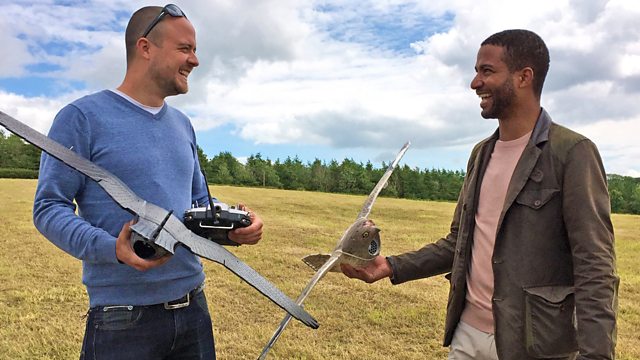 Working Animals Compilation
Sean Fletcher is in Carmarthenshire in west Wales taking a look at working animals. He meets one of the world's leading experts on birds of prey.
Sean Fletcher is in Carmarthenshire in west Wales taking a look at working animals. He meets Dr Nick Fox, OBE, who is one of the world's leading experts on birds of prey. Nick breeds falcons and has a very special way of training them - using robots. Sean is shown round the workshop where these 'robofalcons' are made. These are precision-engineered drones built to look like falcons which are used to train real live birds to hunt. Sean takes the remote controls and sees for himself just how realistic these decoy birds are. He also visits the breeding units and gets to handle fluffy little peregrine chicks. Elsewhere on the site Sean discovers that Nick has drafted in beavers to help manage his woodland. And there's a good chance Sean will be treated to the sight of some beaver kits.
Also in this programme we'll be going back through the Countryfile archives to look again at times when we've featured working animals.
Music Played
Timings (where shown) are from the start of the programme in hours and minutes
00:19

Agnes Obel

Falling, Catching

00:53

Die drei ??? Kids

012 - Internetpiraten (Teil 1)
Working birds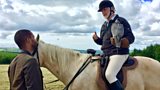 Sean Fletcher celebrates special partnerships between the people  and the animals that help the countryside tick. He meets a man who's championed the connection through a high flying career that encompasses wildlife and farming. Dr Nick Fox has built a small farm in South Wales into an international centre for falconry – and was awarded an OBE for his work with birds of prey. 
Sniffer dogs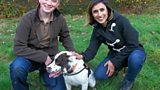 Anita Rani meets some of the greatest sniffers in the UK to find out about a ground breaking new project to create conservation dogs. Head handler, Aran Clyne, introduces Anita to the animals that are in training to help some of our most endangered British species. She learns why the conservation dogs are more efficient than humans at finding rare creatures. Then Anita puts them to the test sniffing for bat carcasses - an effective way to assess the impact of wind turbines on bat populations - and searching for Great Crested Newts. But will they manage to sniff them out?
Falcon chicks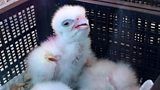 Sean gets hands on and helps feed some of the tiny week-old falcon chicks on a tasty meal of rat mince. He then meets the latest hatchlings from a centre that supplies legal captive bred birds all over the world.  
Bee school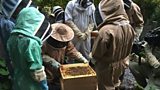 Matt visits San Sior primary school in Llandudno where they have an exciting new venture on the curriculum. The children and head teacher, Ian Keith Jones, don some colourful bee suits and show Matt the newly installed school bee hives. Ian explains the benefits of educating the children in bee keeping while Matt learns some very impressive facts from the class. They finish off with an all-important lesson in honey extraction and finally get the opportunity to taste their school honey for the first time.
Alpaca therapy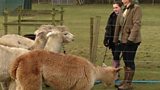 Eight years ago Chris Deakin was watching Countryfile and was so taken by a story featuring alpacas that he decided to become a full time alpaca breeder. Ellie Harrison visits Chris on his Leicestershire farm to discover what goes into looking after these incredible animals and help out with some monthly herd checks. Ellie also meets pupils from a local school who have benefitted from weekly visits to the farm. The calm and gentle nature of alpacas has helped to reduce anxiety and anger levels in children from the school who suffer from behavioural issues such as autism.
Working horses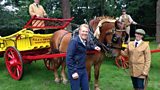 Adam Henson is at Euston Hall in Suffolk finding out how the Suffolk punch horse is being used to restore this incredible landscape. These gentle giants have magnificent power and would have been used to do most of the heavy work around the estate back when Capability Brown first designed these grounds. Adam gets to see these horses in action loading a timber drug, rolling the lawn, and pulling a carriage and harvest wagon.
Beavers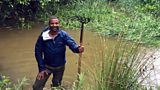 Hundreds of years ago beavers roamed the Welsh countryside and now they are back. The creatures had been hunted to extinction. But Sean finds out how they're being gradually reintroduced and recruited into a landscape management scheme to turn back the clock and re-wild some of the South Wales valleys.  
The worm farm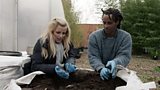 Ellie's in Worcestershire meeting a farmer with a difference. Ken Nelson farms a two acre site, his harvest? Worms. These humble invertebrates were recognised by Darwin as one of the most important creatures in the history of the world. By breaking down dead organic matter they release nutrients from dead plants and animals and make them available for living plants. As a result Ken has long list of gardening clients keen to produce the finest soils.
Goat round up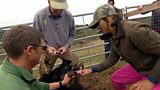 They're fast, they're wild and ... they smell. It is the National Trust's annual round up of the Isle of Wight feral goat population. Anita Rani joins an army of volunteers as they herd more than 30 goats over 200 acres of very steep terrain. The goats roam an area of the Ventnor downs to tackle the burgeoning problem of Holm Oak, a Mediterranean tree brought to the island by the Victorians. Ian Ridett from the National Trust and the team must tactically round up the goats for their annual health check. But as Anita soon finds out, goats rarely stick to the script.
Robot birds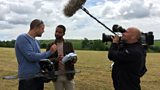 Dr Fox doesn't just breed birds – he makes them.  Sean finds out about the years of work that have gone into making the world's first remote control "robo birds" a reality.  These state of the art flying model birds are designed to look like and mimic the flight of real birds from crows and gulls to falcons. They are use as decoys, and training "prey" for falcons. Sean then witnesses a dog fight between a robo bird and real thing.
Credits
| Role | Contributor |
| --- | --- |
| Presenter | Sean Fletcher |
| Presenter | Adam Henson |
| Executive Producer | William Lyons |
| Series Producer | Joanna Brame |