Main content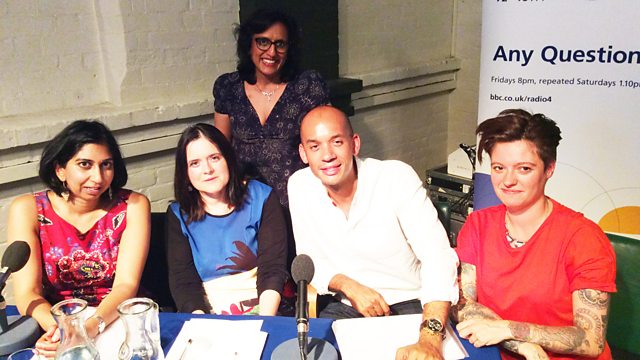 Suella Fernandes MP, Bronwen Maddox, Jack Monroe, Chuka Umunna MP
Ritula Shah presents political debate from Hungerford in Berkshire with guests Suella Fernandes MP, Bronwen Maddox, Jack Monroe, and Chuka Umunna MP.
Ritula Shah presents political debate and discussion from Hungerford in Berkshire with a panel including the chair of the European Research Group Suella Fernandes Conservative MP; Bronwen Maddox from the Institute for Government, formerly Editor of Prospect magazine; political activist and writer Jack Monroe; and the Labour MP Chuka Umunna.
Together they discussed frictionless trade post Brexit; whether it's right that Jeremy Corbyn demand total allegiance and obedience from his shadow cabinet; is the West at risk from a failure to defend traditional values as claimed by President Trump? and should it be the Government or victims who decide upon the chair of a public inquiry? And, with Pride in London, they debated LGBT rights in the UK; and whether we have a moral obligation to continue with austerity to safeguard our children's future?
Producer: Lisa Jenkinson.