Main content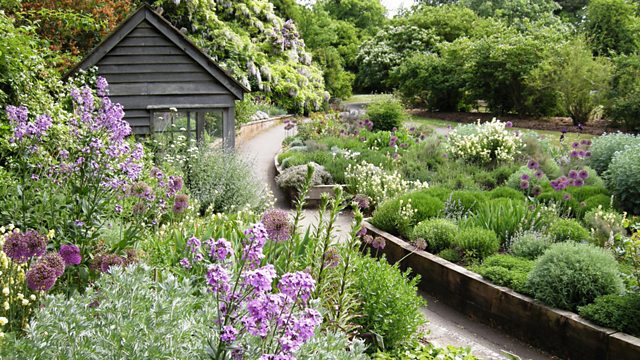 Upwell
Horticultural panel programme. Peter Gibbs and the panel visit Upwell in Norfolk. Helping answer the audience questions are Bunny Guinness, Bob Flowerdew and Christine Walkden.
Peter Gibbs and the panel visit Upwell in Norfolk. Helping answer the audience questions this week are Bunny Guinness, Bob Flowerdew and Christine Walkden.
The panellists offer advice on sowing a wild-flower garden on rich soil and how to stop spinach quickly running to seed, and they suggest the best trees to grow in pots.
Peter Gibbs noses around the Cambridge Botanical Gardens to find out how best to incorporate scent into your garden at home.
Produced by Hannah Newton
Assistant Producer: Laurence Bassett
A Somethin' Else production for BBC Radio 4.
Fact Sheet
Q – When is the best time to move Iris?
Christine – If rhizomes I would do it now. Lift them with a fork and then replant them.
Q – We would like to add a wild flower area to our garden – do we need to degrade our rich soil?
Bunny – The phosphate level is the thing that's most problematic.  Put a terram membrane over the soil and then import 200mm of limestone chippings and then sow into that.  Yellow Rattle is fine to an extent but it won't solve the problem and it takes a long time. 
Bob – You could use sharp sand if you want to grow acid-loving plants like the Brecklands.  If you put in sweetcorn and sunflowers for a couple of years they will impoverish the soil – if you're not in a rush!
Q – Whenever I grow spinach it runs to seed. What can I do?
Bob – It's difficult in East Anglia because of the dry air and warm conditions.  You need to grow it in a muddy ditch so it's cool and damp.  Try growing New Zealand spinach.  Nasturtium leaves and rocket can be grown and reduced down to be like spinach. 
Christine – Amazon works well for me. Banjo not so much. 
Bunny – I grow it in baseless cells and push them into raised beds.  Perpetual spinach beet is excellent.
Feature:
'Chocolate Cosmos'
Salvia Elegans ('Pineapple Sage')
Sweet Pea – Lathyrus odoratus 'Cupani'
'Night Scented' Stock
Evening Primrose
Salvia sclarea 'Turkestania' 'Housemaid's Armpit'
Titan Arum, Amorphophallus tiatum ('Corpse Flower')
Philadelphus 'Mock Orange'
Lilacs
Violets
Q –  How can I approve the appearance of my Clematis macropetala 'Bluebird'?
Bob – You could cut it back halfway
Christine – You could take it down to a foot in height – it's very vigorous
Bunny – To be on the safe side I'd do it in two phases. Then grow it up chicken wire as it will give it better structure
Q – I'd like to grow trees in tubs in a sunny area – what could you recommend?
Bunny -  Don't try a Yew!  Try the patio fruit trees.  Use as big a container as you can.  Olives would work well.  And they grow Lavender Cristiana underneath it. Medlars are good in containers. Go for trees without a tap root.
Christine – Sorbus.  Smaller ones like Cashmiriana and Vilmoronii.  Weeping Pear (Pyrus salicifolia). 
Bob – I'd recommend an Apricots – 'Tomcot or Goldcot' would be great
Topical tips
Nigellas (Love in the Mist)
Calendulas (Pot marigolds)
Poppies
Q – I planted a Callistemon (Bottlebrush) in my garden five years ago.  Should I prune it?
Christine – If it is a weeping variety I would leave it alone.  The pendulus forms can take 10-15 years to really get going. 
Q – We would like to grow an Acer tree in our garden. However, it is very exposed.  Are there any varieties than can cope with windy conditions?
Bob – Try the purple-red Elderberry instead
Bunny – Acers will live in pots but you'll need to protect them from the frost. 
Q – I have a young Agapanthus plant –do I repot it in normal compost and what type of pot?
Bunny – They will do well in plastic pot (but you'll need to water slightly less) and they like richer soil than most people think. They benefit from a high potash feed.  I'd repot next spring.
Christine – In Africa you often see them in damp bottoms of trenches – get them moist.  Lots of tomato fertiliser too.
Bob – to survive the winter – put it in a plastic pot, surrounded with bubble wrap and then put it in the clay pot.  Or bury the whole thing in the soil through winter.