Main content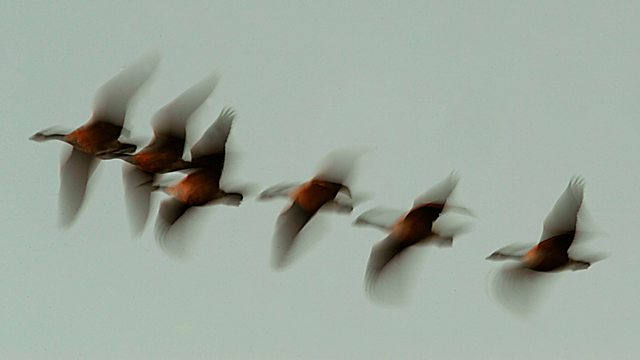 Bird Migration
Melvyn Bragg and guests discuss why some birds migrate and similar ones do not, whether the benefits outweigh the risks and how they navigate across oceans.
In a programme first broadcast in 2017, Melvyn Bragg and guests discuss why some birds migrate and others do not, how they select their destinations and how they navigate the great distances, often over oceans. For millennia, humans set their calendars to birds' annual arrivals, and speculated about what happened when they departed, perhaps moving deep under water, or turning into fish or shellfish, or hibernating while clinging to trees upside down. Ideas about migration developed in C19th when, in Germany, a stork was noticed with an African spear in its neck, indicating where it had been over the winter and how far it had flown. Today there are many ideas about how birds use their senses of sight and smell, and magnetic fields, to find their way, and about why and how birds choose their destinations and many questions. Why do some scatter and some flock together, how much is instinctive and how much is learned, and how far do the benefits the migrating birds gain outweigh the risks they face?
With
Barbara Helm
Reader at the Institute of Biodiversity, Animal Health and Comparative Medicine at the University of Glasgow
Tim Guilford
Professor of Animal Behaviour and Tutorial Fellow of Zoology at Merton College, Oxford
and
Richard Holland
Senior Lecturer in Animal Cognition at Bangor University
Producer: Simon Tillotson.
Last on
LINKS AND FURTHER READING
Barbara Helm at the University of Glasgow
Tim Guilford at the University of Oxford
Richard Holland at Bangor University
How Do Birds Navigate? - National Geographic Society
Oxford Navigation Group - Department of Zoology, University of Oxford
Migration and the ecology of migrants – British Trust for Ornithology
Convention on the Conservation of Migratory Species of Wild Animals
Smithsonian Migratory Bird Center
'Migration and stopover in a small pelagic seabird, the Manx Shearwater Puffinus puffinus: insights from machine learning' by T. Guilford, J. Meade, J. Willis, R.A. Phillips, D. Boyle, S. Roberts, M. Collett, R. Freeman, C.M. Perrins - Proceedings of the Royal Society (2009)
'A dispersive migration in the Atlantic Puffin, and its implications for migratory navigation' by Tim Guilford, Robin Freeman, Dave Boyle, Ben Dean, Holly Kirk, Richard Phillips, Chris Perrins – PLOS One (2011)
'Migratory Restlessness in an Equatorial Nonmigratory Bird' by Barbara Helm and Eberhard Gwinner - PLOS Biology (2006)
READING LIST:
Tim Birkhead, The Wisdom of Birds: An Illustrated History of Ornithology (Bloomsbury, 2011)
James Cheshire and Oliver Uberti, Where the Animals Go: Tracking Wildlife with Technology in 50 Maps and Graphics (Particular Books, 2016)
Hugh Dingle, Migration: The Biology of Life on the Move (Oxford University Press, 2014)
James L. Gould and Carol Grant Gould, Nature's Compass: The Mystery of Animal Navigation (Princeton University Press, 2012)
Janice Hughes, The Migration of Birds: Seasons on the Wing (Firefly Books, 2009)
Ian Newton, Bird Migration (HarperCollins, 2010)
Ian Newton, The Migration Ecology of Birds (Academic Press, 2007)
Chris Wernham, Mike Toms, John Marchant, Jacquie A. Clark, Gavin Siriwardena and Stephen Baillie (eds), The Migration Atlas: Movements of the Birds of Britain and Ireland (Christopher Helm Publishers Ltd, 2002)
Credits
| Role | Contributor |
| --- | --- |
| Presenter | Melvyn Bragg |
| Interviewed Guest | Barbara Helm |
| Interviewed Guest | Tim Guilford |
| Interviewed Guest | Richard Holland |
| Producer | Simon Tillotson |
Broadcasts

Featured in...
Scientific principles, theory, and the role of key figures in the advancement of science.