Main content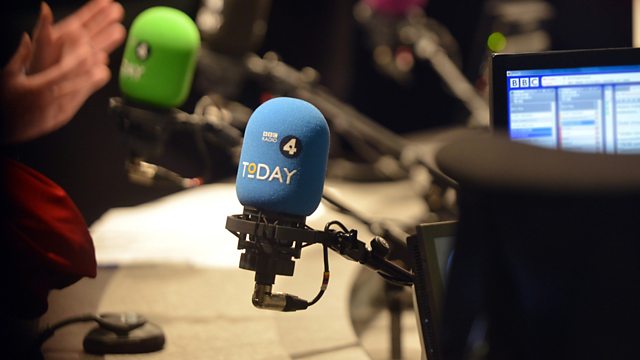 05/07/2017
Morning news and current affairs. Including Yesterday in Parliament, Sports Desk, Weather and Thought for the Day.
Last on
Today's running order
0650 
Our daily Puzzle. Today's offering comes from the National Cyber Security Centre. Let's talk about it to the man who set it Chris Ensor, deputy director for Cyber Security Skills and Growth at the National Cyber Security Centre and Kim – a 15 year-old student who took part in the CyberFirst Girls online competition.
0715
The development and sale of robots designed to look like humans and used for sexual purposes is fast-approaching with a number of companies already taking orders. The Foundation for Responsible Robotics has today launched a report on people's sexual future with robots, it aims to provide both the public and policy makers with what's possible with this new technology. Dr Aimee Van Wynsberghe is assistant professor in ethics and technology at the Technical University of Delft and co-director of the Foundation for Responsible Robotics
0720
Councils in England will be given access to a multi-billion pound fund for local road improvements new under plans. The scheme involves creating a Major Road Network to allow local authorities to take a share of the vehicle excise duty-funded National Roads Fund. We speak to Transport Secretary Chris Grayling.
0730
On October 28 this programme will have been on the air for sixty years. That's a record for a daily news programme and obviously we're going to mark the occasion.  In the months leading up to the anniversary we're going to be looking at how our country has changed during those sixty years and we want to know what you think have been the biggest changes in our country in your lifetime.
0735
A report has concluded Saudi Arabia is the biggest source of Islamist extremism in Britain. The Henry Jackson Society has concluded our most powerful ally in the Middle East is accused of hypocrisy for singling out Qatar as a sponsor of terrorism and has been endorsed by a Labour MP, who calls for the Government's own secret report into extremism to be made public. Zaid Belbagi has provided strategic advice to Gulf countries, he is also a columnist for Al Arabiya and Arab News.
0750
A disabled refugee murder by a vigilante who wrongly believed he was a paedophile could have been prevented by the police according to a report by the Independent Police Complaints Commission. Bijan Ebrahimi, 44 was beaten to death and his body set on fire outside his home in Bristol, by neighbour Lee James in 2013. Sarah Crew is deputy chief constable of Avon and Somerset Police.
 0810
Three weeks after the prime minister issued a statement saying "everybody affected" would be "found a home nearby" only a handful of residents have accepted the offers of new accommodation. We have reached Theresa May's deadline. Sid Alt-Atmani is a survivor of the Grenfell Tower fire and Eleanor Kelly is chief executive of Southwark Council and spokesperson for the Grenfell Fire Response.
0830
An official report says victims of harassment and stalking are being left at risk because of failings by police and prosecutors in England and Wales. Two watchdogs found that crimes weren't being recorded, investigations were conducted poorly and legal protection wasn't offered to enough victims. Alexis Bowater is former chief executive of the Network for Surviving Stalking and Garry Sheena is National Police Chiefs' Council lead for stalking and harassment.
0840
Students from the poorest backgrounds will leave university with £57,000  of debt, and most will never repay their loans, according to new analysis published today. Nick Hillman is director of HEPI (Higher Education policy Institute) and Shakira Martin is president of the NUS.
0850
Vogue's fashion editor for 25 years has suggested that her industry is exploitative. Lucinda Chambers told the fashion blog Vestoj: "In fashion we are always trying to make people buy something they don't need. We don't need any more bags, shirts or shoes. So we cajole, bully or encourage people into continue buying." We speak to Emma Hope, a shoe designer who has run her own label since 1985 and Merryn Somerset-Webb, editor in chief of Moneyweek and an FT columnist.
All timings subject to change
Broadcast