Main content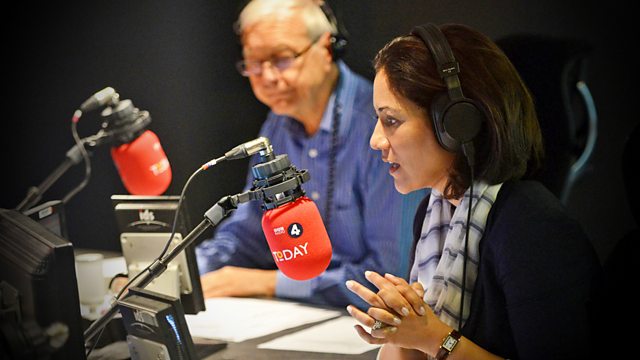 04/07/2017
News and current affairs. Including Yesterday in Parliament, Sports Desk, Weather and Thought for the Day.
Today's running order
0655
Nearly seven hundred thousand children in England are living in families which are described as high risk, whilst many other vulnerable young people struggle with abuse or mental health issues. Anne Longfield OBE is the Children's Commissioner for England.
0709
Cancer patients could be offered genetic tests within five years under proposals outlined by England's chief medical officer. Phil Booth is Coordinator of MedConfidential.
0715
After facing pressure from cabinet ministers to act on the public sector pay cap, the Chancellor has said the government 'has to hold its nerve' and would continue to assess the balance between being fair to public servants and the taxpayers. Lord Lawson is former Conservative Chancellor of the Exchequer.
0720
Eight year old Saffie Roussos was the youngest of the 22 people murdered in the Manchester Arena bombing. We speak to Saffie Roussos' family.  Judith Moritz is our BBC correspondent.
0730
The deadline the Prime Minister set to rehouse the Grenfell Tower residents commences tomorrow, according to the Grenfell Response Team so far 126 offers of new accommodation have been made but only 7 have been accepted. Sanchia Berg is our BBC correspondent. Emma Dent Coad is the Labour MP for Kensington. 
0740
Music industry veteran Danny Goldberg and former manager of Led Zepplin reflects on the iconic year of 1967 and the release of his book 'In Search of the Lost Chord' to be published this week. 
0750
The chancellor has insisted pay policy has not changed and the 'right balance' must continue to be struck in terms of what is fair for workers and taxpayers, the government has to hold its nerve. Lord Alistair Darling is Labour Peer and Former Labour Chancellor
0810
Under new proposals many cancer patients could be offered genetic tests within five years for the best treatments.  Jillian is a full time carer to her three year old son and a participant in the 100,000 Genomes Project. Dame Sally Davies is England's Chief Medical Officer.
0820
New rules introduced later this week will allow charities to be fined up to £25,000 if they pester people with unsolicited marketing, this takes affect after the death of Olive Cooke, a 92-year-old took her own life after receiving hundreds of letters and phone calls from charities. Lord Michael Grade is Chairman of the Fundraising Regulator
0830
Senator Ian Gorst is Jersey's chief minister has pledged to build a new culture in children's homes after the inquiry into abuse in care on the Jersey Island. Madeleine Vibert spent five years at Haute De La Garenne home from the age of five, she wrote 'They Stole My Innocence' about the abuse she suffered at the home.
0840
President Putin will meet President Trump in person later this week for their first bilateral meeting at the G20 summit in Germany. Arkady Ostrovsky is Russia Editor at The Economist and Bridget Kendall is Former BBC Diplomatic Correspondent and current Master of Peterhouse.
0845
Are political parties suffering if they don't know how to make the most of the internet and social media? Lord (Paddy) Ashdown is former leader of the Liberal Democrats.
0850
What is the Italian government's view of Brexit and Prime Minister Theresa May's offer on citizenship for EU nationals? Pasquale Terracciano is the Italian Ambassador.
0855
The UNESCO World Heritage Committee begin their 10 day conference in Poland today they discuss the possibility of Liverpool becoming the second city (after Dresden) to lose its World Heritage status given in 2004.
Henrietta Billings is Director of "Save Britain's Heritage" a group which campaigns for the conservation of Britain's historic buildings. Professor MICHAEL PARKINSON is Associate Pro-Vice Chancellor for civic engagement at the University of Liverpool.
All timings subject to change