Main content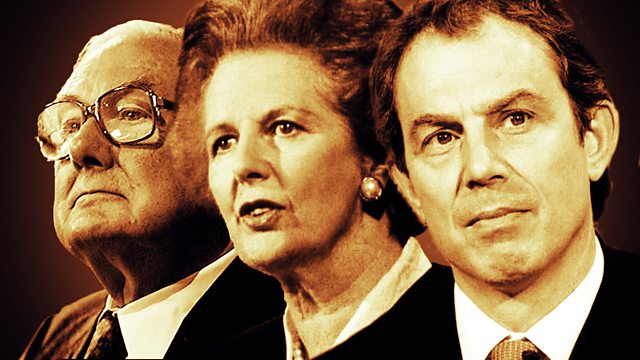 The Thirty Year Itch
Has British politics reached a turning point? Phil Tinline explores what the turmoil of the 1970s can tell us about how governing orthodoxies break down, and new ones emerge.
In 2008, the Crash delivered a severe challenge to the economic liberalism that had long dominated our politics. Ever since, British politicians have been searching for a new big idea that can shape the next few decades, as economic and social liberalism has shaped our lives up to today.
And now, a range of commentators are telling us that the general election has brought all this to crisis point.
So - how can we make sense of all this? To get a glimpse of what the future may hold, we need to look back to the past.
Because this isn't the first time a dominant set of ideas has broken down. The Keynesian 'consensus' ruled from the Second World War, based around full employment - until after thirty years, it broke down amid 1970s strikes and stagflation and Thatcherism took over.
And before that, an earlier version of global liberal economics dominated - until the Wall Street Crash and the Depression laid the ground for the postwar welfare state.
So in this programme, documentary-maker Phil Tinline tells the dramatic story of the breakdown of the post-war approach, through the epic fights of the Seventies - and uses it to try to work out where we're up to today.
He talks to historians and politicians about the way the 1970s became a battle for power between government and trade unions, which ended in Mrs Thatcher's victory. And he hears from thinkers - variously labelled 'Blue Labour', 'Red Tory' and 'post-liberal' - who have been arguing ever since the Crash that the new battle for power is against both centralised government and big corporations.
Over the last few years, leading figures in both big parties have tried to use these ideas to take on concentrations of power and break through to a new orthodoxy. But, like those politicians who challenged the power of the trade unions in the 1970s, they have repeatedly come up against the power of the status quo and the taboos that underpinned it.
So - does the election, and the struggle over the meaning of Brexit, mean that these ideas might now find their moment? Or does the story of the 1970s actually suggest that we might be simply heading back to something more like the big-government model of the post-war years?
Speakers include: Phillip Blond, Rowenna Davis, Maurice Glasman, David Goodhart, Dominic Sandbrook, David Skelton, Peter Snowdon.
Producer/ Presenter: Phil Tinline.
Last on