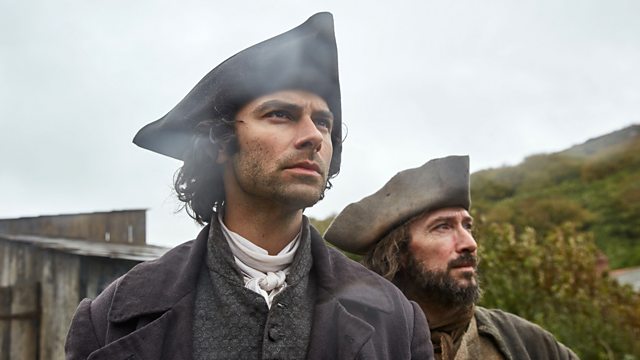 As Elizabeth becomes more ambivalent about Valentine, George courts Sir Francis Basset for the vacant magistracy position. Ross is reintroduced to Tholly Tregirls, an old friend of his father's and a ne'er-do-well who has returned to area. Verity returns to Trenwith, awaiting word from her husband, Andrew, whose ship is en route to Lisbon, while Elizabeth feels the sting of Morwenna and Geoffrey Charles's connection.
The Carnes disobey Ross by crossing Trenwith land and Drake gives Morwenna winter primroses. Ross learns that Andrew's ship is missing and Dwight's has been lost in combat so he puts out word along the coast, seeking information for a reward. Sam's flock provoke George, so George has Odgers ban them from church. Ross, Demelza, Verity and Caroline attend Basset's gathering, where several French nobles are staying, to learn of the vessels' fates.
Drake shows Morwenna and Geoffrey Charles a holy well of fresh water by the beach and Reverend Halse offers Ross the magistracy role, but Ross refuses and it is given to George. Caroline discovers that Andrew is safe, but Ross tells Demelza he fears the worst for Dwight. Tholly arrives with information and Ross sails for France with him as Dwight faces execution and Verity leaves for Lisbon for good.
Last on
Credits
| Role | Contributor |
| --- | --- |
| Ross Poldark | Aidan Turner |
| Demelza Poldark | Eleanor Tomlinson |
| Verity | Ruby Bentall |
| Aunt Agatha | Caroline Blakiston |
| Morwenna Chynoweth | Ellise Chappell |
| Prudie | Beatie Edney |
| George Warleggan | Jack Farthing |
| Tholly Tregirls | Sean Gilder |
| Dwight Enys | Luke Norris |
| Elizabeth Warleggan | Heida Reed |
| Drake Carne | Harry Richardson |
| Caroline Penvenen | Gabriella Wilde |
| Sam Carne | Tom York |
| Paul Daniel | Ed Browning |
| Reverend Halse | Robin Ellis |
| Henshawe | John Hollingworth |
| Sir Francis Bassett | John Hopkins |
| Reverend Odgers | Jason Squibb |
| Zacky Martin | Tristan Sturrock |
| Cary Warleggan | Pip Torrens |
| Geoffrey Charles | Harry Marcus |
| Composer | Anne Dudley |
| Director | Joss Agnew |
| Producer | Roopesh Parekh |
| Producer | Michael Ray |
| Writer | Debbie Horsfield |
| Author | Winston Graham |
| Production Company | Mammoth Screen |