Main content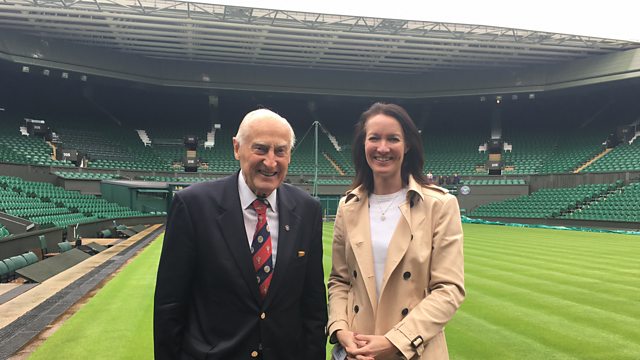 Wimbledon
Alison Mitchell meets the people who cultivate the sporting landscape at Wimbledon and ensure that the courts are in pristine condition in time for the annual Championships.
When Andy Murray steps out onto Centre Court to defend his 2016 title at the All England Lawn and Tennis Club in Wimbledon it will be the culmination of a year's work by a team of people who dedicate their lives to this iconic sporting landscape. Alison Mitchell takes a break from the commentary box to go behind the scenes of this iconic sporting venue.
Starting on the roof of the broadcast centre she speaks to Ashley Jones from Wimbledon Museum about how the grounds have moved twice since the club was founded in 1868, and explains how a broken piece of garden equipment led to the inception of the Championships.
Alison describes the Centre Court commentary box as an 'Alice in Wonderland' moment, and squeezes through its narrow doors, ducking under its low ceilings to speak to John Barrett about his life-long relationship with the Championships from visiting as a boy, to later playing there, and then his many years commentating for the BBC including that epic 1980 men's final between John McEnroe and Bjorn Borg.
She goes court-side with Head Groundsman Neil Stubley to talk about the upkeep of the playing surface, before joining Johnny Perkins on 'Henman Hill' to find out how this patch of spare ground has become an integral part of the Championship experience.
For podcast subscribers there's also an interview with Ronald McIntosh about how his first assignment at Wimbledon turned into the longest-running match in tennis history with John Isner triumphing over Nicholas Mahut 70-68 in the final set, an encounter now marked by a plaque at Court 18.
Producer: Toby Field.
Podcast
Countryside magazine featuring the people and wildlife that shape the landscape of Britain