Main content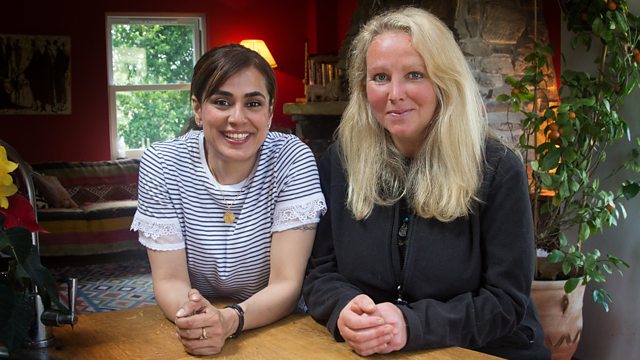 Curry Club
Sumayya Usmani and Ghillie Basan explore how chillies became an important curry ingredient and make stuffed green chillies, plus they are joined by Trishna Singh.
The Bangalore Torpedo, a Devil's Rib, an Elephant's Trunk, a Bird's Eye and a bit of Scottish Purple Gusto, all varieties of chilli, love them or loathe them chillies are a fundamental part of any curry.
In this month's Curry Club, Sumayya Usmani and Ghillie Basan explore how chillies travelled the world and became such an important ingredient to any curry.
They make a very quick a simple recipe for stuffed green chillies using mango powder, cumin and nigella seeds. According to Sumayya's family traditions the stuffed chillies are best eat with freshly made chapatti so she takes a lesson in chapatti making from her daughter.
Special guest Trishna Singh, Director of Sikh Sanjog and Edinburgh's Punjabi Junction joins Ghillie and Sumayya with her homemade aloo prantha and describes how Leith's female sikh community brings their home cooked, traditional Punjabi style of food into the heart of Edinburgh.
Pennie Latin joins Jagdish Kaur Landa in the kitchen at Punjabi Junction to make a lamb kofta curry.
Sumayya's amchoor stuffed chillies
Podcast
Celebrate the joy of Scotland's larder with recipes, reviews, tips and delicious ideas!