Main content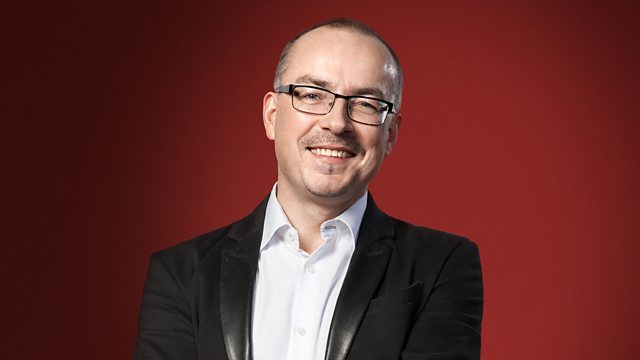 Andrew McGregor with Simon Heighes, Sarah Walker and William Mival
With Andrew McGregor. Including Building a Library: Telemann's Water Music; Sarah Walker and WIlliam Mival on recent releases of music by Falla and Granados; Disc of the Week.
with Andrew McGregor.
0930
Building a Library: Simon Heighes sifts through the available recordings of Telemann's Water Music 'Hamburger Ebb' und Fluth' and makes a recommendation. Commissioned in 1723 to celebrate the Hamburg Admiralty's centenary, Telemann's colourful suite of dances, with its allusions to ancient gods of wind and sea and to merry boatmen and the Elbe, hit the spot with Hamburgers to become the most popular and most performed secular work in his lifetime.
1045
Sarah Walker and William Mival roundup recent releases of music by Manuel de Falla and, in the 150th year since his birth, Enrique Granados.
1145
Andrew chooses an outstanding new release as his Disc of the Week.
9.00am
Richard Strauss: Metamorphosen & Symphony for Wind Instruments
STRAUSS, R: Metamorphosen; Serenade in E flat major for Winds Op. 7
Aldeburgh Strings, Aldeburgh Winds
LINN CKD538 (CD)
Music In Exile Vol. 3: Chamber Works by Szymon Laks
LAKS: Divertimento for violin, clarinet, bassoon, and piano; Concertino for oboe, clarinet, and bassoon; Passacaille (arrangement for clarinet and piano); String Quartet No. 4; Quintet for piano and strings; Sonatina for piano
ARC Ensemble
CHANDOS CHAN10983 (CD)
CARBONELLI: Sonate da Camera Nos. 1-6
Bojan Cicic (violin), The Illyria Consort
DELPHIAN DCD34194 (CD)
Visions
BIZET: Priere, o doux souffle de l'ange (from Clovis et Clotilde)
BRUNEAU: Seigneur ! Est-ce bien moi que vous avez choisie? (from Genevieve)
DAVID, FELICIEN: Sous le feuillage sombre (from Lalla-Roukh)
FEVRIER, H: Dit-elle vrai? (from Gismonda)
FRANCK, C: Les Beatitudes, M53: Mater dolorosa; Le flot se leve (from Redemption)
GODARD, B: La-bas, vers le palais (from Les Guelfes)
HALEVY: Ce sentier nous conduit vers le couvent voisin (from La Magicienne)
MASSENET: La Vierge: Le Dernier Sommeil de la vierge (Legende sacree); La Vierge: L'extase de la Vierge
NIEDERMEYER: Ah! Quel songe affreux! (from Stradella)
SAINT-SAENS: Ah! Laissez-moi, ma mere! (from Etienne Marcel)
Veronique Gens (soprano), Munchner Rundfunkorchester, Herve Niquet (conductor)
ALPHA ALPHA279 (CD)
9.30am – Building a Library
Composer: Telemann
Piece: 'Water Music'
Reviewer: Simon Heighes
Building a Library: Telemann's 'Water Music'
Composer: Telemann
Piece: 'Water Music'
Reviewer: Simon Heighes


Recommended recording:

Telemann - Suites & Concertos for recorder & orchestra
TELEMANN: Overture (Suite) TWV 55:a2 in A minor for recorder (flute), strings & b.c.; Concerto TWV 51:C1 in C major for recorder, strings & b.c.; Overture (Suite) TWV 55:C3 in C major for wind, strings & b.c. 'Hamburger Ebb und Fluth' ('Wassermusik')
Maurice Steger (treble recorder), Akademie fur Alte Musik Berlin
HARMONIA MUNDI HMC901917 (CD)
Other recommended recordings:
Below is a shortlist of other recordings which Simon also liked, although we can't guarantee the availability of these discs.
Zefiro, Alfredo Bernardini (conductor)
ARCANA A432 (CD)
Reissued on 23rd June 2017
The King's Consort, Robert King (conductor)
HYPERION CDA66967 (only available as a download)
Emelie Roos (recorder), Anna Paradiso (harpsichord), Dan Laurin (recorder), Hoor Barock, Dan Laurin (conductor)
BIS BIS2235 (Hybrid SACD)
10.15am – New Releases: Kurtag Chamber Music
Kurtag: Complete Works for Ensemble and Choir
KURTAG: Capriccios (4) to poems by Istvan Balint Op. 9; Songs (4) to Poems by Janos Pilinszky Op. 11; Grabstein fur Stephan Op. 15c; Messages of the Late Miss R.V. Troussova Op. 17; …quasi una fantasia…op. 27 No. 1; Doppelkonzert Op. 27 No. 2; What is the word; Songs of Despair and Sorrow, Op 18; Poems (4) by Anna Akhmatova Op. 41; Colinda-Balada; Bref Message a Pierre Boulez
Netherlands Radio Choir (chorus), Natalia Zagorinskaya (soprano), Gerrie de Vries (mezzo-soprano), Yves Saelens (tenor), Harry van der Kamp (bass), Jean-Guihen Queyras (cello), Elliott Simpson (guitar), Tamara Stefanovich (piano), Csaba Kiraly (pianino, spoken word), Asko | Schoenberg Ensemble, Reinbert de Leeuw (conductor)
ECM 4812883 (3CD)
10.50am – Panel discussion: William Mival and Sarah Walker on Falla and Granados
Enrique Granados: The Collection
GRANADOS: Allegro de concierto Op. 46; Danza lenta; Goyescas (piano suite); El Pelele; Danzas espanolas Op. 37 Nos. 1-12; Valses Poeticos (7); Escenas romanticas; Bocetos; Cuentos de la Juventud Op. 1 (10); Canciones amatorias; Tonadillas; Goyescas: Quejas o La Maja y el Ruisenor; Canco D'amor; L'ocell profeta (Canta, aucell aimat); Cuentos de la Juventud Op. 1: Dedicatoria; Tonadillas: No. 7, La maja de Goya; Andaluza; Danza espanola Op. 37 No. 4 'Villanesca'; Valses Poeticos (8); Goyescas (piano suite): Intermezzo; Danza espanola Op. 37 No. 6 'Jota'; Goyescas (piano suite): Intermezzo; Danza espanola Op. 37 No. 6 'Jota'; Danza espanola Op. 37 No. 11 'Bolero'; Danza espanola Op. 37 No. 2 'Orientale'; Goyescas (opera); Valses Poeticos (8); Danza espanola Op. 37 No. 5 'Andaluza'; Goyescas (piano suite): Intermezzo; Danza espanola Op. 37 No. 5 'Andaluza'; Goyescas: Quejas o La Maja y el Ruisenor; Danza espanola Op. 37 No. 5 'Andaluza'; Danza espanola Op. 37 No. 5 'Andaluza'; Danza espanola Op. 37 No. 5 'Andaluza'; Danza espanola Op. 37 No. 5 'Andaluza'; Goyescas (opera): Intermezzo
Alicia De Larrocha (piano), Montserrat Caballe, Rafael Ferrer, Julian Bream (guitar), Timothy Kain (guitar), John Williams (guitar), Consuelo Rubio (Rosario), Ana Maria Iriarte (Pepa), Gines Torrano (Fernando), Manuel Ausensi (Paquiro), The Madrid Singers (chorus), National Orchestra of Spain, Ataulfo Argenta, Xavier de Maistre (harp), The Philadelphia Orchestra, Eugene Ormandy (conductor), Pablo Casals (cello), Nikolai Mednikoff (piano), Arthur Rubinstein (piano), Fritz Kreisler (violin), Carl Lamson (piano), Jascha Heifetz (violin), Samuel Chotzinoff (piano), Lavinia Meijer (harp), Carel Kraayenhof (accordion), Chicago Symphony Orchestra, Fritz Reiner (conductor)
SONY RCA Red Seal 88985396972 (7CD)
El Amor Brujo: Esencias de la musica de Manuel de Falla
CANTEMIR: Escena Bestenigar
FALLA: Cancion del amor dolido (from El amor brujo); Ritual Fire Dance (from El amor brujo); El Amor Brujo: Pantomime; Las campanas del amanecer (El amor brujo); Koumiss y Fuego Fatuo; Pasacalle en Circulo Magico
RODRIGO: Concierto de Aranjuez: Allegro con spirito; Concierto de Aranjuez: Adagio (extract)
SANTA CRUZ: Xacara del juego de Amor
SANZ: Canarios; Taranta de la Siega
Enrike Solinis (adaptations and musical director), Euskal Barrokensemble
ALIA VOX AV9921 (CD)
Ravel: Piano Concertos & Falla: Nights in the gardens of Spain
FALLA: Noches en los jardines de Espana
RAVEL: Piano Concerto in G major; Piano Concerto in D major (for the left hand)
Steven Osborne (piano), BBC Scottish Symphony Orchestra, Ludovic Morlot
HYPERION CDA68148 (CD)
De Falla: Noches en los jardines de Espana; El sombrero de tres picos
FALLA: Noches en los jardines de Espana; El sombrero de tres picos; La vida breve: Interlude & Dance; Ritual Fire Dance (from El amor brujo)
Mari Kodama (piano), Sophie Harmsen (mezzo-soprano), Orchestra de la Suisse Romande, Kazuki Yamada
PENTATONE PTC5186598 (Hybrid SACD)
11.45am – Disc of the Week
MENDELSSOHN: Symphonies Nos. 1-5
Karina Gauvin, Regula Muhlemann (sopranos), Daniel Behle (tenor), Chamber Orchestra of Europe, RIAS Kammerchor, Yannick Nezet-Seguin (conductor)
DG 4797337 (3CD)