Main content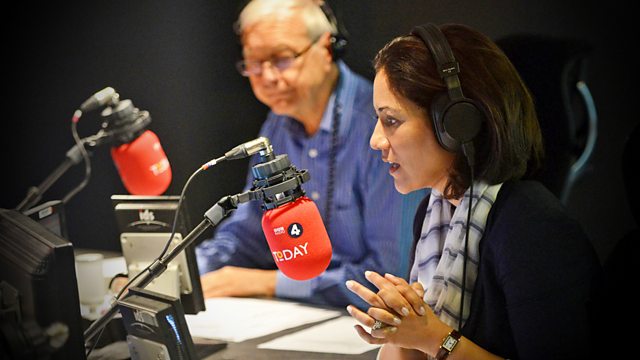 30/06/2017
Morning news and current affairs. Including Yesterday in Parliament, Sports Desk, Weather and Thought for the Day.
Today's running order

0650
Experts in cyber security from around the world are meeting in Israel to talk about the growing threat  of cyber-attacks. Michael Daniel is a former cyber security coordinator under the Obama administration.
0655
The international body that polices chemical weapons, the OPCW, has confirmed that the nerve agent Sarin was used in the attack in April on the Syrian town of Khan Sheikhoun that was held by rebels. Our diplomatic correspondent James Landale reports.

0709
137 high rise buildings have now failed safety tests on cladding in 41 local authority areas following the disaster at Grenfell Tower – that's a 100 per cent failure rate. But are the tests conclusive proof that these buildings are unsafe? Robert Atkinson is a Labour councillor on Kensington and Chelsea council.
0712
There have been major cyber security attacks around the world in the last few weeks but how do they affect individuals? Our technology reporter Zoe Kleinman reports.
0715
Parents who leave their car engines running while on the school run could face fines as part of a drive to cut air pollution. Professor Mark Baker is director for the centre for guidelines at the National Institute for Health and Care Excellence (NICE).
0720
Peter Nixon is managing director of Philip Morris UK and Ireland.
0725
Scientists have installed sensors across the Olympic Park in East London to map the population of bats there. Kate Jones is a researcher from University College London.

0730
Italy has been struggling to cope with a surge in the number of migrants crossing the Mediterranean with more than 10,000 people arriving on its shores in the past few days. Commander Brian Fitzgerald is the captain of Le Eithne, an Irish naval patrol ship which is supporting the Italian authorities in rescuing migrants. Lucio Malan is a senator for Forza Italia, the Italian opposition party led by Silvio Berlusconi.
0740
Two projects are aimed at rewilding the countryside with the Wolf and the Lynx. Both once native to the UK they are raising concerns among landowners. Our correspondent Nicola Stanbridge reports.
0750
137 high rise buildings have now failed safety tests on cladding in 41 local authority areas following the disaster at Grenfell Tower – a 100 per cent failure rate. But are the tests conclusive proof that these buildings are unsafe? Lord Porter is a conservative peer and chair of the Local Government Association.
0810
When a massive cyber-attack began in the Ukraine on Tuesday, it looked like a criminal enterprise designed to raise ransoms. Now the National Cyber Security Centre has raised the possibility that disruption - not financial gain - was the ultimate aim of the hack. Ciaran Martin is the chief executive of the National Cyber Security Centre.
0820
The House of Commons Speaker John Bercow clarified the dress guidelines yesterday and male MPs wearing ties is apparently not one of them. Peter Bone is a Conservative MP.
0830
The number of people taking their own life on the railways is at its lowest since 2010 following a ground-breaking partnership between the Samaritans and Network Rail. Carmel Giansante is father to Oscar, who killed himself two years ago and Rob Christopher is a Samaritans trainer who has worked with Network Rail.
0835
Should the Conservative government reverse austerity starting with lifting the cap on public sector pay? Robert Halfon is a Conservative MP and former education minister.
0840
Discrimination, nepotism and a lack of appropriate training are being blamed for a shortage of 10,000 workers in the film industries. Iain Smith is the chair of the UK Film Skills Council and chair of the British Film Commission (BFC).
0845
The deadline for agreeing a deal to restore power-sharing in Northern Ireland has been extended to Monday. The DUP and Sinn Féin are deadlocked over nationalist demands for an Irish language act. What do non-politicians in Northern Ireland make of their politicians' sectarian squabbling? Colin Williams is a creative director of Sixteen South Television and Anne Devlin is a writer, playwright and screen writer.
0850
This week we have seen a cyber-attack on Parliament, British companies and others around the world. Last month, the NHS was hit by a ransomware attack, thought to have originated in North Korea. Do we have the skills to get to grips with the threat from cyber-crime and espionage? Mustafa Al-Bassam is a former hacker and an information security adviser at Secure Trading and Jane Frankland is a market adviser on cyber-security.
All timings subject to change