Main content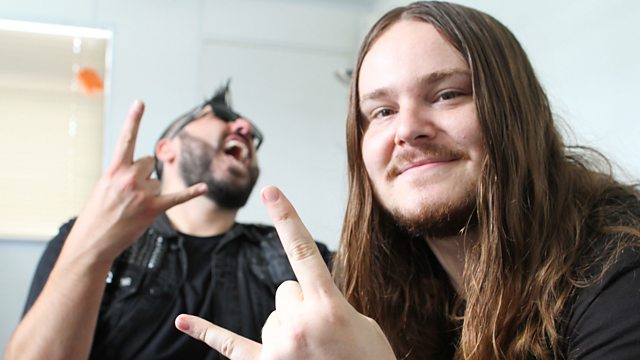 More from backstage at Download Festival!
Dan has even more backstage chit-chat from Download Festival, plus an exclusive Stone Sour track and Getting to Know Wallflower!
Ever wanted to know what Ryan from Motionless in White's first band was called or what was the first album Joel from Good Charlotte bought? Dan asked a number of band members at Download to interview each other and this week we'll hear from Good Charlotte, Of Mice And Men, Motionless In White, Sum 41 and State Champs. Plus, we catch up with Pierce The Veil & their fans at our first ever Radio 1 Rock Show Signing Tent!
Last on
Music Played
PVRIS

What's Wrong

All We Know Of Heaven, All We Need Of Hell.
Rise Records/BMG Rights Management (UK) Ltd.

BACKSTAGE AT DOWNLOAD FESTIVAL 2017

Neck Deep

Where Do We Go When We Go

The Peace And The Panic.
Hopeless Records.

Rockest Record

SAINTE

Eyes Are Open

Smile, And Wave EP.
Good Problems.

Queens of the Stone Age

The Way You Used To Do

BACKSTAGE AT DOWNLOAD FESTIVAL 2017

Pierce the Veil

Circles

Misadventures.
Fearless Records.
6.

The Smashing Pumpkins

Geek U.S.A.

Siamese Dream.
Virgin Records Ltd.
8.

BACKSTAGE AT DOWNLOAD FESTIVAL 2017

Green Day

Bouncing Off The Wall

Revolution Radio.
Reprise Records.
6.

REUBEN RE-ISSUE ANNOUNCEMENT

Reuben

Blood, Bunny, Larkhall

BACKSTAGE AT DOWNLOAD FESTIVAL 2017

Good Charlotte

Keep Swingin

Sum 41

Goddamn I'm Dead Again

13 Voices.
Hopeless Records.
2.

Exclusive

Stone Sour

Rose Red Violent Blue (This Song Is Dumb And So Am I)

Hydrograd.
Roadrunner Records.

LIVE AT GLASTONBURY FESTIVAL 2017

Foo Fighters

This Is A Call

Foo Fighters

Everlong (Glastonbury, 24 June 2017)

GETTING TO KNOW: WALLFLOWER

Elder

Sanctuary

Reflections Of A Floating World.
Armageddon Shop.
Broadcast