Main content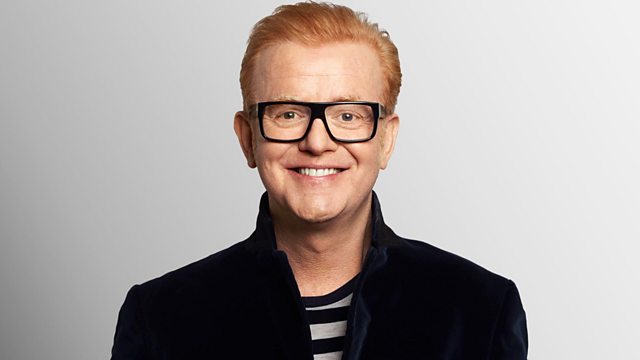 Rob Brydon and Egg & Spoon races!
Rob Brydon tells us about his love for Elvis and his Radio 2 show about the King. Paul Gustafson tells us about organising the first ever egg and spoon world championships!
Rob Brydon tells us about his love for Elvis and his Radio 2 show, as well as going back out on tour. Paul Gustafson talks about organising the first ever Egg and Spoon World Championships and it's our annual celebration of brilliantly named small businesses. In the sports locker, Vassos speaks to Test Match Special commentator Ebony Rainford-Brent about the Women's Cricket World Cup and Jahnavi Harrison reads today's Pause for Thought.
Last on
Clips

Music Played
Mark Ronson

Valerie (feat. Amy Winehouse)

Lindsey Buckingham

&

Christine McVie

Red Sun

Redbone

Come And Get Your Love

Will Smith

Gettin' Jiggy Wit It

Basement Jaxx

Do Your Thing

The Banana Splits

The Tra La La Song (One Banana, Two Banana)

Television's Greatest Hits Vol. 5: In Living Color (Various Artists).
TVT Records.

Cheap Trick

I Want You To Want Me

Paul Heaton

&

Jacqui Abbott

I Gotta Praise

The Corrs

So Young (K-Klass Remix)

Remix Artist: K‐Klass.

Talk On Corners (Special Edition).
Atlantic/143 Records.

The Blackbyrds

Walking In Rhythm

Afrodisiac (Various Artists).
Universal Music Tv.

The Brothers Johnson

Stomp

10 Star Collection: Soul 2 (Various).
Stardust.
5.

Village People

In The Navy

The 70's: Back In The Groove - 1979.
Time Life.

Deacon Blue

Fergus Sings The Blues

Deacon Blue- Our Town (Greatest Hits).
Columbia.

Rick Astley

This Old House

(CD Single).
BMG Rights Management GmbH.
004.

Judy Garland

Get Happy

Musical Wonderland (Various Artists).
Warner Strategic Marketi.

Elvis Presley

Blue Suede Shoes

Presley - The All Time Greatest Hits.
RCA.

Adele

Rolling In The Deep

Supergrass

Alright

The Best Pub Jukebox In The World (V).
Virgin.

Stevie Wonder

Higher Ground

Motown Chartbusters Vol. 9 (Various Artists).
Spectrum Music.

The Motors

Airport

Fantastic 70's (Various Artists).
Sony Tv/Columbia.

The Motors

Forget About You

Approved By The Motors.
Virgin Records.
3.

Texas

Midnight

(CD Single).
BMG Rights Management (UK).

Artists for Grenfell

Bridge Over Troubled Water

Iggy Pop

The Passenger

Screen Cuts (Various Artists).
Virgin.

Dexys Midnight Runners

Come On Eileen

Fantastic 80's Disc 1 (Various Artis.
Columbia.

Kasabian

Bless This Acid House

Rod Stewart

Sailing

The Best Of Rod Stewart.
Warner Bros.

The Beatles

All You Need Is Love

The Beatles - 1.
Apple.
018.
Pause For Thought
Writer and Musician, Jahnavi Harrison.
On Sunday it was the 50th anniversary of the Beatles first performance of 'All You Need is Love' – they were chosen to represent Britain in the first ever live global satellite broadcast. Considering how iconic that song has become, I found it funny that John Lennon only wrote it weeks before the deadline because they still hadn't decided what to sing. Apparently when he first played it to the rest of the group, George Harrison said 'Well it's certainly repetitive' J. Surely now it's got to be one of the most famous songs of all time, and that legendary chorus might be the pop culture mantra of the century!
I love the fact that when the moment came to say something that would be heard all over the world, the Beatles said 'All you need is love'. It could seem simplistic, but I think it's a universal truth, something that makes sense in spite of race, age or religion. It's simple, it sticks in your head – yet so profound. If I accept that love is all I all need to be happy – I then feel compelled to figure out where that love comes from, and how to experience it forever. Following the thought through to conclusion I've eventually understood that love equals service.  Pretty deep for a Tuesday morning.
In that live satellite broadcast, John Lennon had a 5-minute opportunity to share something with the world. Today we have much more than 5 minutes…
Social media kind of encourages oversharing – along with 24 hour news channels and forests of papers and magazines. These days I'm bombarded on social media with as-it-happens feeds from friends in all different time zones – whether they're documenting weddings or midnight musings – press a button – and you can have an audience in minutes. I sometimes wonder what it all amounts to though. The essential truths about life, love and happiness remain the same, and can be expressed in the most simple way, yet can be unpacked over a lifetime.
That satellite broadcast 50 years ago reminds me that it's a privilege to be able to communicate and that while yesterday's headlines may be tomorrow's cat litter -- words that speak of what matters most will endure…however repetitive! J. 
Broadcast