Main content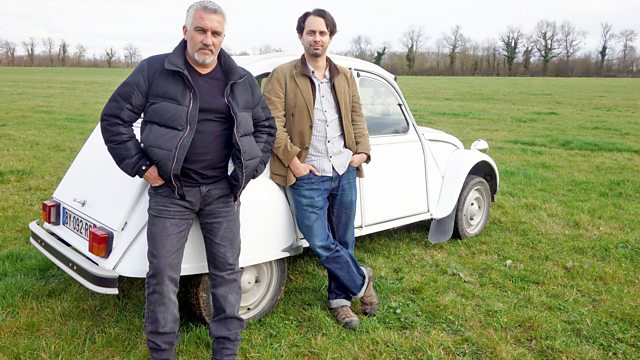 A look at the characteristics of different countries' cars and drivers. A six-day tour of France begins in rainy Paris where Paul gets stuck in traffic in a Citroen DS.
In this episode, Paul Hollywood visits France to find out what makes the country tick when it comes to cars. How do the cars they make and the way they drive reflect the character of France and its people? On his trip, Paul drives some of the most innovative, strange and quirky cars ever built in France, and is joined by a few travelling companions who provide an insight into French culture and explain what the French really think of cars.
Paul's six-day road trip begins in the capital, Paris. Joining him for the day is the host of French Top Gear, Phillipe Lellouche. In a classic Citroen DS, they set off through the rain and experience the joys of Parisian traffic jams, Paris 'touch' parking and the mayhem which is the roundabout around the Arc de Triomphe. They then discover how the DS's revolutionary suspension saved a president's life and put it to the test themselves in a slightly less violent manner. Having said goodbye to Phillipe, Paul takes advantage of Paris's most successful car share scheme - grabbing himself a nippy little electric car in which he escapes the city centre.
Day two begins badly - while Paul has got his hands on the best hot hatch ever built, he can't enjoy it as the rain continues to pour and he is confined to city streets. Today he has a question to answer though: why don't the French build any flashy cars? At a posh golf club, he hooks up with a very rich Frenchman who, despite his wealth, has no interest in flashy wheels... Do they actually like cars?
Day three and Paul is heading south towards Chartres. His passenger for the day is multi-Michelin-star-winning chef Jean Christophe Novelli. After picking up breakfast at an artisanal bakery, they start their journey in a cute little classic - the Alpine A110. Today is all about the French relationship between cars and food - and that is a big subject to cover. Do the French eat in their cars? Why do they take picnics so seriously? Are their truck stops really better than a lot of British restaurants? And how come a tyre manufacturer was responsible for starting the world's most respected food guide? Along the way, of course, they manage to fit in a few very good meals and drive a new phenomenon in France; the 'voiture sans permit' - a 1hp car which 14-year-olds can drive as it does not require a licence. Paul does not enjoy that bit at all.
Day four starts with a drive down to the home of the most famous motor race on earth: Le Mans. Here Paul meets up with one of the greatest French racing drivers of all time, Henri Pescarolo, who won the Le Mans 24 hour race four times. They discuss the race's history and its dangers, and why drivers are prepared to risk their lives repeatedly in this extraordinary event. Then Paul's off on a four-and-a-half-hour drive to Clermont Ferrand, and for this he's chosen to drive one of the most revolutionary French cars of all time, the Renault Espace. Unfortunately for him, the crew have decided to join him in the Espace for this drive - just to prove how roomy the first people carrier was. Paul does not enjoy this journey!
Paul's penultimate day in France starts at the town hall of Lempdes, just south of Clermont Ferrand, because this used to be the home of the man who invented the most French cars ever - the 2CV. Today Paul is joined by British comedian Alexis Dubus, whose onstage alter ego is the louche Frenchman Marcel Lucont. On their drive to Lyon, they discuss the extraordinary history of the 2CV and try to get to grips with its idiosyncratic gears. They discuss what Paul has learned about the French character and then finish their day with a race across a field - 2CV versus horse and cart (the transport it was specifically designed to replace).
Paul's final day sees him travel to Magny Cours racing circuit - for 17 years the home of the French Grand Prix. He is here to meet two F1 legends - the first ever F1 turbo car and Jean Pierre Jabouille, the man who drove it. To get a proper look at the car on track, Paul first takes to a helicopter, chasing the car just feet above it. As the rain has continued all week, JP just can't get the car up to the speeds he'd hoped, and the turbo barely gets going. Having tried to squeeze into its driving seat, though, Paul has an idea to finally make the rain work to his advantage. He sets up his first F1 race - well, he will be in the latest Renaultsport Clio hot hatch, but he'll be competing against JP in the F1 car - standing start, one lap. What better way to end a road trip.
Credits
| Role | Contributor |
| --- | --- |
| Presenter | Paul Hollywood |
| Interviewed Guest | Philippe Lellouche |
| Interviewed Guest | Thibault Le Marie |
| Interviewed Guest | Jean-Christophe Novelli |
| Interviewed Guest | Madie Pescarolo |
| Interviewed Guest | Henri Pescarolo |
| Interviewed Guest | Jean-Pierre Jabouille |
| Interviewed Guest | Alexis Dubus |
| Director of photography | Nathaniel Bullen |
| Camera Operator | Nick Deacon |
| Camera Assistant | Jake Coffey |
| Sound | Ben Hadley |
| Colourist | Vince Narduzzo |
| Re-recording mixer | Kate Davis |
| Production Coordinator | Vicki Lindsay |
| Researcher | Francesca Ferro |
| Production Manager | Amanda Clark |
| Assistant Producer | Sarah Swift |
| Editor | Brian Charles |
| Editor | Adam Humphries |
| Editor | Neil Parkinson |
| Editor | Ant Smith |
| Executive Producer | Jamie Balment |
| Executive Producer | Steve Gowans |
| Producer | Craig Mcalpine |
| Series Producer | Ian Bayliss |
| Writer | Ewan Keil |
| Producer | Ewan Keil |
| Director | Ewan Keil |
| Production Company | North One Television |