Main content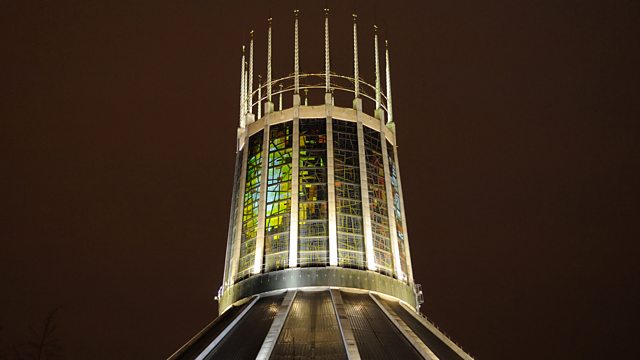 Royal Liverpool Philharmonic Orchestra - Stephens, Gabrieli, MacMillan, Messiaen, Poulenc
From Liverpool's Metropolitan Cathedral, the Royal Liverpool Philharmonic conducted by James MacMillan. With music by Ian Stephens, Gabrieli, MacMillan, Messiaen and Poulenc.
Stuart Flinders presents a concert of orchestral and choral glories given by the Royal Liverpool Philharmonic Orchestra and Sir James MacMillan in Liverpool's iconic Metropolitan Cathedral. Opening with "a great choral shout", James MacMillan's hymn of praise 'Gloria' was written to commemorate the 50th anniversary of the consecration of Coventry's new cathedral. It was first performed by Ian Bostridge, and Ian returns for this 50th anniversary of Liverpool's second cathedral. Messiaen's 'Forgotten Offerings' is a powerful depiction of Christ's sacrifice, written when he was barely in his 20s, and it remains a remarkable statement of belief. And proving that faith expresses itself in many forms - Poulenc's Gloria, with its distinctive mixture of seriousness and zesty exuberance. "While writing it I had in mind those Crozzoli frescoes with angels sticking out their tongues, and also some solemn-looking Benedictine monks that I saw playing football one day."
Ian Stephens: The World in One City
Gabrieli: Sonata pian' e forte a 8
James MacMillan: Gloria
Messiaen: Les Offrandes oubliées
Poulenc: Gloria
Elizabeth Atherton (soprano)
Ian Bostridge (tenor)
Royal Liverpool Philharmonic Choir with choirs of Liverpool Metropolitan Cathedral
Royal Liverpool Philharmonic Orchestra
James MacMillan (conductor).
The women erased from musical history