Main content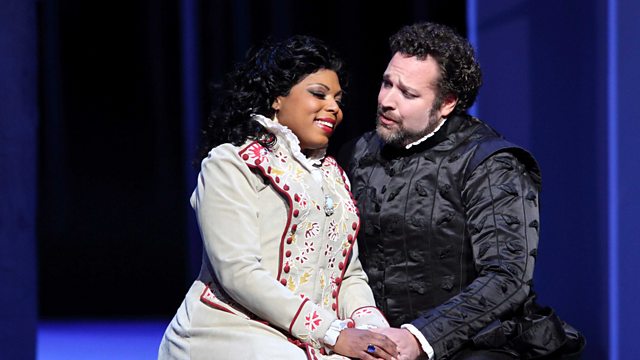 Verdi's Don Carlo
From the Royal Opera House, Covent Garden, a performance of Verdi's historical drama Don Carlo, starring tenor Brayn Hymel. Presented by James Naughtie.
Verdi's dramatic opera 'Don Carlo', starring tenor Bryan Hymel as the Spanish prince. This performance, recorded at the Royal Opera House, is introduced by James Naughtie, who is joined by Verdi specialist Flora Willson.
Don Carlos ..... Bryan Hymel (tenor)
Tebaldo ..... Angela Simkin (mezzo-soprano)
Elizabeth of Valois ..... Kristin Lewis (soprano)
Count of Lerma ..... David Junghoon Kim (tenor)
Countess of Aremberg ..... Rosalind Waters (soprano)
Carlos V ..... Andrea Mastroni (bass)
Rodrigo ..... Christoph Pohl (baritone)
Philip II ..... Ildar Abdrazakov (bass)
Princess Eboli ..... Ekaterina Semenchuk (mezzo-soprano)
Voice from Heaven ..... Francesca Chiejina (soprano)
Grand Inquisitor ..... Paata Burchuladze (bass)
Royal Opera House Chorus
Royal Opera House Orchestra
Bertrand de Billy (Conductor)
This historical drama is based on Schiller's play 'Don Carlos, Prince Royal of Spain' and is performed here in Verdi's five-act Italian version. Don Carlos - sung by tenor Bryan Hymel - is the Spanish heir to the throne, but in order to secure a peace treaty he has to see his betrothed lady, Elisabeth de Valois (soprano Kristin Lewis) marry his own father, King Philip II. The opera is full of drama in addition to this love triangle, including the sacrifice of Don Carlo's deep friendship with Rodrigo, mistaken identities, and a huge struggle between church and state. The power of Verdi's music is spell-binding and is perhaps at its most intense during the famous confrontation in Act IV between the King - sung here by bass Ildar Abdrazakov - and the Grand Inquisitor (the bass Paata Burchuladze). Bertrand de Billy conducts the Chorus and Orchestra of the Royal Opera House.
Synopsis
The opera is set in France and Spain in the second half of the 16th century. As the opera opens, a peace treaty between the two countries is to be sealed by the marriage of the Princess Elizabeth of Valois, daughter of Henry II, and Don Carlos, son of Philip II and heir to the Spanish throne.
Act I
The forest of Fontainebleau
Against the wishes of his father King Philip II, Carlos has travelled incognito to France as a member of the Spanish Ambassador's entourage. He has seen his intended bride Elizabeth, and fallen in love with her on sight. Elizabeth and her page Tebaldo have been hunting and have become lost in the forest; Carlos, as yet unknown to the princess, offers to escort her. She is apprehensive over her marriage to a stranger, but Carlos reassures her that her future husband will certainly love her. He gives her a miniature portrait of King Philip II's son, and so reveals that he is the man she is to marry. It is clear to them both that their feelings of love are mutual. Their happiness ends with the news that the treaty arrangements have been altered: Henry II now intends to marry his daughter to King Philip himself. To ensure peace between France and Spain, Elizabeth consents. While all around them rejoice, Elizabeth and Carlos are devastated.
Act II
Part 1: The cloister of the San Yuste Monastery
Carlos is distraught at losing Elizabeth and seeks peace at the monastery to which his grandfather, the former Emperor Carlos V, retired from the world before he died. Carlos is confronted by a monk who seems to be the Emperor's ghost before his friend Rodrigo, Marquis of Posa, arrives to remind him of his commitment to the cause of the Flemish people oppressed by Spanish rule. Both men pledge themselves to the cause of liberty and freedom.
Part 2: A garden outside the monastery gates
While waiting for Elizabeth – now Queen – Princess Eboli suggests to the ladies of the court that a song will pass the time. She chooses the old Saracen Song of the Veil, about a Moorish king who is is bored with his wife and asks a veiled dancing girl to be his consort. When the girl removes her veil, he discovers she is in fact his queen. Elizabeth arrives, followed by Posa with a note to her from Carlos in which he begs her to trust his friend. Posa in turn persuades Elizabeth to see Carlos again. When Carlos is admitted he asks Elizabeth to convince Philip to allow him to go to Flanders. But Carlos's vehement expression of his love for Elizabeth horrifies her. Carlos leaves and Elizabeth is left alone in misery. Philip enters, demanding to know why she has been left unattended: the Countess of Aremberg is ordered back to France immediately for failing in this duty.
As the assembled court disperses, Philip detains Posa, curious as to why he has sought no royal favours. Posa's request is not for himself, but for others: he asks Philip to end his oppression of the Flemish people. Philip refuses but is deeply impressed by Posa's outspoken courage. He warns Posa that his radical ideals put him in danger from the Inquisition. He tells Posa about his suspicions about his wife and Carlos, asking Posa to watch them. That the King has confided in him Posa thinks bodes well for the future.
Act III
Part 1: The Queen's gardens in Madrid
Carlos has received a note summoning him to an assignation at midnight. He thinks the meeting is with the Queen, and is joyful at the prospect. In fact, the woman is Princess Eboli, who is in love with him. When Carlos discovers her identity, he rejects her love. Eboli, realizing where Carlos's feelings really lie, swears vengeance on him and Elizabeth. Posa arrives in time to overhear Eboli and threatens to kill her. Carlos stops him, and Eboli leaves. Posa persuades Carlos that he is now at risk and should hand over to his friend any secret papers for safekeeping.
Part 2: A large square in front of Valladolid Cathedral
At a public burning of heretics, Carlos leads a group of Flemish envoys to Philip, who rejects their pleas for freedom. Carlos's request to rule Flanders himself in preparation for his eventual rule over Spain is also firmly dismissed. Carlos draws his sword against his father, but is disarmed by Posa and arrested. In thanks, Philip makes Posa a duke.
Act IV
Part 1: The King's study in Madrid
Philip reflects on the emptiness of his life with a wife who has never loved him; he will only find peace when he is in his grave. He obtains the support of the old and blind Grand Inquisitor for a decision to execute Carlos: as God sacrificed his Son to save mankind, the Grand Inquisitor tells him, so Philip must stifle his love for his son for the sake of the Faith. The Grand Inquisitor thinks the Marquis of Posa a heretic who is corrupting the King away from the Church, and in his turn demands that Philip hand Posa over to the Inquisition. As the Grand Inquisitor leaves, Philip observes that the Throne must always give way to the Altar. Elizabeth enters, having discovered that her jewel case has been stolen. Philip accuses her of adultery with his son: he has the jewel case (given to him by Eboli), with the miniature painting of Carlos kept inside it. From her reaction, he realizes that his wife is innocent. She collapses and the King summons help; Posa and Eboli arrive, he to observe that Philip can control an empire but not himself, she to feel remorse at what her jealousy has brought about. The King leaves with Posa. Eboli confesses to the Queen that not only did she falsely accuse Elizabeth but she herself has been Philip's mistress. Ordered from the Court, Eboli vows to free Carlos from prison before she leaves.
Part 2: Carlos's prison
Posa comes to Carlos to tell him that he has used the secret papers to take upon himself the blame for the Flemish rebellion. He is now a marked man, so Carlos must take up the cause of liberty for Flanders. Posa is shot by agents of the Inquisition; as he dies he tells Carlos to meet Elizabeth at the San Yuste Monastery, and declares he is happy to have sacrificed his own life for a man who will become Spain's saviour as its King.
Act V
The San Yuste Monastery
Elizabeth, wanting only her own death, meets Carlos. He is determined to leave for Flanders. They hope for happiness in the next world, but, as they say farewell, Philip and the Grand Inquisitor arrive. As the agents of the Inquisition move in on Don Carlos the Emperor Carlos V materializes out of the darkness to insist that suffering is unavoidable and ceases only in heaven.