Main content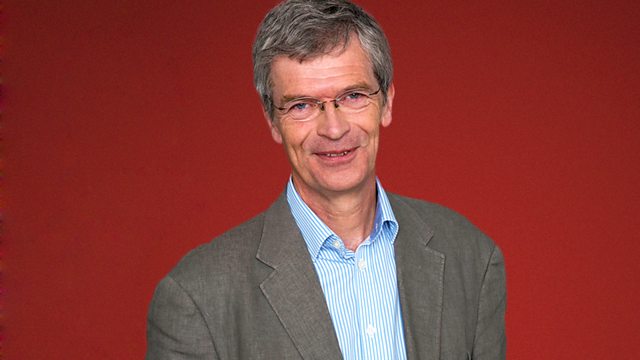 17/06/2017
In this week's selection of music suggested by listeners from all styles and periods of jazz, Alyn Shipton includes a swing classic, namely Joe Williams singing "The Comeback" with the Count Basie Orchestra.
Performers:
Artist  Count Basie
Title  The Comeback
Composer Memphis Slim
Album  Complete Live at the Americana Hotel 1959
Label  Solar
Number  4569897 CD 2 Track 4
Duration  3.52
Performers Thad Jones, Snooky Young, Joe Newman, Wendell Culley, t; Henry Coker, Al Grey, Benny Powell, tb; Marshall Royal, Frank Wess, Billy Mitchell, Charlie Fowlkes, reeds; Count Basie, p; Freddie Green, g; Eddie Jones, b; Sonny Payne, d. 31 May 1959.

Artist  Wally Fawkes / Sandy Brown Quintet
Title  Polka Dot Rag
Composer Sissle / Bechet / Tolliar
Album  Juicy and Full Toned
Label  Lake
Number  CD 12 Track 10
Duration  2.36
Performers Wally Fawkes, Sandy Brown, cl; Ian Armit, p; Lennie Bush, b; Eddie Taylor, d. 15 Nov 1956.

Artist  Billie Holiday
Title  I'll Be Seeing You
Composer Kahal, Fain
Album  The Lady Sings
Label  Proper
Number  Properbox 26 CD 3 Track 25
Duration  3.30
Performers Billie Holiday, v; Doc Cheatham, t; Vic Dickenson, tb; Lem Davis, as; Eddie Heywood, p; John Simmons, b; Teddy Walters, g; Sid Catlett, d 1 April 1944.

Artist  Billy Strayhorn
Title  Cue's Blue Now
Composer Hodges / Strayhorn
Album  Complete Felsted Recordings
Label  Solar
Number  4569908 CD 5 Track 6
Duration  10.03
Performers Shorty Baker, t; Quentin Jackson tb; Johnny Hodges, as; Russell Procope, cl; Billy Strayhorn, p; Al Hall, b; Oliver Jackson, d. 14 April 1959.

Artist  Clark Tracey /Dave Newton Band
Title  Bootleg Eric
Composer Newton
Album  Bootleg Eric
Label  ASC
Number  23 Track 3
Duration  7.20
Performers: Guy Barker, t; Alan Barnes, Don Weller, Iain Dixon, reeds; Mark Nightingale, tb; David Newton, p; Andrew Cleyndert, b; Clark Tracey, d. 1998.

Artist  John Coltrane
Title  Countdown
Composer Coltrane
Album  The heavyweight Champion
Label  Rhino
Number  8122796427 CD 2 Track 2
Duration  2.24
Performers John Coltrane, ts; Tommy Flanagan, p; Paul Chambers, b; Art Taylor, d. 4 May 1959.

Artist  Esbjörn Svensson Trio
Title  In My Garage
Composer EST
Album  Seven Days of Falling
Label  ACT
Number  9012-2 Track 7
Duration  4.19
Performers: Esbjörn Svensson, p; Dan Berglund, b; Magnus Öström, d. 2003

Artist  Gene Krupa
Title  Up an' Atom
Composer Finckel
Album  Up An' Atom
Label  Proper
Number  2036 Track 10
Duration  2.59
Performers: Don Fagerquist, Buddy Colaneri, Gordon Boswell, Ed Shedowski, t; Urbie Green, Bob Fitzpatrick, Emil Mazaneo, Jack Zimmerman, tb; Lennie Hambro, Charlie Kennedy, Buddy Wise, Mitch Melnick, Bob Morton, reeds; Teddy Napoleon, p; Bob Lesher, g; Pete Ruggerio, b; Gene Krupa, d. 29 Dec 1947.

Artist  Teddy Wilson,
Title  Just A Mood
Composer Wilson
Album  Fine and Dandy
Label  Chant Du Monde
Number  2741613.14 CD 1 Track 16
Duration  6.53
Performers: Harry James, t; Red Norvo, xyl; Teddy Wilson, p; John Simmons, b. 5 Sep 1937.

Artist  Glenn Miller
Title  Little Brown Jug
Composer Winner
Album  Essential Glenn Miller vol 1
Label  Sony /BMG
Number  Track 9
Duration  2.48
Performers: Glenn Miller, Al Mastren, and Paul Tanner, trombones; Clyde Hurley, Lee Knowles, and Dale McMickle, trumpets; Wilbur Schwartz, clarinet; Hal McIntyre, alto sax; Tex Beneke, Al Klink, and Harold Tennyson, tenor saxes; Chummy MacGregor, piano; Richard Fisher, guitar; Rowland Bundock, string bass; and Moe Purtill, drums.

Artist  Brad Mehldau
Title  Where Do You Start?
Composer Rollins
Album  Where Do You Start?
Label  Nonesuch
Number  Track 11
Duration  532029 6.24
Performers Brad Mehldau, p; Larry Grenadier, b; Jeff Ballard, d. 2012