Main content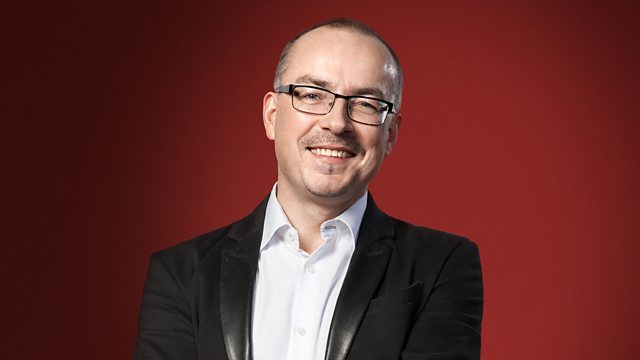 Andrew McGregor with Iain Burnside and Elin Manahan Thomas
With Andrew McGregor. Building a Library: Beethoven's Diabelli Variations; New releases: Claire Booth, Sonia Prina, Katja Webb and John Mark Ainsley; Disc of the Week.
with Andrew McGregor.
0930
Building a Library: Iain Burnside recommends a recording of Beethoven's 'Diabelli' Variations. Hans von Bülow dubbed the 33 variations, which take the best part of an hour to perform, 'a microcosm of Beethoven's art', and Alfred Brendel has described them as 'the greatest of all piano works'.
1030
Andrew is joined by Elin Manahan Thomas to review a selection of recent releases featuring Claire Booth, Sonia Prina, Katja Webb and John Mark Ainsley
1145
Andrew chooses an outstanding new release as his Disc of the Week.
9.00am
The Alehouse Sessions
Arrangements of tunes from Henry Purcell to traditional Scottish, Norwegian and Canadian folk tunes and sea shanties.
Barokksolistene, Bjarte Eike (violin)
RUBICON RCD1017 (CD)
Percy Grainger: Complete Music for Four Hands, Two Pianos
Penelope Thwaites, John Lavender, Timothy Young
HERITAGE HTGCD403 (4CD)
a la russe
BALAKIREV: Islamey - Oriental Fantasy
RACHMANINOV: Piano Sonata No. 1 in D minor Op. 28
STRAVINSKY: The Firebird: Danse infernale du roi Kastchei; Berceuse from The Firebird; Finale from The Firebird
TCHAIKOVSKY: Meditation (No. 5 from Morceaux Op. 72); Passe lontain (No. 17 from Morceaux Op. 72); Scherzo a la Russe Op. 1 No. 1
Alexandre Kantorow (piano)
BIS BIS2150 (Hybrid SACD)
Jonathan Dove: In Damascus
DOVE: In Damascus; Out of Time; Piano Quintet
Mark Padmore (tenor), Charles Owen (piano), Sacconi Quartet
SIGNUM SIGCD487 (CD)
Perfido!
BEETHOVEN: No, non turbati; Ah! Perfido Op. 65
HAYDN: Berenice, che fai? (Scena di Berenice), Hob XXIVa:10; Solo e pensoso, Hob. XXIVb:20
MOZART: O temerario Arbace... Per quel paterno amplesso, K79; Basta Vicesti... Ah non lasciarmi no. K295a; Ah, lo previdi... Ah, l'invola agl'occhi miei, K272; Bella mia fiamma, addio... Resta, oh cara, K528
Sophie Bevan (soprano), The Mozartists, Ian Page
SIGNUM SIGCD485 (CD)
9.30am – Building a Library
Composer: Beethoven
Reviewer: Iain Burnside
Building a Library: Beethoven's 'Diabelli Variations'
Composer: Beethoven
Piece: Diabelli Variations
Reviewer: Iain Burnside

Recommended recording:

BEETHOVEN: Diabelli Variations Op. 120
Andreas Staier (fortepiano after Conrad Graf)
HARMONIA MUNDI HMC902091 (CD)
Other recommended recordings:
Below is a shortlist of other recordings which Iain also liked, although we can't guarantee the availability of these discs.
Igor Levit (modern piano)
SONY 88875060962 (3CD)
Alfred Brendel live from the Royal Festival Hall in 2001 (modern piano)
PHILIPS 4758322
Andras Schiff (piano) (One performance on an 1820 fortepiano; another on a 1921 Bechstein)
ECM 4810446 (2CD)
10.15am – More New Releases: Bach Arrangements and Transcriptions
JS Bach: Musical Offering
BACH, J S: Musical Offering, BWV1079
BUXTEHUDE: Sonata in D major, BuxWV257
The Bach Players, Nicolette Moonen (violin and director)
HYPHEN PRESS MUSIC HPM011 (CD)
Bach Trios
BACH, J S: Trio Sonata No. 6 in G major, BWV530; Prelude & Fugue Book 1 No. 19 in A major, BWV864: Prelude; Chorale Prelude BWV645 'Wachet auf, ruft uns die Stimme'; Prelude & Fugue Book 2 No. 20, BWV889: Fugue; Chorale Prelude BWV639 'Ich ruf' zu dir, Herr Jesu Christ'; Prelude & Fugue in E minor, BWV548 'Wedge'; Partita No. 5 in G major, BWV829: VI. Passepied; Chorale Prelude BWV650 'Kommst du nun, Jesu, vom Himmel herunter'; The Art of Fugue, BWV1080: Contrapunctus XIIIa a 3 (rectus); The Art of Fugue, BWV1080: Contrapunctus XIIIb a 3 (inversus); Chorale Prelude BWV721 'Erbarm' dich mein, o Herre Gott'; Viola da Gamba Sonata No. 3 in G minor, BWV1029
Yo-Yo Ma (cello), Chris Thile (mandolin), Edgar Meyer (double bass)
NONESUCH 7559793920 (CD)
Bachiana
BACH, J S: Keyboard Concerto No. 5 in F minor, BWV1056; Violin Concerto No. 1 in A minor, BWV1041; Ascension Oratorio 'Lobet Gott in seinen Reichen', BWV11: Ach bleibe doch, meine liebstes lieben; Concerto for Oboe & Violin in C minor, BWV1060
VILLA-LOBOS: Bachianas Brasileiras No. 5: Aria (Cantilena); Fantasia for Saxophone & Chamber Orchestra
Asya Fateyeva (saxophone), Wurttemberg Chamber Orchestra, Ruben Gazarian
BERLIN CLASSICS 0300909BC (CD)
Bach Reimagines Bach
BACH, J S: Sonata for solo violin No. 1 in G minor, BWV1001; Lute Suite No. 4 in E major, BWV1006a; Lute Suite No. 3 in G minor, BWV995
William Carter (lute)
LINN CKD445 (CD)
JS Bach: Organ Works, Vol. 2
BACH, J S: Prelude & Fugue in G major, BWV541; Organ Concerto in D minor (after Vivaldi), BWV596; Chorale Partita BWV768 'Sei gegrusset, Jesu gutig'; Organ Concerto in C major (after Vivaldi), BWV594; Prelude & Fugue in C major, BWV547
Masaaki Suzuki (Marc Garnier organ of the Shoin Chapel, Kobe, Japan)
BIS BIS2241 (Hybrid SACD)
10.50am – New Releases: Elin Manahan Thomas on Song Recitals
Decades: A Century of Song Vol. 2 1820 - 1830
BELLINI: Malinconia, ninfa gentile; Ma rendi pur contento; Vanne, o rosa fortunata
GLINKA: Skazhi, zachem; Ne iskushay menya bez nuzhdi; Moya harfa
LOEWE, C: Der Erlkonig Op. 1 No. 3 (Goethe); Herr Oluf "Herr Oluf reitet spat und weit" Op. 2/2
MENDELSSOHN: Minnelied im Mai 'Holder klingt der Vogelsang' Op. 8 No. 1
NIEDERMEYER: Le lac
SCHUBERT: Auf der Bruck, D853; Im Fruhling, D882; Aus 'Heliopolis' - I D753 (Mayrhofer); Gondelfahrer, D808; Auflosung, D807; Ellen 1-3 Op. 52; Der Winterabend (Es ist so still), D938; Die Taubenpost, D965A (D957 No. 14)
SCHUMANN: Sehnsucht
John Mark Ainsley (tenor), Luis Gomes (tenor), Robin Tritschler (tenor), Anush Hovhanissyan (soprano), Sarah Connolly (mezzo), Christopher Maltman (baritone), Malcolm Martineau (piano)
VIVAT VIVAT114 (CD)
Ghosts, Fools And Seers
ALLEN, G: Two Songs for voice and viola Op. 76
GALLIENNE: Shakespeare Settings (3); Three Songs
MADDOX: Four Songs for soprano
PAVIOUR: Crazy Jane
PENBERTHY: Pastorals
SITSKY: Seven Zen Songs
Katja Webb (soprano), David Wickham (piano), Aaron Wyatt (viola), Michael Waye (flute)
STONE RECORDS ST8070 (CD)
Gluck: Heroes in Love
GLUCK: Se in campo armato (from Sofonisba); Sperai vicino il lido (from Demofoonte); Dal suo gentil sembiante (from Demetrio); Sinfonia (from Semiramide riconosciuta); Nobil onda (from Sofonisba); Se fedele mi brama il regnante (from Ezio); Se tu vedessi come vegg'io (from Ippolito); Tradita, sprezzata (from Semiramide riconosciuta); Sinfonia (from Ipermestra); M'opprime, m'affanna (from Sofonisba); Ah! non turbi il mio riposo (from Telemaco); Se il fulmine sospendi (from Ezio)
Sonia Prina (contralto), La Barocca, Rubin Jais
GLOSSA GCD924101 (CD)
Grainger: Folk Music
GRAINGER: Bold William Taylor; Six Dukes Went a-Fishin'; Knight & Shepherd's Daughter; Lord Maxwell's Goodnight; My Robin Is to the Greenwood Gone; The Pretty Maid milkin' her Cow; The Sprig of Thyme; The Sussex Mummers' Christmas Carol; The Twa Corbies; Irish Tune from County Derry 'Danny Boy'; Died for Love; The Power of Love; Walking Tune; Willow Willow; Early One Morning; One More Day, My John; Hard-Hearted Barb'ra (H) Ellen; Country Gardens
Claire Booth (soprano), Christopher Glynn (piano)
AVIE AV2372 (CD)
11.45am – Disc of the Week
Handel: Ottone
HANDEL: Ottone, Re di Germania; Un disprezzato affetto (from Arianna in Creta); Io sperai trovar riposo; Cervo altier
Max Emanuel Cencic (Ottone), Lauren Snouffer (Teofane), Pavel Kudinov (Emireno), Ann Hallenberg (Gismonda), Xavier Sabata (Adalberto), Anna Starushkevych (Matilda), Il Pomo d'Oro, George Petrou (conductor)
DECCA 4831814 (3CD)