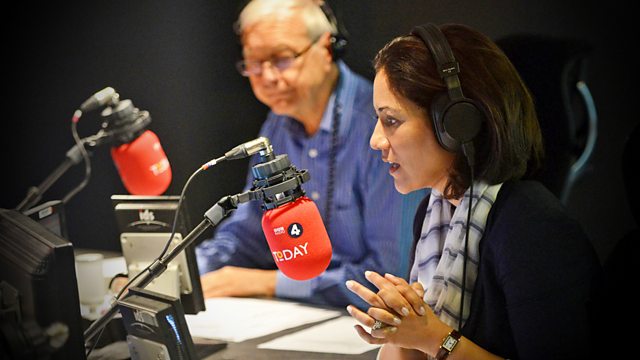 22/06/2017
Morning news and current affairs. Including Yesterday in Parliament, Sports Desk, Weather and Thought for the Day.
Today's running order
0650
Young people are turning to cosmetic procedures such as botox and dermal fillers as a result of social media pressure, according to a report. Prof Jeanette Edwards is from the University of Manchester.
0652
Grand demands are reportedly being made from the DUP, for more money for the health service and infrastructure projects, in exchange for a confidence and supply deal with the government. Gerald Holtham is visiting professor of regional economy at Cardiff Metropolitan University.
0709
The ancient landmark, the Great Mosque of al-Nuri in Mosul, has been blown up by so-called Islamic State. Our correspondent, Orla Guerin reports.
0712
Prime Minister Theresa May is set to travel to Brussels for the first meeting of the European Council since the General Election and is expected to set out her proposals for the future status of EU after Brexit. Catherine Barnard, is professor of European Union Law and Jean Monnet is chair of EU Law at the University of Cambridge.
0720
Chief Executive of Kensington and Chelsea Council, Nicholas Holgate, has been forced to resign over the Grenfell Tower fire. Our Correspondent, Tom Burridge reports.
0725
In the Queen's Speech, the government outlined plans for a "Great Repeal Bill" - the legislation that will bring powers back from Brussels to the UK after Brexit. Ruth Fox is the director of Hansard Society - a charity which examines how our democracy works.
0730
Many leading universities have failed to get top ranking in a new government measure about how students are taught and prepared for finding work. Sorana Vieru is the vice president for the National Union of Students and Jo Johnson is the universities minister.
0740
The European Space Agency has approved a new mission to discover earth-sized planets. Dr David Brown, research fellow in astronomy at university of Warwick.
0750
Talks will continue today between the Conservatives and Northern Ireland's DUP to try and reach a deal to allow Theresa May to form a government. Sir Jeffrey Donaldson MP is chief whip of the DUP.
0810
A host of proposed new laws designed to prepare the UK for a "smooth and orderly" departure from the EU have been announced in the Queen's Speech. Philip Hammond is chancellor of the exchequer.
0830
The Scottish Secretary has said there will "undoubtedly" be more powers devolved to Edinburgh after Brexit. David Mundell said the powers will be returned from Brussels "in a way that works best for Scotland and the rest of the UK". Ian Blackford is the SNP's new leader at Westminster.
0835
Theresa May is still trying to do a deal with the Democratic Unionist Party in NI which could effectively keep her in power for the next five years. 
0840
There is a warning today from British Summer Fruits that Brexit will crush the industry unless seasonal labour supply is guaranteed. Laurence Olins is the chairman of the British Summer Fruits Association.
0845
Knole, a stately home in Kent has been undergoing a £20 million restoration and as part of the process it has been listening very carefully to the noise a woodworm. The BBC's David Sillito reports.
0850
Several leading universities have failed to score highly in a new ranking of degree teaching standards. Jon Snow is the Channel 4 News presenter and Hannah Woods captained her team, Peterhouse Cambridge, to victory in University Challenge last year.
All timings are subject to change
So you think you know the Today programme?