Main content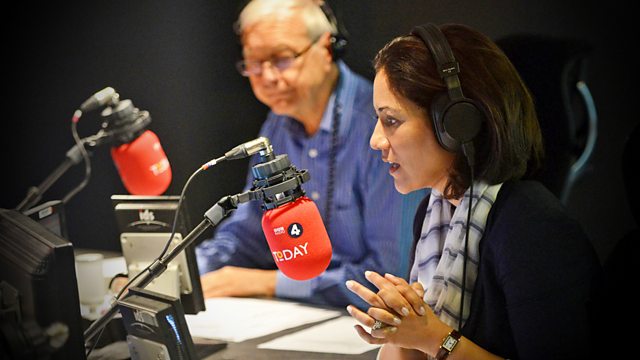 21/06/2017
Morning news and current affairs. Including Sports Desk, Weather and Thought for the Day.
Today's running order
0645
The UK is to become the first country in the world to create a free online gallery of its publicly owned sculptures. Andrew Ellis is the director of Art UK.
0650
Failure to properly monitor baby heart rates during labour is one reason why some newborns are dying on UK maternity wards, an investigation has found. Professor Lesley Regan is the president of the Royal College of Obstetricians and Gynaecologists.
0710
Despite Jeremy Corbyn doing better than predicted in the general election, Labour still lost for the third election in a row. John McDonnell is the shadow chancellor.
0715
The Social Mobility Employer Index has been released. The aim is to encourage firms to share their progress and take social mobility more seriously. David Johnston is CEO of The Social Mobility Foundation.
0720
DUP sources said yesterday that talks "haven't proceeded in a way that the DUP would have expected" and cautioned that the party "can't be taken for granted". Richard Bullick is a former special adviser to DUP leader Arlene Foster.
0725
The Queen's Speech on Wednesday will set out the government's proposed legislation and policies for the next session of parliament, as it continues negotiations on a post-election deal with the Democratic Unionist Party. Daniel Brittain has helped with the BBC's royal coverage for many years.
0740
Oscar-winning actor Sir Daniel Day-Lewis, who starred in Gangs of New York and Last of the Mohicans, has retired. Gordon Warnecke starred opposite Daniel Day Lewis in My Beautiful Laundrette and Anna Smith is a film critic and president of the Critic's Circle.
0750
BBC News has learned that counter-terrorism policing in England and Wales has been placed on an "emergency footing" following the recent series of terror attacks. Senior police officers say switching resources from other areas of policing claim may create "significant" risks. Chris Phillips is former head of the National Counter Terrorism and Security Office.
0810
The Queen's Speech will be delivered today at 11:30 BST and will set out the government's proposed legislation and policies for the next session of parliament. Damian Green is the first secretary of state.
0825
What can we learn from the service men and women who have to cope with the heat and do their duty? Major Alex Owen is Blues and Royals Squadron leader and head of the Staircase Party.
0830
Republicans have won a closely contested congressional election in Georgia seen by many as a referendum on Donald Trump's presidency. Stan Greenberg was Democratic adviser to Bill Clinton, Al Gore, and John Kerry.
0840
Armed police will be on patrol at Stonehenge as thousands of people gather to celebrate the summer solstice. Hugh Thomson is a travel writer and Susan Greaney is a senior properties historian for English Heritage.
0845
Somerset House hosts an exhibition in London beginning today, showing the skills and inspiration behind modern personal perfumery. Lizzie Ostrom is co-curator of the exhibition and Lyn Harris is founder of Miller Harris.
0850
The Queen's Speech sets out the government's proposals for legislation in the coming parliamentary session. Camilla Cavendish is a journalist and former head of David Cameron's policy unit at number 10 and Claudia Webbe is a Labour councillor for Islington.
All timings subject to change