Main content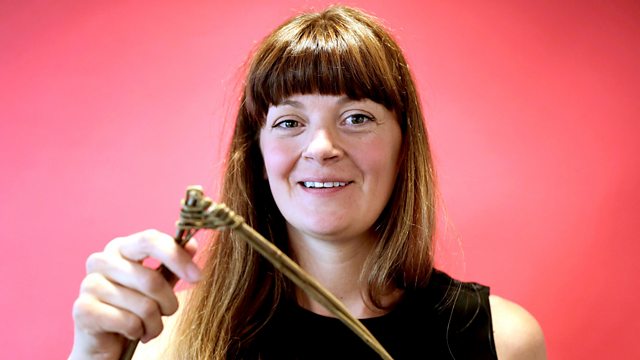 Willow-weaving, Time, Sleep
We speak to willow-weaver Laura Ellen Bacon, one of our 12 Craft Finalists. We discuss time and why it goes too fast. And it's hot, so how do you get your baby off to sleep?
We announced the 12 finalists of the Woman's Hour Craft Prize in May and now it's time to meet the makers. First up is Laura Ellen Bacon, who weaves willow into huge, sometimes nest-like, installations that emerge from buildings or inhabit public spaces. She joins us in the studio, with some willow, to tell us about her inspirations.
Are you happy with your relationship with time? Do you feel there is never enough? Do you boast or complain about being so busy? Are you addicted to fast, instant news and ready meals? How much has the digital age altered our relationship to time? Author of On Time, Catherine Blyth, joins Jane to discuss all these questions.
The weather's hot and the evenings bright, so how do you cope with babies and children who can't sleep? We hear from Emily-Jane Clark who has written a blog and a book about the problem and Andrea Grace who gives advice to parents. Andrea says: "no extremes, no hardlines and it depends on the child".
In the third of our reports about leaving prison, our reporter Milly Chowles talks to Yvonne. After spending most of her life in prison, now she's determined to stay off drugs and gain custody of her seven year old daughter. She's made the most of the help offered to her and has become a peer-mentor for other women trying to rebuild their lives on the outside.
Chapters
Leaving prison

Duration: 07:37

Women's Cricket World Cup

Duration: 05:07

Willow-weaving

Duration: 09:32

Women Leaving Prison

Women's Breakout For helping women to find services that provide support for vulnerable women, including those in trouble with the law. There's a search function on there that women can use to find services in their area.

Prison Reform Trust  Advice and information service for people currently in prison which families and friends of people in prison may want to let their loved ones know about if they need help. 

Shine Mentoriong Scottish-based peer mentoring group for prison leavers.

Credits

| Role | Contributor |
| --- | --- |
| Interviewed Guest | Laura Ellen Bacon |
| Interviewed Guest | Catherine Blyth |
| Interviewed Guest | Emily-Jane Clark |
| Interviewed Guest | Andrea Grace |
| Presenter | Jane Garvey |
| Reporter | Milly Chowles |