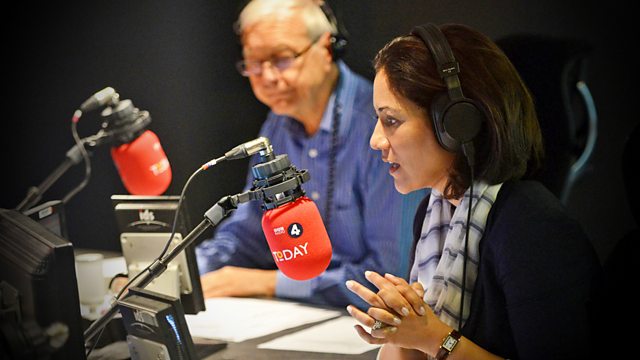 14/06/2017
Morning news and current affairs. Including Sports Desk, Weather and Thought for the Day.
Last on
Today's running order
0650
London's Borough Market, the scene of the terror attack in which eight people were killed, reopens today. Donald Hyslop is the chair of trustees at Borough Market.
0709
A huge fire has raged through the night at a tower block in Latimer Road, west London, with eyewitnesses claiming people are trapped in their homes. We will bring updates.
0713
Michael Gove, the new environment secretary, said on this programme yesterday that the "maximum possible consensus" was now needed on Brexit, ensuring that remain voters are part of the conversation. The chair of 'Vote Leave' was the former Labour MP Gisela Stuart.
0718
In the face of Brexit, the UK could look more to China for trade. Today, the Guangdong Economic & Trade Cooperation Conference is taking place in London. Lord Sassoon is the chairman of the China-Britain Business Council.
0721
Taking an aspirin a day to reduce the risk of suffering another heart attack or a stroke has long been the medical advice. A new study in the Lancet suggests that this risk increases with age. Professor Peter Rothwell is professor of clinical neurology at the University of Oxford.
0730
Labour are "a government in waiting" and must be ready if any deal between the Tories and the DUP collapses, Jeremy Corbyn told his party's MPs last night. The Labour leader's campaigning will continue, with plans to visit scores of Tory-held seats in a sign that the opposition believes another election could happen within months. The shadow business secretary is Rebecca Long-Bailey.
0742
There has been a long-running controversy over the lack of diversity in the film and theatre industries, both in the UK and Hollywood. Today, RADA is launching a new Diversity School Initiative and LAMDA is holding a launch gala for its new drama training complex. David Oyelowo is an actor and graduate of LAMDA.
0750
Janet Yellen, the head of the US Federal Reserve will announce her latest decision on interest rates. They are widely expected to go up having been at a historically low level since the crash of 2008. So how does that contrast with the situation in the UK? George Magnus is an economist and senior advisor at UBS and Megan Greene is chief economist at Manulife Asset Management
0810
A huge fire has raged through the night at a tower block in Latimer Road, west London, with eyewitnesses claiming people are trapped in their homes. We will bring updates.
0815
"You can always do a deal with Ulstermen but it's not the way to run a modern sophisticated society". The words of Ken Clarke before the 2010 election have an added piquancy with Theresa May's future as prime minister dependent on a deal with the DUP. The former Conservative Chancellor Ken Clarke joins us.
0822
The Thick of It creator Armando Iannucci recently confirmed that every time "a stupid political event" happens, somebody asks him to bring the show back. Is political reality becoming crazier than satire? Satirist, writer and director Armando Iannucci joins us.
0840
One of the big issues that Brexit has thrown up is skills. Huge parts of the economy depend on workers from across the EU and there are serious questions over whether they will be able to carry on working here post-Brexit. Julie Kenny is the former chair of the UK Commission on Employment and Skills.
0845
This week the film Destination Unknown is released, a documentary that mixes testimony and archive to tell the stories of 12 Holocaust survivors who hid, fought as partisans, and endured camps such as Krakow-Plaszow, Mauthausen and Auschwitz-Birkenau. Ed Mosberg is the film's central character.
0850
Dexter Dias QC is a human rights lawyer who says we can only reduce human suffering - and gain justice - by understanding the mechanisms of our personality. He has identified 10 different personality traits in his book, The Ten Types of Human, to ask why human beings hurt other humans. Dexter Dias QC joins us.
All subject to change.
So you think you know the Today programme?