Main content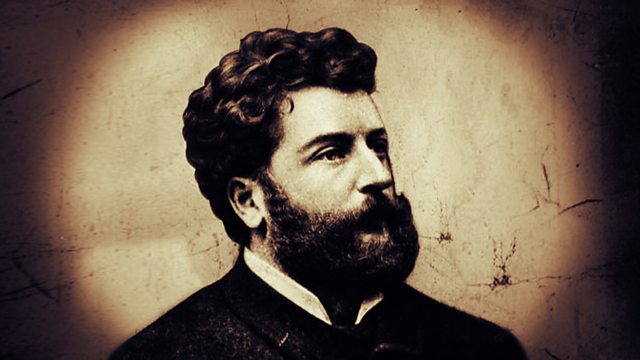 Donald Macleod focuses on how Bizet brought his masterpiece Carmen to the stage, as well as the composer's failing health.
The choice of libretto was his, as was the choice of singer. So what could possibly go wrong with the first night of Carmen? Donald Macleod concludes his account of the life and work of George Bizet.
A man of multiple love affairs who became devoted to his neurotic wife; a superb pianist who studiously avoided the concert stage; a man for ever associated with Spain, even though he'd never been there - George Bizet is a mass of contradictions. As well as composing what is arguably the world's best known and most popular opera - Carmen - Bizet also composed some spectacular flops. Always seeking popular as well as critical success, that was the very thing that eluded him during his lifetime. And yet, despite the caustic discouragement of Parisian reviewers, Bizet wrote songs and operas of astonishing beauty, even if the plots and libretti didn't always match the composer's dramatic sense.
In today's concluding episode, we find Bizet exploring an exotic eastern setting with his opera Djamileh and experiencing the joys of parenthood, as his wife gives birth to a son. Despite setbacks at the theatre, he enjoys a rare taste of success as the music to the melodrama L'Arlésienne starts to enjoy an independent existence away from the theatre. And finally, making the bold choice of the novella Carmen for a theme, Bizet strives to bring his final masterpiece to the stage.
Overture (Djamileh)
Münchner Rundfunkorchester
Lamberto Gardelli, conductor
'Nour Eddin, roi de Lahore', from Djamileh
Huguette Tourangeau, soprano
Orchestre de la Suisse Romande
Richard Bonynge, conductor
L'Arlésienne Suite (ed. Hogwood)
Saint Paul Chamber Orchestra
Christopher Hogwood, conductor
Tarantelle
Cecilia Bartoli, soprano
Myung Whun Chung, piano
Carmen (Act 4)
Marina Domashenko, soprano (Carmen)
Andrea Bocelli, tenor (Don José)
Bryn Terfel, bass-baritone (Escamillo)
Orchestre Philharmonique de Radio France
Myung Whun Chung, conductor.
More episodes
Next
You are at the last episode