Main content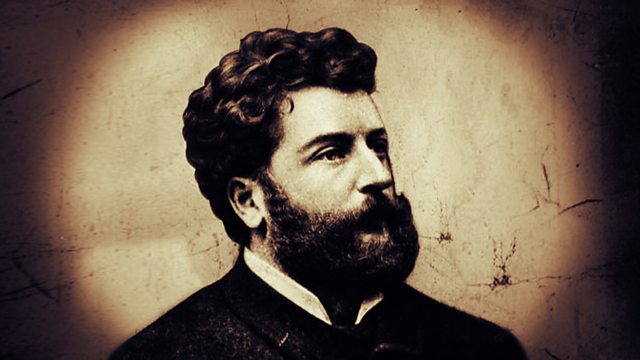 Donald Macleod explains how, despite painful critical notices and a reputation for sexual impropriety, Bizet resolved to settle down and marry his teacher's daughter.
Despite painful critical notices, and despite a reputation for sexual impropriety, Bizet resolves to settle down and marry his teacher's daughter.
A man of multiple love affairs who became devoted to his neurotic wife; a superb pianist who studiously avoided the concert stage; a man for ever associated with Spain, even though he'd never been there - George Bizet is a mass of contradictions. As well as composing what is arguably the world's best known and most popular opera - Carmen - Bizet also composed some spectacular flops. Always seeking popular as well as critical success, that was the very thing that eluded him during his lifetime. And yet, despite the caustic discouragement of Parisian reviewers, Bizet wrote songs and operas of astonishing beauty, even if the plots and libretti didn't always match the composer's dramatic sense.
Donald Macleod recounts Bizet's struggles to make a living as a successful operatic composer, who agrees to set a novel he actively detests: Sir Walter Scott's Fair Maid of Perth - complete with improbable mad scenes, a gypsy and songs in praise of the Scottish winter! Despite his various mistresses, the composer resolves to settle down and marry the girl of his dreams, Geneviève Halévy, the daughter of his esteemed teacher. The only problem is, how settled will his life be with a young woman who's distinctly unhinged after her own mother blames her for the death of her sister?
Adieu de l'hôtesse arabe
Cecilia Bartoli, soprano
Myung-Whun Chung, piano
La Jolie Fille de Perth (Act 1, excerpt)
June Anderson, soprano
Margarita Zimmermann, mezzo (Catherine Glover)
Alfredo Kraus, tenor (Henry Smith)
Gino Quilico, baritone (Le Duc de Rothsay)
Gabriel Bacquier bass ( Simon Glover)
José van Dam, bass (Ralph)
Nouvel Orchestre Philharmonique
Georges Prêtre, conductor
Le Grillon; Guitare; Ma vie a son secret
Ann Murray, mezzo-soprano
Graham Johnson, piano
Jeux d'enfants (excerpts)
1. L'Escarpolette
2. La Toupie
3. La Poupée
4. Les Cheveux de bois
12. Le Bal
Mona & Rica Bard, piano duet.