Main content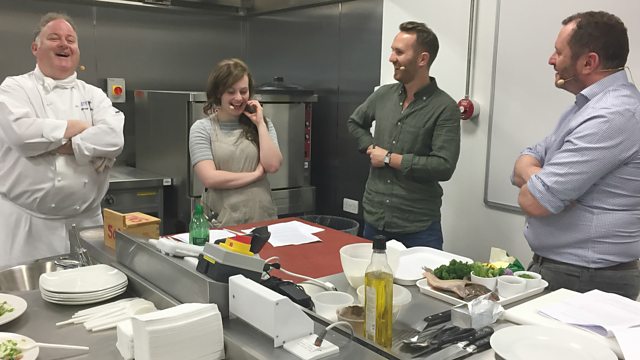 Fish - nose to tail
Chef Andy Cumming cooks monkfish, Simon Preston gets an anatomy less from fishmonger Daniel Bee, and food historian Fraser Wright talks about eating the more unusual parts of fish.
Liver, cheeks and even loin are on the menu this lunch time as chef Andy Cumming joins Neil Forbes and Flora Shedden to cook monkfish, nose to tail. Also, food innovator Simon Preston visits fishmonger Daniel Bee for an anatomy lesson and food historian Fraser Wright tells us about the rich history of eating the more unusual parts of the fish in Scotland, especially in Shetland, whose economy was once solely based on fishing.
Whole plaice with caper and parsley butter, peas and asparagus by Neil Forbes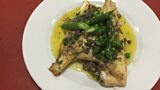 Prep time 10 mins
cooking time 6 mins
 4 portions
Ingredients
4 whole plaice, head off, top dark skin removed and frills removed
125g butter
Splash of oil, cold pressed rape seed or olive oil
Good salt and pepper
A dusting of plain flour
Tablespoon of capers
Tablespoon of chopped curly parsley
Juice from half a lemon
A few chive flowers
A few peas, podded and a few spears of asparagus
Method
Heat a non-stick pan on the hob until it's moderately hot; add the oil and half the butter.
Dust the fish in the flour and tap off any excess, season the fish and add to the pan.
The fish should cook nicely and gently and after a few mins the fish will start to turn golden brown. Turn the fish over and continue to cook.
Blanch the peas and asparagus in boiling water and season, cook for a few mins until just cooked.
Drain, season and add some butter.
Next add the capers, parsley and lemon juice to the pan and baste the fish with the golden brown butter.
Season again and when just cooked add the chive flowers; remove the whole fish from the pan to the plate using a pallet knife and spoon over the butter.
Add the peas and asparagus then another squirt of lemon juice and serve.
Monkfish with summer vegetables and pesto by Andy Cumming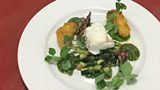 Ingredients for 4 portions
1 whole monkfish
30g monkfish liver
100g fresh peas
50g asparagus spears
1 medium courgette
30g baby spinach
1 banana shallot
1 clove of garlic
50 ml olive oil
30 ml white Balsamic vinegar
25g unsalted butter
50 ml home hade pesto
Egg wash, flour and breadcrumbs.
Sea salt
Method
1) Remove monkfish tail, skin and fillet, cut into 4 portions.
2) Remove cheeks and liver from the head.
3) Cut the cheeks into strips and dip in flour gg and bread crumbs deep fry at 180 degrees for 3 minutes
4) Panfry the monkfish tail portions for 30 second and place in oven at 170 degrees for approx. 7 minutes.
5) Dip the livers into seasoned flour and panfry quickly add 30ml of white balsamic vinegar, keep warm.
5) Crush the garlic clove and finely slices the shallot. Cut the courgette into small cubes and the asparagus into even size pieces
6) Panfry the shallots and garlic in olive oil until soft. Add the courgette and         30g peas and lastly the baby spinach. Season
7) Using a food processor make the remaining 70g of peas into a pea puree.
8) To assemble the plate place pea puree on the plate top with the summer vegetables, place monkfish tail, check and liver. Garnish with pesto.
Podcast
Celebrate the joy of Scotland's larder with recipes, reviews, tips and delicious ideas!