Main content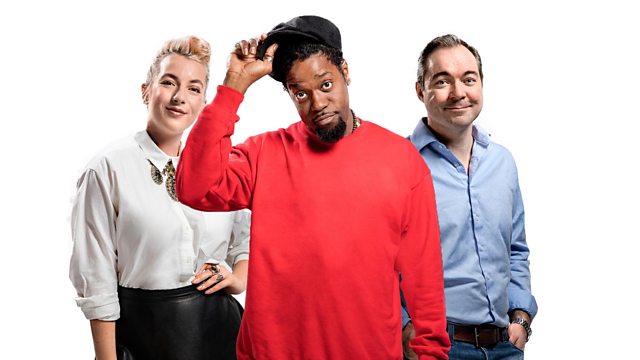 Enemy in Concert
Soweto Kinch presents pianist Kit Downes and his new trio Enemy in concert at the Vortex, London. The band includes Kit on piano with Petter Eldh on bass and James Maddren on drums.
Last on
Music Played
Enemy

Children With Torches

Ayanna Witter-Johnson

Roxanne

Jay Phelps

Chaos Or Commerce

Jay Phelps

Everyone's Ethnic

Soweto Kinch

The Healing

The Legend of Mike Smith.
Soweto Kinch Recordings.
30.
PLAYLIST
DISC
Artist              Soweto Kinch
Title                The Healing
Composer     Kinch
Album            The Legend of Mike Smith
Label              Soweto Kinch Recordings
Number        SKP003 CD 2 Track 39
Duration       27"
Performers: Soweto Kinch, as, rhodes, prog; Shabaka Hutchings, ts; Karl Rasheed-Abel, b; Graham Godfrey, d. . 2015
CLIP: Enemy Music  Live – Children with Torches – 53"
Soweto Interviews Kit Downes Part I
CLIP: Jay Phelps – Chaos or Commerce – 41"
The Enemy performing at The Vortex in Dalston
Prospect of K (Eldh) – 7'31"
Jinn (Downes) – 6'08"
Fogorythmics (Eldh) – 5'54"
Brandy (Eldh) – 4'56"
Race The Sun (Downes) – 4'22"
Soweto Interviews Kit Downes Part II
Ruster (Downes) – 6'10"
Children With Torches (Eldh) – 6'00"
Faster Than Light (Downes) – 3'21"
Ayanna Witter Johnson performs live at The Great Escape, Brighton, for Late Junction
Ayanna Witter Johnson – Roxanne (Live) – 3'42" (Composer – Sting)
Soweto Interviews trumpeter  Jay Phelps
DISC
Artist              Jay Phelps
Title                Flash
Composer  Jay Phelps 
Album            Free As The Birds
Label  None 
Track 6
Duration       3'15"
Performers  John Escreet, David Binney, Nasheet Waits 
DISC
Artist              Jay Phelps
Title                Angel
Composer  Jay Phelps 
Album            Free As The Birds
Label  None 
Track 5
Duration       3'34"
Performers  Rick Simpson, Mark Lewandowski, Shane Forbes 
DISC
Artist              Jay Phelps
Title                Chaos or Commerce
Composer  Jay Phelps 
Album            Free As The Birds
Label  None 
Track  12
Duration       3'37"
Performers  John Escreet, David Binney, Nasheet Waits 
DISC
Artist              Jay Phelps
Title                Everyone's Ethnic 
Composer  Jay Phelps 
Album            Free As The Birds
Label  None 
Track  2
Duration       6'55"
Performers  Rick Simpson, Mark Lewandowski, Jon Scott 
DISC
Artist              Soweto Kinch
Title                The Healing
Composer     Kinch
Album            The Legend of Mike Smith
Label              Soweto Kinch Recordings
Number        SKP003 CD 2 Track 39
Duration       37"
Performers: Soweto Kinch, as, rhodes, prog; Shabaka Hutchings, ts; Karl Rasheed-Abel, b; Graham Godfrey, d. . 2015
Broadcast