Main content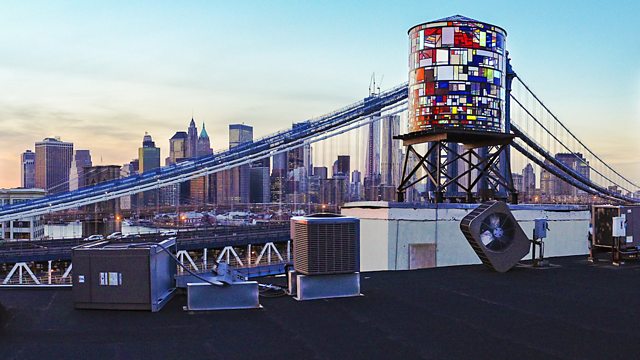 Water Towers of New York
Sound designer Jon Nicholls presents a soundscape centring on the water tanks atop some of New York City's tall buildings.
British sculptor Rachel Whiteread calls the wooden water towers on the roofs of New York's skyscrapers - 'the jewels of the architectural cityscape'.
If you look down from a high floor in New York, you'll see a landscape of differing levels of flat roofs of low- and high-rise buildings. They have one thing in common, if they are over six stories high they need a roof-top tank to store water. These rocket shaped towers look different according to the light, season and weather and appear to have personalities. Visitors find them particularly fascinating.
Award-winning sound designer Jon Nicholls builds a musical and haunting soundscape. We stand perched on the roof of a high residential building in the Chelsea district downtown and witness the destruction of an old tower and watch the assembly of the new tank. It's like a jigsaw puzzle.
The highly functional towers have inspired artists who take these quaint prosaic structures and reimagine them. Sculptors Rachel Whiteread and Tom Fruin have made life size water towers out of resin and Perspex.
We visit the Museum of Modern Art where Whiteread's luminous water tank has been overlooking the garden for twenty years.
In contrast, we explore a very ephemeral art event - a pop-up nightclub with cabaret music that takes place secretly inside a decommissioned tank on the roof of a deserted building.
And there's local photographer Ronnie Farley, who not only spent 20 years taking pictures of New York's water tanks but also has assembled one in her loft apartment. She says, "I feel that these water towers are witnesses. They watch us. They look after us."
Sound Design by Jon Nicholls
Produced by Judith Kampfner
Photo credit: Water Tower by Tom Fruin photo Matthew Pugliese.