Main content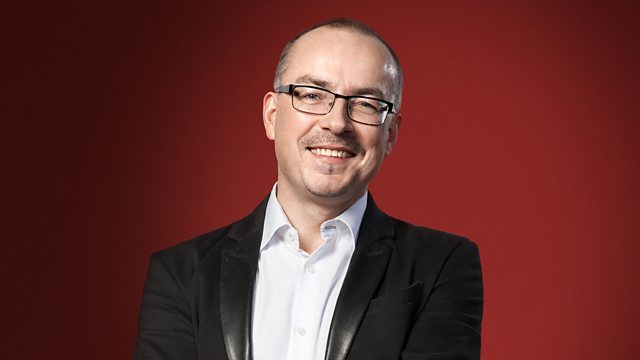 Andrew McGregor with Erica Jeal and Rob Cowan
With Andrew McGregor. Including Building a Library: Britten's Sinfonia da Requiem; Rob Cowan discusses a set of reissues from conductor Yevgeny Svetlanov; Disc of the Week.
with Andrew McGregor.
0930
Building a Library: Erica Jeal recommends the best recording of Benjamin Britten's Sinfonia da Requiem. Britten wrote the piece in 1940 at the age of 26 to mark the 2,600th anniversary of the founding of the Japanese Empire. It is the composer's most extensive purely orchestral work for the concert hall. And is still one of the most popular works written in Britten's earlier style.
1030
Andrew talks to Rob Cowan about a box of reissues from the Russian conductor Yevgeny Svetlanov. Born in Moscow and studying conducting at the Moscow Conservatory, from 1955 he conducted at the Bolshoi Theatre. Svetlanov was particularly noted for his exciting, often tempestuous interpretations of Russian works
1145
Andrew chooses an outstanding new release as his Disc of the Week.
9am
Tales of Sound and Fury
BIBER: Sonata jucunda a 6 in D; Battalia; Sonata violino solo representativa in A
ECCLES, J: Restless in thought
PURCELL: From silent shades ('Bess of Bedlam') Z370
TELEMANN: Overture (Suite) TWV 55:G10 in G major for strings & b.c. 'Burlesque de Don Quixotte'
Karin Dahlberg (soprano), Camerata Nordica, Terje Tonnesen (violin & direction)
BIS BIS2256 (Hybrid SACD)
Mad Dog
BYRD: Pavana Bray
DOWLAND: The Shoemaker's Wife; Mr Dowland's Midnight; Prelude for lute
HOLBORNE: As it fell on a holie Eve; Heigh ho holiday; Fantasia; Pavan; Galliard To The Pavan Before; Mad Dog; My selfe; Passion; Mr Holborn's Last Will and Testament; Muy linda; The Fairie-round; Fare Thee Well
HUWET: Fantasie
JOHNSON, J: Johnsons's Jewel (Galliard); A Paven to delight; The Galliard to delighte; Ward's Repose; Day's End Pavan; Carmans whistle
Hopkinson Smith (8-course lute, Joel van Lennep, 1974)
NAIVE E8940
Lachrymae Revisited
BOYLE, R: Such Sweet Sorrow
BRITTEN: Lachrymae for viola & piano Op. 48
DOWLAND: If my complaints could passions move; Flow my teares (Lacrimae)
HIGGINS, G: Kathedrale
HOSOKAWA: In die Tiefe der Zeit for cello & accordion; Into the Depths of Times
POREBSKI: ReVerse 2
Duo van Vliet, Rafal Luc (accordion) and Ian Anderson (viola)
ORCHID CLASSICS ORC100069 (CD)
Thousands of Miles
KORNGOLD: Mond, so gehst du wieder auf
MAHLER, A: Hymne; Die stille Stadt
WEILL, K: Nanna's lied (Text: Bertolt Brecht); Pirate Jenny (from The Threepenny Opera); Barbara Song (from The Threepenny Opera); Trouble Man; Je ne t'aime pas (text: Maurice Magre); Big Mole; Don't Look Now; Lonely House from Street Scene; Der Abschiedsbrief; Denn wie man sich bettet (from Rise and Fall of the City of Mahagonny); Buddy on the Nightshift
ZEMLINSKY: Und hat der Tag all seine Qual; Selige Stunde
Kate Lindsey (mezzo), Baptiste Trotignon (piano)
ALPHA ALPHA272 (CD)
Sibelius: Symphonies Nos. 1 & 6
SIBELIUS: Symphony No. 1 in E minor Op. 39; Symphony No. 6 in D minor Op. 104
BBC National Orchestra of Wales, Thomas Sondergard (conductor)
LINN CKD502 (CD)
9.30am – Building a Library
Composer: Benjamin Britten
Piece: Sinfonia da Requiem
Reviewer: Erica Jeal


Building a Library - Britten's 'Sinfonia da Requiem'
Recommended recording:
Britten: Cello Symphony and Other Works
BRITTEN: Symphony for Cello and Orchestra Op. 68; Sinfonia da Requiem Op. 20; Cantata Misericordium Op. 69
Mstislav Rostropovich (cello), English Chamber Orchestra, New Philharmonia Orchestra, Peter Pears (tenor), Dietrich Fischer-Dieskau (baritone), London Symphony Orchestra, Benjamin Britten (conductor)
DECCA E4251002 
Other recommended recordings:
Below is a shortlist of other recordings which Erica also liked, although we can't guarantee the availability of these discs.
London Symphony Orchestra, Chorus, Richard Hickox (conductor)
CHANDOS CHAN8983 (2CD)
Atlanta Symphony Orchestra, Donald Runnicles (conductor)
TELARC SACD60677 (Hybrid SACD)
London Symphony Orchestra, Steuart Bedford (conductor)
NAXOS 8557196 (CD)
10.15am – More New Releases
Bel Canto Paganini
BARTON PINE: Introduction, Theme and Variations on 'God Defend New Zealand'
PAGANINI: Caprices for solo violin Op. 1 Nos. 1-24 (complete); Duet for One Violin in C major; Caprice d'adieu
Rachel Barton Pine (violin)
AVIE AV2374
Sauret: 24 Etudes-Caprices Op. 64, Vol. 1
SAURET: Etude-Caprice No. 1 in C major Op. 64; Etude-Caprice No. 2 in A minor Op. 64; Etude-Caprice No. 3 in F major Op. 64; Etude-Caprice No. 4 in D minor Op. 64; Etude-Caprice No. 5 in B flat major Op. 64; Etude-Caprice No. 6 in G minor Op. 64; Etude-Caprice No. 7 in E flat major Op. 64
Nazrin Rashidova (violin)
NAXOS 8573704
YSAYE: Six Sonatas for solo violin Op. 27
Giovanni Guzzo (violin)
RUBICON RCD1005 (CD)
Permutations
FREYA WALEY-COHEN: Permutations; Unveil
Tamsin Waley-Cohen (multi-tracked violin)
SIGNUM SIGCD496
For Violin and Electronics
WILSON: Trapped in Ice; Flame
HARRISON: Some of its Parts
CLIMENT: Koorean Air
EMMERSON: Stringscape
NANGLE: Where Distant City Lights Flicker on Half-Frozen Ponds
Darragh Morgan (violin)
DIATRIBE RECORDS DIACD021
10.50am – Reissues: Rob Cowan on Svetlanov symphonic anthology
Anthology Of Russian Symphonic Music Volume I
ARENSKY: Symphony No. 1 in B minor Op. 4; Symphony No. 2 in A major Op. 22; Suite No. 1 in G minor Op. 7; Suite for two pianos No. 2 'Silhouettes' Op. 23; Variations on a Theme of Tchaikovsky Op. 35a; Fantasia on Themes by I.T. Ryabinin Op. 48; Suite for two pianos No. 3 'Variations in C major' Op. 33; Introduction to the opera "Nal and Damajanti"; Marguerite Gautier- a fantasia for orchestra Op. 9; Raphael: Introduction; Egyptian Nights
BALAKIREV: Overture on a Spanish March Theme; Overture on three Russian Themes; Suite for orchestra; Rus; In Czechia - Symphonic Poem; Symphonic Poem 'Tamara'; Islamey - Oriental Fantasy
BORODIN: Symphony No. 1 in E flat major; Symphony No. 2 in B minor; Symphony No. 3 in A minor (unfinished); Petite Suite; Prince Igor: Fragments
DARGOMIZHSKY: Kazachok; Baba Yaga; Bolero; Finnish Fantasia; Rusalka: Slavonic Dance; Rusalka: Gypsy Dance
GLINKA: Valse-Fantaisie in B minor for orchestra, G. ii213; Capriccio brillante on a Russian theme; Spanish Overture No. 2 'Summer Night in Madrid'; Symphony on Two Russian Themes; Premiere Polka in B Flat Major; Andante Cantabile and Rondo in D minor; A Life for the Tsar: Fragments; Ruslan and Lyudmila: excerpts; Prince Kholmsky – Incidental Music; Patriotic Song; Prayer after Lermontov; Memory of Friendship; Overture in G minor; Overture in D major; Kamarinskaya
KALINNIKOV, VASILY: Symphony No. 1 in G minor; Symphony No. 2 in A major; Intermezzi No. 1 & No. 2; Serenade for strings; The Nymphs - symphonic poem; Bylina overture; The Cedar and the Palm; Suite; Tsar Boris: excerpts
LIADOV: From the Apocalypse Op. 66; Ballade Op. 21b; Baba-Yaga Op. 56; The Enchanted Lake Op. 62; Kikimora Op. 63; Russian Folksongs (8) Op. 58; A Musical Snuffbox Op. 32; Scherzo in D major Op. 16; Nenie Op. 67; Intermezzo Op. 8; Dance of the Amazon Op. 65; Polonaise Op. 49; Polonaise for the Unveiling of the Statue of Rubinstein Op. 55
LYAPUNOV: Symphony No. 1 in B minor Op. 12; Triumphal Overture on Russian Themes in C major Op. 7; Zelazowa Wola Op. 37; Hashish - symphonic poem for big orchestra Op. 53; Symphony No. 2 in B minor Op. 66
MEDTNER: Piano Concerto No. 1 in C minor Op. 33; Piano Concerto No. 2 in C minor Op. 50
MUSSORGSKY: Boris Godunov: Introduction and Polonaise; Khovanshchina: excerpts; Sunless; Songs and Dances of Death; Scherzo in B flat major; Intermezzo in modo classico; A Night on the Bare Mountain; The Capture of Kars - Solemn March; Pictures at an Exhibition
NAPRAVNIK: Dubrovsky: Fragments
RIMSKY KORSAKOV: Symphony No. 1; Symphony No. 2 Op. 9 'Antar'; Symphony No. 3 in C; Sadko (tone poem) Op. 5; Fantasia on Serbian Themes Op. 6; Overture on Russian Themes Op. 28; Legend (Conte feerique) Op. 29; Capriccio espagnol Op. 34; Scheherazade Op. 35; Russian Easter Festival Overture Op. 36; On the Tomb, (Prelude) Op. 61; The Maid of Pskov: Suite; The Maid of Pskov: In the Woods, Tsar's Hunt and Storm; May Night Overture; Snow Maiden Suite; Mlada: Procession of the Nobles; Christmas Eve Suite: Polonaise; Sadko (opera): introduction; Boyarinya Vera Sheloga: Overture; The Tsar's Bride Overture; The Tale of Tsar Saltan Suite Op. 57; Pan Voyevoda Suite; The Legend of the Invisible City of Kitezh and the Maiden Fevronia: excerpts; Le Coq d'Or Suite: fragments; Le Coq d'Or Suite
RUBINSTEIN: Valse Caprice in E flat major
TANEYEV, S: Symphony No. 4 in C minor Op. 12; Apollo's Temple in Delphi (entr'acte from Oresteia); Suite de Concert Op. 28
TCHAIKOVSKY: The Seasons Op. 37b; Symphonies Nos. 1-6 (complete); Manfred Symphony Op. 58; Piano Concerto No. 1 in B flat minor Op. 23; Piano Concerto No. 2 in G major Op. 44; Concert Fantasy Op. 56; Piano Concerto No. 3 in E flat major; Variations on a Rococo Theme Op. 33; Suite No. 3 in G major Op.55; Suite No. 4 in G major Op.61 'Mozartiana'; Festival Coronation March; Marche slave Op. 31; The Snow Maiden Op. 12: orchestral excerpts; Francesca da Rimini Op. 32; Concert Overture in C minor; Overture in F major; Hamlet - Fantasy overture Op. 67; 1812 Overture Op. 49; The Storm Overture (Groza) Op.76; The Voyevoda: Fragments; The Oprichnik: Introduction; The Oprichnik: Dances of Oprichniks and Women; Cherevichki: Suite; Jeanne d'Arc, La Pucelle d'Orleans: fragments; Entr'acte & Waltz and Polonaise (from Eugene Onegin Op. 24); Eugene Onegin: Ecossaise; Cherevichki: Introduction; Cossack Dance (Hopak/Gopak) from Mazeppa; Mazeppa: The Battle of Poltava; The Enchantress: Fragments; Introduction to The Queen of Spades; Overture from Iolanta; Swan Lake Op. 20; Sleeping Beauty Op. 66; The Nutcracker Op. 71
USSR Symphony Orchestra, Evgeny Svetlanov (conductor), USSR State Academic Symphony Orchestra, Evgeni Svetlanov (conductor), Ivan Kozlovsky (tenor), Choir and Orchestra of the Bolshoi Theatre, Tatyana Nikolaeva (piano), USSR State Academic Orchestra, Abram Schatzkes (piano), Galina Vishnevskaya (soprano), Irina Arkhipova (mezzo-soprano), USSR State Symphony Orchestra, Elena Gilels (piano), Emil Gilels (piano), Mikhail Bank (piano), Mstislav Rostropovich (cello)
MELODIYA MELCD1002480 (56CD)
MARTINU: Symphonies Nos. 1-6
BBC Symphony Orchestra, Jiri Belohlavek (conductor)
ONYX ONYX4061 (3CD)
11.30am
Meet The Composer: Splitting Adams
ADAMS, J: Chamber Symphony; Son of Chamber Symphony
Nadia Sirota (narrator), Alan Pierson (narrator, conductor), John Adams (narrator), Walter Frisch (narrator), Alarm Will Sound
CANTALOUPE CA21128 (CD)
11.45am – Disc of the Week
Parfum
BRITTEN: Quatre Chansons Francaises
DEBUSSY: ORCHESTRATED J. ADAMS: Le Livre de Baudelaire (Le Balcon; Harmonie du soir; Le Jet d'eau; Recueillement)
DUPARC: L'Invitation au voyage; La Vie anterieure; Phidyle
KOECHLIN: Epiphanie Op. 17 No. 3
RAVEL: Sheherazade
Christiane Karg (soprano), Bamberger Symphoniker, David Afkham
BERLIN CLASSICS 0300832BC (CD)