Main content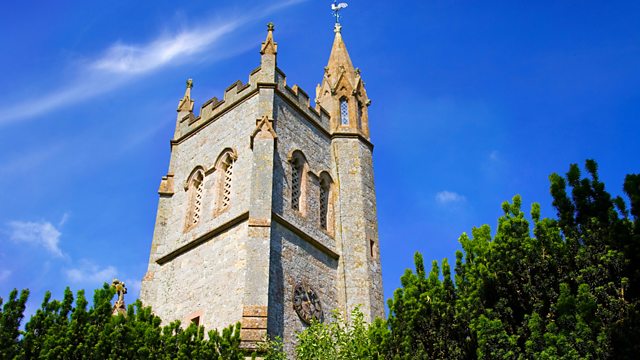 Thy Kingdom Come
Rosie Wright visits the Big Church Day Out festival held last weekend at Wiston House in West Sussex. As the church celebrates Pentecost the Archbishop of Canterbury has asked for a global wave of prayer for more people to come to know Jesus Christ. Preacher: Pete Greig. Producer: Andrew Earis.
Thy Kingdom Come
 Please note:
This script cannot exactly reflect the transmission, as it was prepared before the service was broadcast. It may include editorial notes prepared by the producer, and minor spelling and other errors that were corrected before the radio broadcast.
It may contain gaps to be filled in at the time so that prayers may reflect the needs of the world, and changes may also be made at the last minute for timing reasons, or to reflect current events.
BIG CHURCH DAY OUT
Good morning. Welcome this Pentecost Sunday to Big Church Day Out. I'm standing in the grounds of Wiston House surrounded by thousands of Christians who have pitched up tents in the heart of West Sussex to spend the weekend in praise and worship. Music is the lifeblood of this festival. With a line up ranging from folk to gospel, whatever your age or denomination the core of the weekend is focused on inspiring unity and togetherness across the Christian church.
Tease [30-45'] – bit of music, words from main stage, couple of lines from participants (what it's like)
At Pentecost we celebrate the Holy Spirit. We learn that the spirit descended on the apostles as a gift from God. As a worldwide prayer movement culminates today, we're looking the Holy Spirit's transformational power and how it works through simple prayer.
We begin our worship this morning joining with the band on the main stage – where crowds have gathered to worship together as one big family…
MUSIC – Spirit of the Living God
In the ten days between Ascension Day and today, Pentecost Sunday, hundreds of thousands of Christians have united by pledging to pray in the most ambitious evangelism project in a generation.
The Archbishop of Canterbury has been calling on believers of all denominations to join in a 'global wave of prayer', called 'Thy Kingdom Come'. The aim is simple, to pray that through the work of the spirit, more people would to come to know Jesus Christ. This morning, Big Church Day Out is one of many places worldwide praying that simple prayer.
VOX POPS FROM PARTICIPANTS ABOUT PRAYER
We hear now from Archbishop Justin
ARCHBISHOP JUSTIN
MUSIC: Breath on me breath of God (Kings Singers)
Some of those spending the weekend here at Big Church Day Out now lead us in prayer.
God of our salvation,
hope of all the ends of the earth, we pray:
Thy kingdom come.
That the world may know Jesus Christ as the Prince of Peace,
we pray:
Thy kingdom come.
That we may be bold to speak the word of God while you stretch out your hand to save,
we pray:
Thy kingdom come.
That the Church may be generous in giving, faithful in serving, bold in proclaiming,
we pray:
Thy kingdom come.
We pray together the prayer for Thy Kingdom Come.
Almighty God,
your ascended Son has sent us into the world to preach the good news of your kingdom: inspire us with your Spirit
and fill our hearts with the fire of your love, that all who hear your Word may be drawn to you,
through Jesus Christ our Lord.
Amen.
MUSIC Breath on me breath of God (King's Singers)
READING: Philippians 4
MUSIC Breath on me breath of God (King's Singers)
Further words from the Archbishop of Canterbury
MUSIC: The Lord's Prayer – from David Fanshawe's African Sanctus
Reading from Psalm 133
The crowds here today are enchantingly diverse. They represent different denominations, ages, and backgrounds, but BCDO has a resounding message of togetherness. Determinedly championing collaboration and unity is catholic worship leader Matt Maher, who lead the music at Sunday mass first thing this morning…
Comments about church unity from Matt Maher
MUSIC from Matt Maher 'Burning in my soul'
Prayer can be so simple yet so powerful. As we reach the culmination of 11 days of worldwide prayer, at Pentecost we celebrate how life transforming it can be. Preaching the gospel every evening at BCDO is Pete Greig, pastor and founder of the 24-7 prayer movement.
Pete:
2000 years ago the Spirit of God fell upon a prayer meeting in Jerusalem and the rest is history. 120 frightened followers of Jesus – still reeling from the terror of his crucifixion and the wonder of his recent resurrection appearances – were huddled in an upper room praying. Suddenly tongues of fire appeared upon their heads. They began to speak in other languages and were propelled out onto the street to preach the Good News that Jesus Christ is alive. 3,000 people were baptised and the church had been born in a day.
These things took place at a great festival, so its particularly appropriate that we're here today at the Big Church Day Out – a Christian festival where people have come together over 4 days on 2 sites, to worship, to pray and to celebrate the Good News that Jesus Christ is alive.
Let's read the story of that first great Pentecostal outpouring:
READING: Acts 2:1-4 (The Holy Spirit comes at Pentecost)
When the day of Pentecost came, they were all together in one place. Suddenly a sound like the blowing of a violent wind came from heaven and filled the whole house where they were sitting. They saw what seemed to be tongues of fire that separated and came to rest on each of them. All of them were filled with the Holy Spirit and began to speak in other tongues as the Spirit enabled them.
PG:
What an awesome moment!
Pentecost celebrates the power of prayer, the power of the Spirit, and the power of the Gospel to change lives – a hope we need more than ever this year, with so much pain and so many problems in the world.
That's why the Archbishops of York and Canterbury launched Thy Kingdom Come – a new initiative that we heard about earlier which mobilises the church to celebrate Pentecost by doing the very things we did 2000 years ago:
·          Firstly, we gather to pray as one, united body in thousands of different churches throughout the nation.
·          Secondly, we invite the Holy Spirit to come again in power
·          and thirdly, we go out into the world to proclaim the Good news of Jesus with renewed faith.
It was last year that Justin Welby asked me and the 24-7 Prayer movement to help him launch Thy Kingdom Come.
This year we are praying in 34 cathedrals and other venues such as The Big Church Day Out. Meanwhile hundreds of churches are praying 24-7, night and day. The vision has spread to USA, Ireland, South Africa, Norway, Australia… More than a quarter of a million prayer resources have been downloaded.
The author John Ortberg says that "the main difference between God and us is that God doesn't think he's us!" We like to be in charge. We like to think we know all the answers. But prayer is a posture of humility and surrender. We stop trying to be God – stop trying to solve all the world's problems and simply ask God to intervene. We ask God the Father to send His Holy Spirit to establish the rule and reign of His son Jesus once again in our lives, our communities and our nation. The hinge of human history is the bended knee.
Jesus once promised that the Father loves to give his Spirit to those who ask. That's what his first followers discovered on that first Pentecost. But of course, the story doesn't end there. Pentecost is about prayer, its about power but it's also about proclaiming the good news of Jesus,
Reading 2: Acts 2:14-21
Then Peter stood up with the Eleven, raised his voice and addressed the crowd: 'Fellow Jews and all of you who live in Jerusalem, let me explain this to you; listen carefully to what I say. These people are not drunk, as you suppose. It's only nine in the morning! No, this is what was spoken by the prophet Joel:
"In the last days, God says,
    I will pour out my Spirit on all people.
Your sons and daughters will prophesy,
    your young men will see visions,
    your old men will dream dreams.
Even on my servants, both men and women,
    I will pour out my Spirit in those days,
    and they will prophesy.
I will show wonders in the heavens above
    and signs on the earth below,
    blood and fire and billows of smoke.
The sun will be turned to darkness
    and the moon to blood
    before the coming of the great and glorious day of the Lord.
And everyone who calls
    on the name of the Lord will be saved.
PG:
One of the really moving things we've done here at the Big Church day out is to pray for Manchester in the wake of the recent horrific attack. It's utterly heart breaking and yet there is also great hope. Over the last two weeks we have seen such goodness, and kindness and unity poured out in response to that evil act. The 'Pray for Manchester' hashtag has trended around the world. When tragedies occur almost everyone, it seems, turns to prayer.
With the aftermath of that attack, and a General Election next week, this Pentecost is a significant and important time to be united in prayer for the nation.
Each night here at the BCDO I have the enormous privilege of preaching the gospel to the vast crowd and every year hundreds of people decide to become Christians - 'they call on the name of the Lord and are saved', as Peter said in that first Pentecostal sermon.
Many return to the BCO every year to renew their vows – a sort of pilgrimage. Its very moving. And when people turn to Christ we invite them to shine their phone torches in the darkness. It's a breath-taking sight to see so many lights shining like stars – a beautiful reminder that the nights may be getting darker but the lights are getting brighter – that Jesus is alive, his Church is alive, our prayers are being answered, His Spirit is being poured out on all people, and all who call on his name today can be saved. It is my prayer that you too will join me in praying for the salvation and transformation of our nation, the healing of those who are hurting, and the life that comes from death as we pray: "Thy Kingdom come".
MUSIC
Our prayers this morning are led by some of those visiting the Big Church Day Out.
In the power of the Spirit let us pray to the Father,
through Jesus Christ who is the Way, the Truth and the Life.
We pray for all who follow the Way of Christ
and for the unity of all Christian people;
break down that which separates us from one another and from you, that knowing your forgiveness we may share your love
with a needy world.
Lord, hear us.
Lord, graciously hear us.
We pray for those who hold positions of responsibility and power both internationally and in our local communities;
In particular today we pray for next week's General Election, for all standing for office, for those who will count votes, for returning officers and for the media who will tell the stories of the election.
We give thanks for the processes of democracy
and offer our prayers for those who do not enjoy such freedom.
may your Holy Spirit guide them in their decision-making,
so that paths of truth and justice may be open to everyone.
Lord, hear us.
Lord, graciously hear us.
We give you thanks and pray
for all who support and care for us as we follow the Way of Christ, our families and friends,
and our fellow pilgrims along the way;
nourish us all with the words of life and the bread of heaven,
that we may worship you joyfully,
listen to you willingly
and serve you gladly.
Lord, hear us.
Lord, graciously hear us.
We thank you for the fullness of life you give us in Jesus Christ, and for all whose lives have been an example of your truth and life for us;
may our communion with them, and with all the saints, nourish and support us on our earthly pilgrimage.
Lord, hear us.
Lord, graciously hear us.
We bring our prayers together in the words of the Lord's Prayer.
Our Father, who art in heaven,
hallowed be thy name;
thy kingdom come;
thy will be done;
on earth as it is in heaven.
Give us this day our daily bread.
and forgive us our trespasses,
as we forgive those who trespass against us.
And lead us not into temptation;
but deliver us from evil.
For thine is the kingdom,
the power, and the glory,
for ever and ever. Amen.
ROSIE
As our worship draws to a close this morning, in a weekend in which we've been…...the band and congregation now join together to sing one of the most recognisable and inspiring songs of faith…..
MUSIC – Be thou our vision
Blessing
MUSIC


Music List
1. Spirit of the Living GodAlbum: Worship Central: Experience Worship Central LiveLabel: Integrity Music
2. Breathe on me, Breath of GodThe King's Singers Reflections: Choral Essays Vol. 2Label: SP&S
3. Fanshawe – The Lord's PrayerAlbum: David Fanshawe – African SanctusLabel: Universal Music International
4. Burning in my soulAlbum: Matt Maher – All the people said AmenLabel: Essential Records
5. Breathe into me and Amazing Grace – Soul Sanctuary Gospel ChoirRecorded on location
6. Be thou my visionAlbum: Keswick Praise 20Label: Elevation
7. Standing on the rock – Soul Sanctuary Gospel ChoirRecorded on location