Main content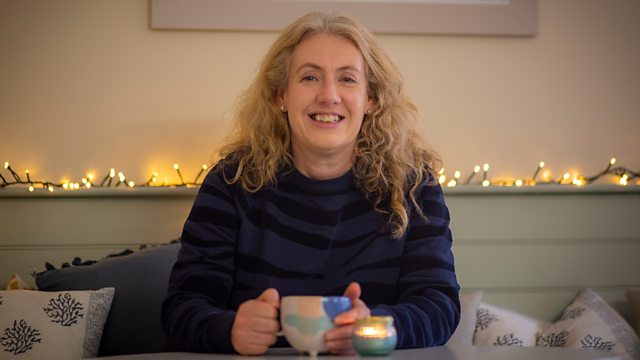 Milk
Chef Neil Forbes and Sumayya Usmani celebrate World Milk Day. Neil cooks a bechamel sauce to accompany pan-fried cod, and Sumayya shows how versatile almond milk can be.
For World Milk Day, Chef Neil Forbes and Sumayya Usmani celebrate the sheer joy of milk. Neil cooks up a classic bechamel sauce to go with his pan-fried cod and Sumayya shows us the versatility of almond milk when she makes macaroni cheese. Also, Mary Hillard from Mary's Milk Bar in Edinburgh reminds us about the popularity of milk bars between the 1940's and 60's and how she really enjoys challenging her customers taste buds with some unusual Gelato ice-cream flavours such as beetroot and pickle, goats cheese and even white chocolate chilli and lime!
Cod and Parsley Sauce by Neil Forbes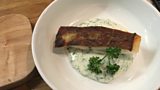 4 portions, 10 mins prep, 20 mins cook time.
Ingredients
4 150g pieces of thick cod or white flaky fish like Hake will do very well, boned, skin on but scaled.
50g plain flour
50g unsalted butter
500ml whole organic milk
1 small onion, peeled, with a bay leaf studded with a few cloves so the bay is attached
a large handful of chopped curly parsley
Tablespoon of cold pressed rape seed oil or a neutral oil like sunflower
An extra knob of butter for basting the fish
Good salt and pepper, lemon, optional.
Method
Firstly, place a pan on the hob and heat the milk with the onion studded with the bay and clove, don't boil it or it will spill over the hob so just be careful, allow the milk to infuse with the onion and bay and clove flavour, leave for a good 10 mins.
Now melt the butter in a clean pan and using a wooden spoon add the flour on a low heat and stir and beat until a wet sand consistency is achieved, then slowly, like making a risotto add the milk to the roux, a ladle at a time and beat as you go, this should only take about 5 mins.
Season as you go and give a good taste.
Maybe add a nob of butter to enrich or a teaspoon of mustard, up to you.
I add my finely chopped parsley now, discard the studded onion and turn off the heat and leave whilst we put a pan on the hob to cook the fish.
Heat the pan until quite hot and add the oil, heat the oil and ensure the fish is dabbed on kitchen paper to be dry.
Add the fish skin side down to the pan and season just before, season in the pan as well and cook for a few mins on this side until it just starts to colour the skin, turn the heat down if it feels too aggressive.
Turn the fish over then add to a hot oven for a couple of mins
 Remove from oven and add a nob of butter to baste the fish, a squirt of lemon is good here and another kick of salt.
Spoon sauce onto a warm plate and place the fish on top.
Great with buttery mash or new spuds with butter and salt.
Podcast
Celebrate the joy of Scotland's larder with recipes, reviews, tips and delicious ideas!