Main content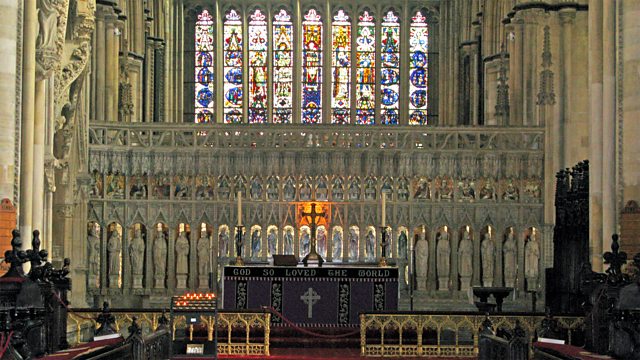 Tallis Scholars - Beverley Minster
From Beverley Minster, Adam Tomlinson presents a programme of English and French sacred vocal music performed by the Tallis Scholars as part of the 2017 Beverley Festival.
Adam Tomlinson presents a programme of English and French sacred vocal music, given by the Tallis Scholars and director Peter Phillips in the Gothic splendour of Beverley Minster as part of this year's Beverley Festival.
Polyphonic innovator Nicolas Gombert was arguably the musical link between Josquin and Palestrina; his 12-part antiphon Regina Coeli rejoices in the "Queen of Heaven". Josquin's own offerings here include a work very close to his heart, the "Pater Noster". In it, sublime intimations of the knowledge that all of us will end up as dust; in his will Josquin asked for it to be performed posthumously before his house during all general church processions. There's also English music from the Eton Choirbook by John Browne - his 6-part "O regina mundi clara". And to bookend the concert, William Byrd's early work "Laetentur coeli", and a favourite motet with singers of all stripes, "Vigilate", with its cock-crowing and breathtaking imitation.
The programme is inspired by the music represented within this year's Beverley Festival Exhibition: a large-scale immersive exhibition, featuring a visually and aurally striking installation that focuses on one of the most extraordinary pan-European music collections in history. "Through the Looking Glass" features the installation "Speculum Musurgica" by Flemish visual and music artist Rudi Knoops. The heptagonal media installation consists of large-scale ingenious mirror structures and sound projections that invite visitors to take a physical walk through the rich polyphonic texture of the music of Petrus Alamire, delving into his double life as a spy and music scribe through cracking secret codes and other activities. Alamire published many of Josquin's masses - the "Missa Malheur me bat" being one of the most famous. Based on a chanson, possibly by Ockeghem, it is for four voices until the final movement, when it blossoms into six. Its complex canons continued to be talked about by theorists for over a hundred years, and are models of the art.
Byrd: Laetentur coeli
Josquin: Missa Malheur me bat
8.20pm
INTERVAL
8.40pm
Gombert: Regina coeli
Josquin: Pater noster
Browne: O regina mundi clara
Byrd: Plorans plorabit
Byrd: Vigilate
The Tallis Scholars
Peter Phillips (director).
Music Played
Part 1

Interval

Part 2

Post-concert